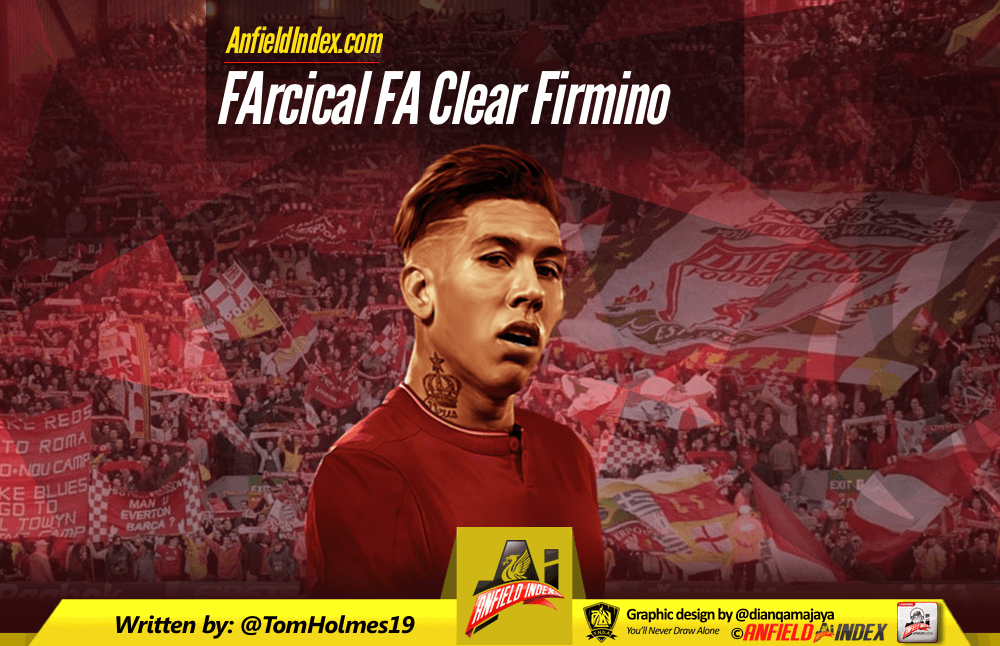 FArcical FA Clear Firmino
So, a month and a half after Bobby Firmino was shoved into the stands by Mason Holgate, swore at him in response, and was accused of being racist by the young English defender, the FA has eventually decided that Firmino did not racially abuse Holgate. This, of course, is great news for Liverpool and Firmino – who released a wonderfully classy statement immediately after. It is not, however, great news for football in general.
The FA is an absolute farce. Every single racial accusation absolutely has to be taken with the utmost severity and examined properly in order to get a fair and impartial result that reflects on what actually happened. That said, to take 47 days to reach a conclusion that really could have been reached in as many hours is an absolutely damning indictment on the FA's racism policy.
This is an organisation still blighted by the Mark Sampson debacle, whose reputation with regards to racism is effectively in the toilet, and now makes an absolute mess of what should have been a relatively straightforward verdict.

And this works both ways. If it had taken 47 days to find Firmino guilty, we would have been wondering why it had taken so long, and why Firmino had been allowed to play so many games under the shadow of an inevitable suspension. Instead, we're asking why he was forced to play under the shadow of a possible, but always unlikely suspension, that never bore fruit.
As I said at the start, this is not to suggest that the FA shouldn't have taken Holgate's allegation seriously. But taking it seriously does not equate to taking a long time to deal with it. If anything, resolving Holgate's solution quicker would have shown more respect to the seriousness of the allegation.
So why did it take so long for the FA to make the decision? Well if we look at their statement, it outlines the process that they took, collecting statements from players and match officials, reviewing the match footage and getting Portuguese linguists to assess that same footage.
None of this, of course, suggests any reason that the review should have taken longer than a week or so. I'm sure both sets of players would have been keen to resolve it sooner rather than later, and they had the official's report the day after the match. Reviewing the footage should not have taken more than a few hours, and obtaining the opinion of independent Portuguese lip-readers surely couldn't have taken a whole month, given even before half-time independent Portuguese lip-readers had informed social media of exactly what Bobby had said.
So what was the hold-up? Did a particular player refuse to give evidence? Did BT or some other broadcaster purposefully withhold footage? Was every single lip-reader in Portugal extremely busy for the entire month of January? Did one of the people reviewing the footage mysteriously disappear? Could it be that the FA couldn't be bothered to actually deal with a serious racism allegation? Or were they simply too busy trying to draw straight lines on VAR graphs on Microsoft Paint?
If that last paragraph sounds ludicrous, it's intentional, because there seems to be no logical or sensible reason why the FA couldn't have swiftly and decisively resolved this issue whilst still paying due respect to both parties involved.
If you want my opinion on what really took them so long, I would have to say that they were quietly hoping it would go away. To be honest I had reached the point where I was expecting the FA to never reveal the outcome of the case, just allowing everyone to assume that no charges were being brought.
The FA's statement itself lends a keynote to this, as it's clearly absolutely straining at every sinew to make it seem like it's taken this allegation seriously. The wording desperately tries to make it sound like they wanted to charge Firmino, but simply couldn't no matter how hard they tried.
And to be honest, this speaks volumes about the FA. They saw this investigation as a problem because all of the evidence indicated that Firmino did nothing wrong. And if a few days after a serious racial allegation they told everyone that it was false, they would perhaps have been expecting negative press, suggesting that if they didn't charge Firmino, they were somehow letting down victims of racism.
To be crystal clear, this absolutely isn't the case, nor should anyone think that way. Clearing up racism charges, no matter how controversial or hot-button should fundamentally be based on the truth and nothing else. To suggest that anyone would or should be annoyed by a lack of a charge where clearly there was no evidence to support one is absolutely wrong.
That said, I don't put it past the FA to incorrectly assume that that was what might happen. Fresh off the back of the Sampson incident, a wholly different but ultimately linked investigation, it's clear that they were desperate to appear to have done this properly.
And that's what it comes down to. In this case, the FA appear to have put their own reputation and the appearance of doing the right thing above actually doing the right thing – resolving a potentially damaging incident in a timely manner.
And frankly, it's not good enough.