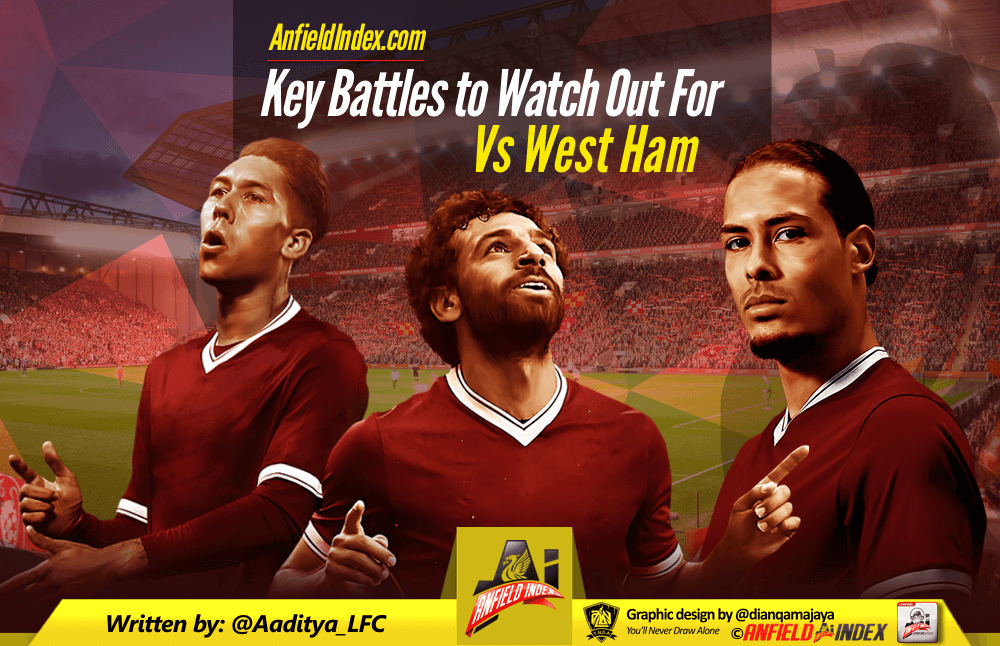 Liverpool v West Ham Preview: Key Battles
After a gap of ten days to bask in the glory of a perfect Champions League in Porto, Liverpool are back in action in the Premier League, welcoming West Ham United to Anfield on Saturday.
The Reds won the reverse fixture 4-1 at the London Stadium with a Mo Salah brace either side of goals from Joel Matip and Alex Oxlade-Chamberlain giving the Reds three points. West Ham will be buoyed by their home win against Watford last time but the Hammers have lost their last two away games – in the FA Cup to Wigan and in the Premier League to Brighton.
David Moyes seemingly pulled them out of relegation trouble but an iffy run of form since the turn of the year has meant that the Hammers are well in the dogfight.

Liverpool, meanwhile, will be looking to keep the pressure on Manchester United in the race to finish as the best of the rest behind the rampant Manchester City.
Here are key individual battles that will decide the game.
ROBERTO FIRMINO v ANGELO OGBONNA
The FA have finally come to a conclusion that Firmino was not guilty of alleged racial misconduct against Everton's Mason Holgate in last month's cup tie. It wasn't like the allegation had any impact on him though, as he is going through a purple patch, in what could easily be classified as his best run of form in a Liverpool shirt.
Ogbonna and his fellow centre-backs at West Ham are known to be players who like a physical duel and aerial battles, but that is not what they are going to have to deal with when Firmino shows up.
The swiftness of mind and speed of foot have combined perfectly for Firmino in recent weeks and he is really the system, as Jurgen Klopp likes to put it.
Two particular moments from the last two games have shown what Firmino is all about. The delectable back-heel to Salah in Southampton to double the lead has been well spoken about. He went ahead three days later and produced another back-heel to set Salah off on a counter-attack – eventually ending with the Reds' third goal on a dreamy night in Portugal.
As 21 goals for the season so far show, the one aspect of his game that is constantly under the scanner has also massively improved to compliment his intelligence on the ball and sheer bullishness off it.
Only Pablo Zabaleta and Pedro Obiang have won more tackles for West Ham this season than Firmino's 44 successful attempts for the Reds.
So Ogbonna is going to have his task cut out. While he could want to leave a mark early and physically impose his presence on Firmino, it won't be easy given that the Brazilian has the freedom to roam across the front-line and deeper into midfield if he wants to.
Also with the ball at his feet, the Italian might want to bypass the Firmino press and go for the long ball as much as he can.
MOHAMED SALAH v AARON CRESSWELL
The King of Egypt. He's slowly but surely becoming the King of Merseyside as well. Not many people can have predicted the kind of impact that Salah has had in his first season for the Reds, but it has been unbelievable.
West Ham will not want to face him, in the form that he is and after what he did at the London Stadium. A lightning counter-attack from a West Ham corner resulted in his first goal before he thumped a left-footed volley past Joe Hart to round off that night's rout.
But look at that goal against Porto. Granted, he got the ball in a position where he'd be expected to score, but to do it with the style, the aplomb, the arrogance that he did just shows the confidence that is flowing through his veins at the moment.
Cresswell is not going to have an easy afternoon at Anfield, that much is certain. The Englishman is generally one who likes to bomb forward and use his crossing ability to trouble oppositions, but it is likely to be a backs-to-the-wall job for him to deny Salah the space to run in behind the defence.
But as the Egyptian has shown recently, it is going to take more than a single player to stop him from having an impact on the game. Cresswell is going to need assistance from Marko Arnautovic, whose work-rate and concentration while tracking back is sometimes questionable.
In short, Cresswell is going to need all the help he can get to shackle the man who is Liverpool's biggest threat.
VIRGIL VAN DIJK v JAVIER HERNANDEZ
There have been shaky moments, but the last one month has mostly shown the unmistakable quality that Virgil van Dijk brings to an otherwise rather shaky Liverpool defence.
Clearly, van Dijk does not shut up when he is on the pitch. He is constantly bellowing out instructions to his fellow defenders, he's getting everyone in their position, and he's helped Loris Karius behind him by just being a commanding, assuring presence.
Against Hernandez, van Dijk should ideally face a challenge unlike the one posed by either Guido Carrillo or Soares in our last two games. But will West Ham play a style suited to the way Hernandez likes? That is uncertain.
West Ham have themselves a conundrum in that respect because keeping the ball on the ground – as Hernandez likes it – would leave them susceptible to the Liverpool press. But if they decide to bypass the press and go with the long balls, Hernandez is going to have a long afternoon trying to shake off the Dutchman mountain.
One thing is for certain though, van Dijk's presence and communication will ensure the defence is on the same page and doesn't switch off. It is those moments that Hernandez generally pounces on with his predatory instincts, and it is those moments that van Dijk will minimise.