With rumours circulating that Liverpool are interested in bidding for top goalkeeping talents such as Alisson of Roma or Jan Oblak of Atletico Madrid, it's easy for fans to get carried away with the prospect of Liverpool possible breaking the world record fee spent on a goalkeeper.
I personally would run down the street with my top off, swinging my shirt above my head singing You'll Never Walk Alone if Liverpool managed to end their goalkeeping nightmare by bringing Oblak to the club.
But what happens if Liverpool's pursuit of the world's goalkeeping elite proves to be unsuccessful? Do we just stick to the existing goalkeepers or perhaps look to develop a young goalkeeping talent?

One option would be to bring in Jack Butland.
Butland is proving to be a very unpopular choice amongst Liverpool fans on Twitter, especially since Liverpool have been getting linked with the so-called big name 'keepers. And Butland's own goal at the weekend is only going to make his popularity with Liverpool fans drop even further. But I don't think Butland should be written off that easily.
Speaking to Gags Tandon and Nina Kauser for last week's episode of Media Matters for AI Pro, ex-professional goalkeeper David Preece indicated that he rates the much-maligned Butland.
"Jack Butland would be a good signing (for Liverpool). He deals with crosses well and his kicking is effortless. But the injury came at a real bad time for him."
Preece refers to the serious ankle injury that Butland suffered whilst playing for England against Germany in March 2016 which kept him out of action for 13 months before he returned to the Stoke starting lineup for the final 5 matches of the 2016/17 season.
Butland was starting to establish himself as a serious contender for England's number one spot, and with Joe Hart's dramatic fall from grace it would be fair to assume that he would have cemented that spot by now if it wasn't for his injury.
A small sample of Butland's Premier League statistics over the past three seasons are shown below (all stats correct as of 23rd February 2018 courtesy of Squawka):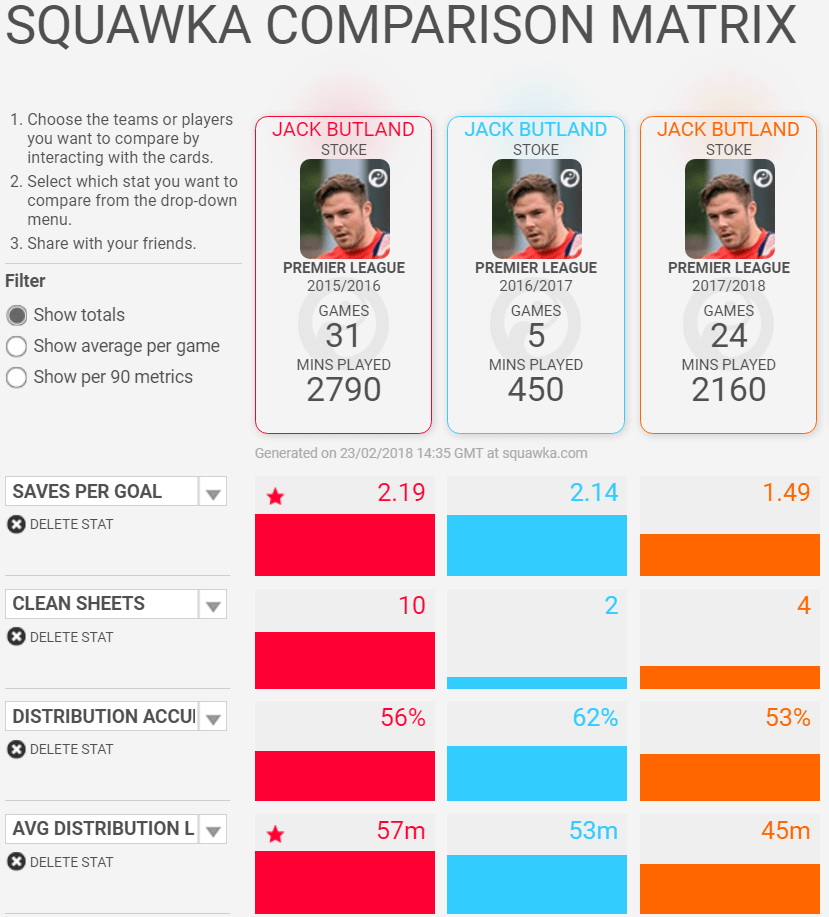 As you can see, Butland's average saves per goal was at 2.19 prior to his injury and he showed similar form when he returned for the final 5 games of the season of 2016/17 with an average saves per goal of 2.14 but that is, of course, a small sample size.
This season though, Butland's saves per goal have dropped significantly to 1.49. Concerns about the ankle injury which have plagued him for nearly two years might be a factor along with the abysmal form of Stoke City who languish in the relegation zone in the Premier League.
So how do these statistics compare to the current Liverpool goalkeepers? Below are the equivalent statistics for Mignolet over the last 3 seasons and Karius for the last two (since he joined the club).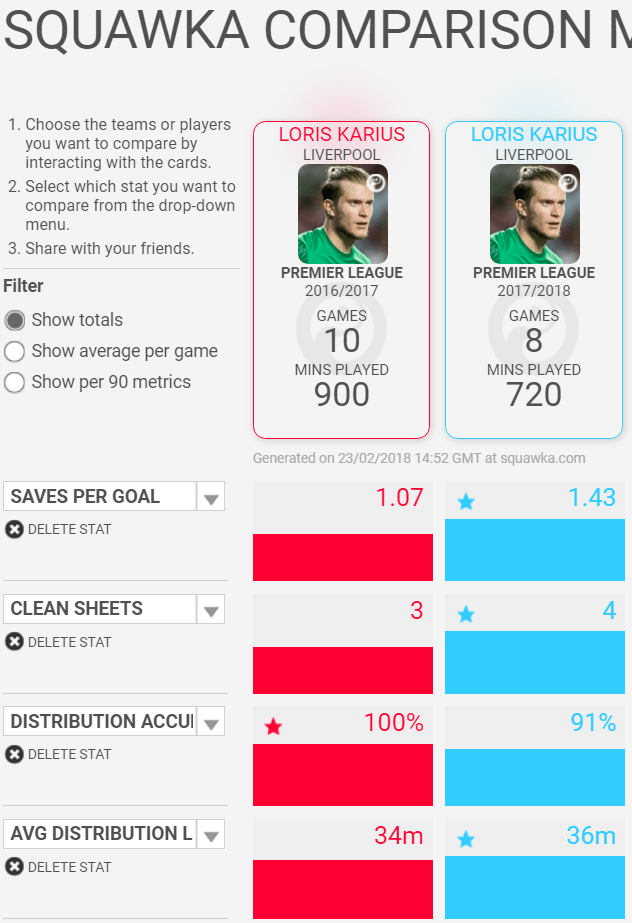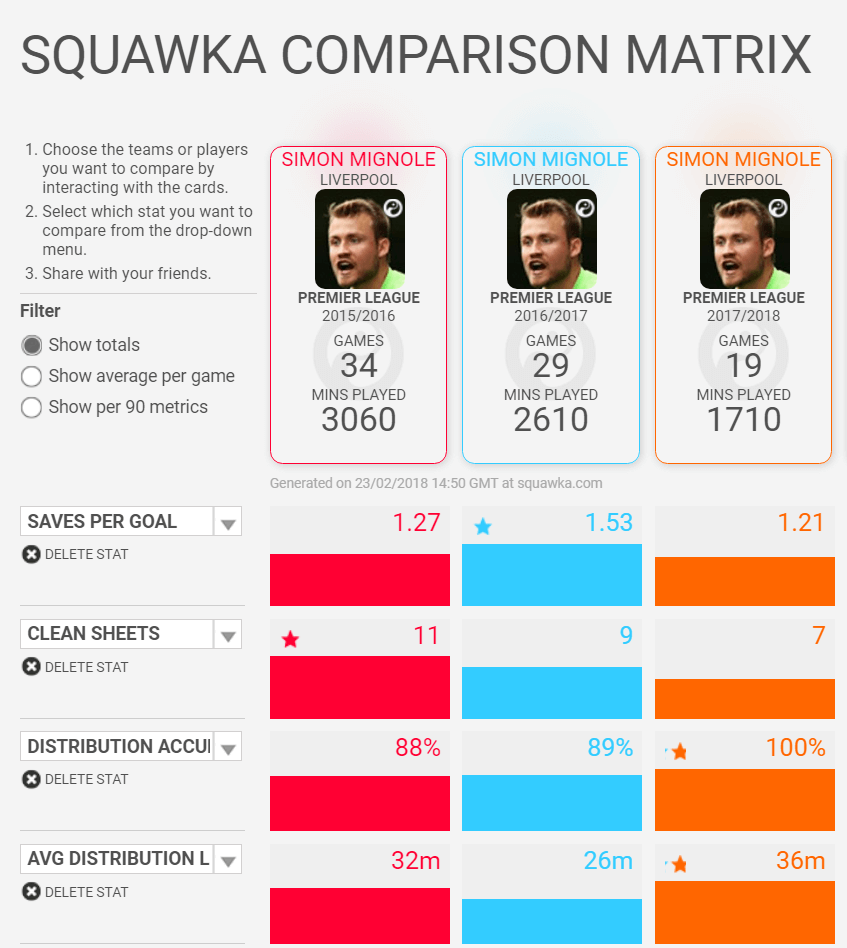 As you can see, the average saves per goal statistics for both Karius and Mignolet are alarmingly low. Over a large sample size, Mignolet has consistently shown that his level is between 1.2 and 1.5 saves per goal.
Karius has displayed similarly low saves per goal statistics but over a much smaller sample size.
I feel it is fair to allow for a settling in period for Karius and to also note the vast improvement that he has shown since the arrival of Virgil Van Dijk. If his recent form continues, I feel that his ability has a much higher ceiling than Mignolet who appears to have already hit his peak and is due to hit 30 next month. Of course, many goalkeepers don't hit their best form until they are in their 30's but I think it's safe to say that Mignolet will never make it to the level required at Liverpool.
So how do these statistics compare to the Premier League's top goalkeeper David De Gea?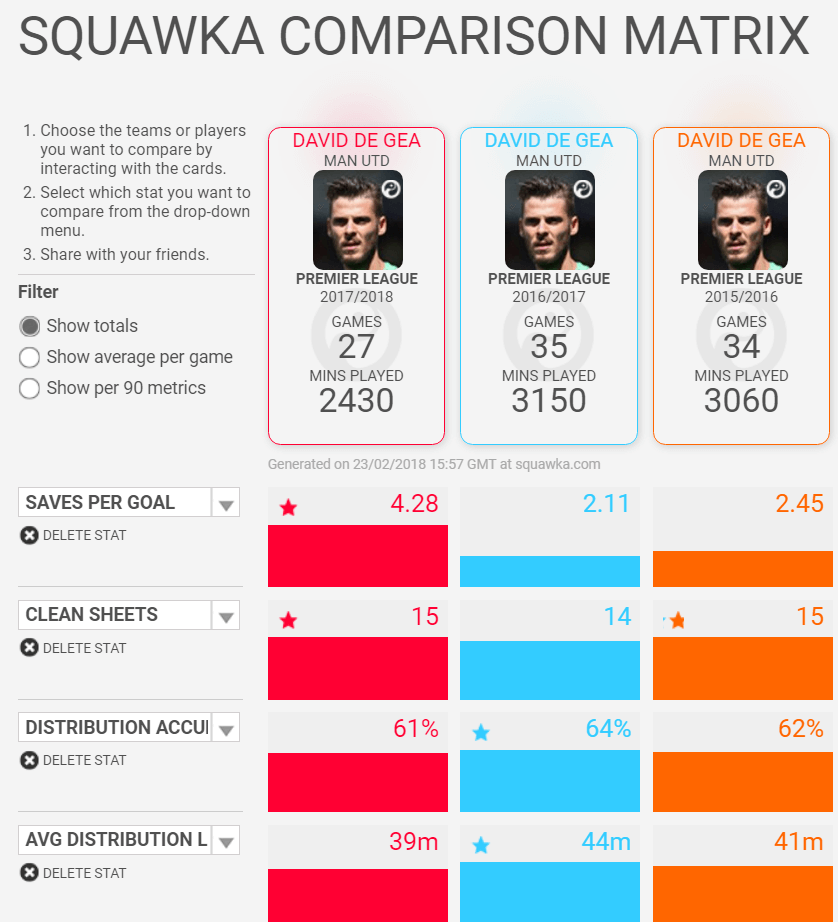 As you can see, De Gea's saves per goal statistics have spiked to an incredibly high level this season which really highlights that he is a top performer. But if you look at his average saves per goal statistics over the previous two seasons, you can see that he averaged around 2.28 saves per goal. Jack Butland has shown in the past that he can sustain an average saves per goal of 2.19 over the course of a season which is very close to De Gea's average over the previous two seasons.
Now I wouldn't suggest for one second that Butland is at the same level as De Gea but I am just illustrating that he might actually be a better option for Liverpool than many people think.
Of course, I am only looking at a single statistic of saves per goal for this comparison so it's difficult to draw too many conclusions but it is a good indicator of goalkeeping competence.
At just 24 years old, Butland already has a wealth of experience and clearly has plenty of scope for improvement too. And many people also don't realise that he is 6ft 5 inches tall and is, therefore, an imperious figure in goal. If we had a centre-back partnership of 6ft 5inch Matip and 6ft 4inch Van Dijk in conjunction with 6ft 5inch Butland in goal, we would look a daunting prospect to the opposition attack.
Height isn't everything, but with Liverpool's previous struggles dealing with aerial balls, a tall keeper who is good under a high ball would be more than welcome. The introduction of Van Dijk's height and aerial ability has already proved invaluable. The introduction of Butland might just make us even less susceptible to the long ball merchants of the Premier League *cough* Man United *cough*.
It's safe to say that Mignolet will be shown the door in the Summer which leaves us with Karius as the only realistic starting goalkeeper remaining for next season at present. Personally, I feel more than happy for us to keep Karius at the club. He is also only 24 and has shown clear improvement over the past couple of months. This coupled with his speedy distribution and sweeping skills, Karius might just develop into a top 'keeper.
When it comes to goalkeeping statistics, there are all sorts of other factors which need to be taken into consideration such as how much protection the defence provides and how difficult were the saves that they had to make. But despite all of that, I feel that we could do a lot worse than starting the 2018/19 season with two young and developing goalkeeping talents in Karius and Butland.
Both are still developing and have potentially high ceilings, and they are both very different types of goalkeeper which would give Jurgen Klopp options to decide which type suits his team best. Another advantage of signing Butland is that he would be much cheaper than the more glamorous options which should leave us with more funds to strengthen other areas of the field.
Of course, I would rip your hand off if you offered me Oblak or Alisson as Liverpool's new goalkeeper. But if the dream move for the world's established top talents aren't successful, I can't help but feel that we could do a lot worse than Jack Butland.
To listen to the thoughts of David Preece on goalkeeping along with loads of other fantastic content, subscribe to AI Pro now.