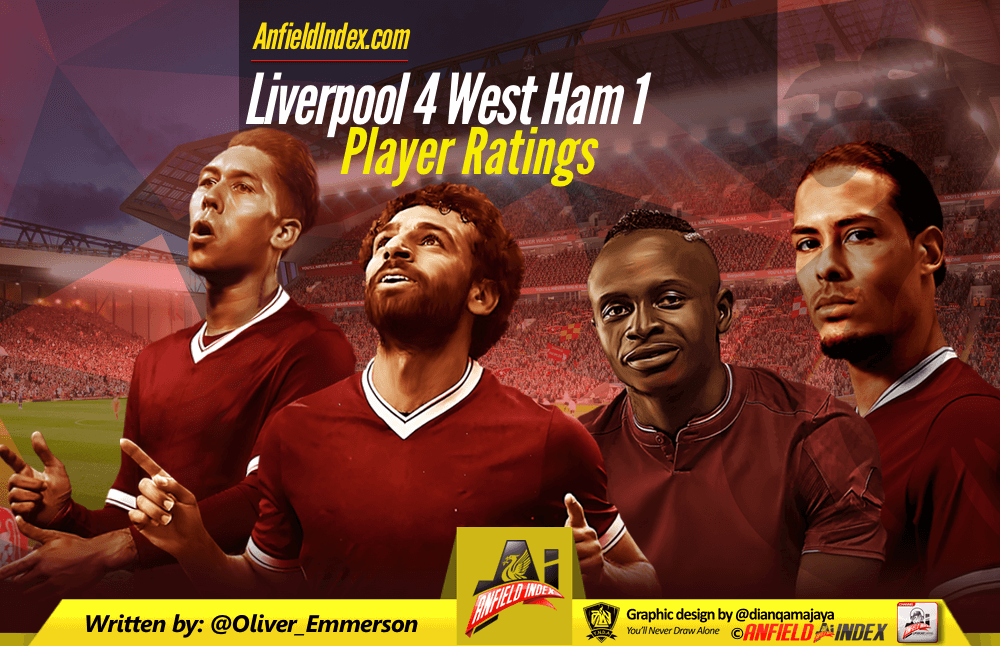 Player Ratings As Liverpool Ease Past West Ham
That's how you return to action after a lengthy break! Routine bread-and-butter stuff for Liverpool who, after a slow start, breezed past West Ham United with a 4-1 win.
Up to second for the time being, the goal difference nicely increased, here's to the same next weekend Reds.
Here's the ratings.
No clean sheet but some top saves
Loris Karius (7): Makes two really good saves when the game is still in the balance, could have gone differently if he hadn't tipped one effort onto the bar and one wide. Think the goal is just a really good finish from Antonio, might feel he should start a little further to his right.
Trent Alexander-Arnold (6): Nice again from Trent, if not spectacular. Not overwhelmed defensively, some good crosses and some bad. One particularly good left-footed pass to Mané that split the entire West Ham defence. Hard to drop him right now on current form.
Virgil van Dijk (7): Just boss, again. Makes everything look so simple, one really good interception when the score was at 3-1 to stop Arnautovic getting away.
Joel Matip (6): Had his feathers ruffled a couple of times but generally a decent game. Having all of the centre-backs just auditioning for a place next to VVD seems to be working well.
Andrew Robertson (7): Superb going forward, caught out a couple of times at the back but nothing silly. Perhaps positioned poorly for the Antonio goal but it's the way Liverpool play, not his fault. Good assist for Mané, surprising it took him so long to get one!
Goal and assist for Emre
Emre Can (8): He looks so happy after goals, I'm still holding out the slightest amount of hope he stays. Gets us off to a good start by peeling off VVD and nodding home then slots Firmino in for the third goal. Loses it for the West Ham goal but might have expected better support behind him.
James Milner (7): Born again at the moment. Charges around launching into tackles, feels like he 23 again. Nearly broke a bone three times but kept getting up. Nothing too jazzy but I just enjoy watching him have legs again. It's been a while.
Alex Oxlade-Chamberlain (7): Started slowly but really got through the gears and was playing beautifully when the full time whistle went. Fantastic dribbling and strength to assist Salah, probably deserved a goal too.
No look, no problem for Firmino
Sadio Mané (7): Lively, on it. Does his best not to score but eventually does which was nice of him. Involved constantly.
Mohamed Salah (7): Goals are a valuable currency and Salah is hoarding stacks. Shouldn't score, Cresswell does pretty much everything right, but he does score. Good at the other stuff too but it's the goals that matter.
Roberto Firmino (8): Another no-look finish is it? Saucy.