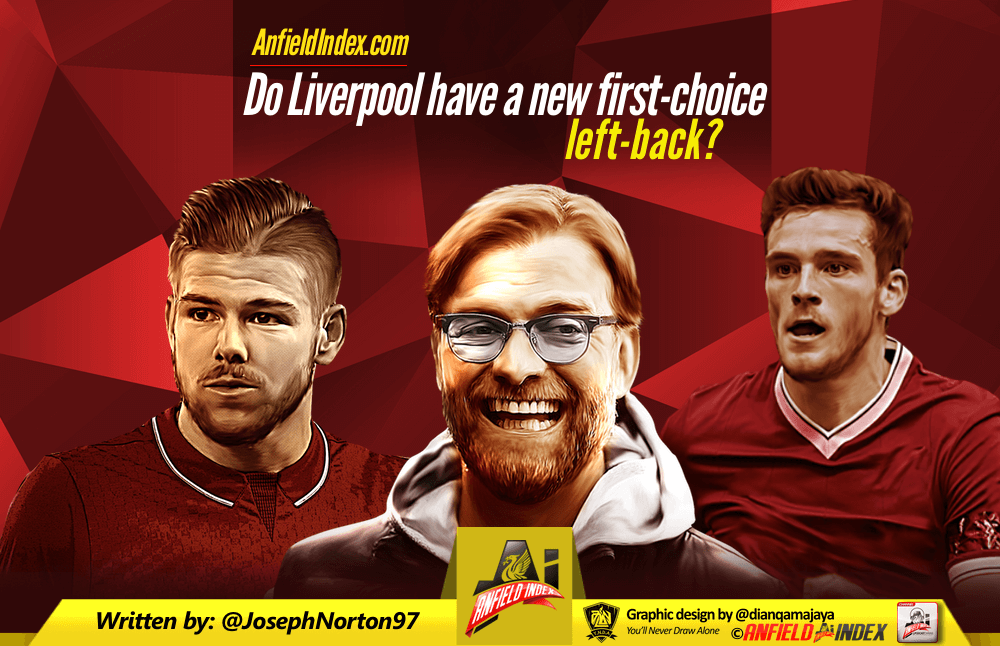 Do Liverpool have a new first-choice left-back?
After yet another superb performance this weekend, Andy Robertson is continuing to develop into a very good left-back in Liverpool's system. Since Alberto Moreno suffered an injury in the Champions League game against Spartak Moscow, the Scottish international has grabbed the opportunity Klopp has given him, progressing game on game, implementing the team's style of play at left-back. Despite showing early glimpses of what he was capable of, Robertson would far too often swing in countless crosses from deep positions despite the Reds possessing very little aerial threat. It seems as though this is an area of his game the boss has worked with him on as we now see Robertson playing intelligent balls through the opposition's midfield and defensive lines whilst selecting the right opportunities to cross the ball – normally from behind the defensive line. The left-back's relationship and link up play with his teammates James Milner, Sadio Mane and Roberto Firmino is continuing to develop and we are now seeing the Reds becoming a real force down the left-hand side as demonstrated in his dominant display against the Hammers at the weekend. There have also been some question marks about the Scottish international's defensive ability, particularly in one v one situations but since joining the full-back has been largely brilliant in a defensive sense despite a few shaky moments away at Southampton a few weeks ago. Although Robertson is developing into a brilliant left-back we should also remember the impressive performances Alberto Moreno displayed at the start of the season, therefore, it would be premature to view him as our first-choice left-back just yet.
Different Qualities
Despite both being attacking, front-foot full-backs, Robertson and Moreno possess slightly different qualities. The Spaniard is a more explosive left-back using his speed to bomb up and down the flanks bursting past opposition midfielders and defenders whereas Robertson is a slightly more measured full-back who is constantly looking to link up with his teammates with intelligent passes through the lines. Both of these styles can be extremely effective, however, at times it can appear Moreno puts his head down and runs into space before thinking about what to do with the ball. Robertson who is now playing his best football for the Reds takes a more progressive approach which seems to benefit his teammates slightly more as he constantly looks to link-up with them both from deep and in the half spaces making defending very difficult for the opposition even if they set up in a low block. Quick, intricate play is every defence's nightmare as West Ham discovered on Saturday.
Defending
Both players also take a slightly different approach when it comes to defending, Moreno is an all action type of defender who will look to win the ball whenever he thinks is possible – lunging into tackles in his trademark fashion. Although this means there is less margin for error Moreno is usually very successful at winning the ball back. Before this season Moreno's defensive positioning and awareness looked suspect, regularly losing concentration causing the backline lots of problems. Having said this, the Spaniard seems to have learnt from this and has shown much more discipline in a defensive sense resulting in a dramatic improvement in performances baring a few mistakes away at Hoffenheim & Sevilla. Robertson is a slightly more reserved defender who will stay on his feet and wait for his attacker to take a bad touch or his teammates to get back and support him before making a tackle. This generally means he makes fewer tackles but is equally as effective at preventing his winger from having a positive impact on the game. Despite misjudging a few crosses against Southampton, Robertson's defensive positioning and awareness has been brilliant highlighting his maturity and discipline. The main physical advantage Moreno has over Robertson is his added speed which shouldn't be underestimated, when playing against some of the top wingers in Europe such as Kylian Mbappe, Kingsley Coman and Lionel Messi you need your left-back to have great recovery speed which not only means he can keep up with these sort of players in one v ones but also have the confidence to get high and wide when we have possession giving the winger something else to think about whilst having the confidence that he'll get back in time if the ball turns over in possession. Alberto Moreno defended brilliantly against Eden Hazard and there is no doubt his added pace benefited him in this duel, Robertson also turned in a great defensive display against Yannick Bolasie – one of the fastest and most dangerous wingers in the league. Although it could be argued Robertson was slightly more conservative in his approach to deal with the winger he shouldn't be criticised for this too much as his first thought against this kind of player should be stopping his opposition from being effective. Having said this, if Liverpool's number 26 wants to be first-choice left-back in the long term he will have to become a slightly more powerful runner in order to pose wingers like Bolasie questions in a defensive sense but I'm sure this will come as his confidence levels increase and his body develops further.

The Numbers
Although making these observations is important it is crucial we look at the statistics to further understand whether what we think we see on the pitch actually turns out to be a reality. In a defensive sense, it is unsurprising to see Moreno makes more tackles per game at 2.7 compared to Robertson's 1.5 because of his more aggressive approach to defending. In contrast, Robertson makes more interceptions, 1.3 to 0.8 and is dribbled past less per game at 0.7 to 1.2, these stats are very relatable to both players defensive styles. The Scott is happy to bide his time and make defensive actions when he know's he's going to win the ball whereas Moreno looks to intervene whenever he can. If the Spaniard wants to continue his improvement then his decision making on when to dive in and when to stay on his feet must improve. In terms of aerial duels it is again Robertson who comes out on top winning 73.33% which is exceptional, for context Dejan Lovren who is also very good in the air wins 64.46% of his aerial duels per 90 although it must be remembered he comes up against attackers who are much more dominant in this aspect of the game compared to Robertson. As you would expect because of his size, Moreno fairs much worse in this department winning just 42.86% per 90. Having a full-back who is quite dominant in the air is extremely beneficial to our defence who have struggled with defending balls into our box from open play and set-pieces. Quite surprisingly it is Moreno who comfortably wins more duels per 90 at 52.34% compared to Robertson's 40.26%, this suggests that Moreno is actually a lot more efficient and effective in a defensive sense than people give him credit for while Robertson needs to continue to improve this aspect of his game. The Spaniard's impressive recovery speed could be one of the main factors to him being much better at this area of the game while Robertson's 1 v 1 defensive skills were questioned before he joined Liverpool, however, we have rarely seen him being exploited in this sense. On the whole the statistics mainly highlight the differing styles and physical attributes both players possess rather than being conclusive in suggesting whether one player is better defensively than the other. Although defensive positioning and awareness can't be measured by a statistic from what we've seen this season Robertson certainly looks slightly more disciplined and mature at this area of his game something we cannot underestimate.
Link-up Play
As we are all well aware being solid defensively is not nearly enough for you to become a top full-back at Liverpool, you have to be effective at going forward and linking up with our dynamic and fluid front line also, something both Moreno and Robertson are both very adept at doing. But which one is better in this sense? In terms of key passes per game, there isn't anything in it, Robertson averages 1 while his Spanish teammate averages 0.9. The biggest differences come when we look at a some of the other rather interesting statistics which delve a bit deeper into the overall impact a player is having on the attacking unit. Because of his added speed, it isn't surprising to see Moreno convincingly beating Robertson with successful take-ons per 90.
Moreno manages an impressive 71.43% compared to Robertson's 50% again this just further highlights the differing style of both players, Moreno has the speed to burst past the opposition in 1 v 1's whereas Robertson doesn't quite have these physical attributes which is why he often tries to link-up with his teammates more and is occasionally unsuccessful in trying to beat the opposition when he dribbles with the ball. It's difficult to say one style is better than the other as it really isn't, it's all about how effective you are at it and although Moreno is very good at committing the opposition defence his end product isn't as good as it should be as we will discover later on.
In contrast to this, the effectiveness of Robertson's combination play and ability to play balls through the opposition's midfield and defensive lines is pretty impressive. Per Understat, the Scott has a superior xGBuildup90 (Total xG of every possession the player is involved in without key passes and shots per 90) of 0.48 compared to Moreno's 0.28 and a better xGChain90 (Total xG of every possession the player is involved in per 90 minutes) at 0.57 compared to Moreno's 0.35. What these stats try to show is the positive impact a player is having on the team's attacking performance which can't solely be explored through goals, assists or hockey assists (the assist before the assist) this reinforces how intelligently Robertson is now utilising the ball and linking up with our players who are on his side of the pitch.
This was evident on Saturday with his impressive combinations with the likes of James Milner, Sadio Mane and Roberto Firmino, highlighted by the fact he created two big chances and claimed an assist. It also points to the fact Moreno doesn't always make use of the impressive positions he find himself in, something he must improve on in his game if he is to impress Klopp when his opportunity arises. After seeing these statistics it is unsurprising to hear that Moreno falls well behind his team-mate when we look at xA90 (expected assists) a lowly 0.05 to 0.21.
Although statistics can't tell you everything, they do seem to back up the conception that having now understood what Klopp wants from him in both a defensive but in particularly an attacking sense Robertson is becoming a really effective player for Liverpool, influencing games in the final third. We are no longer seeing him swing in countless crosses into a box which is only occupied by one Redshirt but instead see him linking up with his attackers to work an opening followed by an intelligent or well-worked end product. There is no doubting Moreno possesses quality in an attacking sense and his ability to carry the ball must not be overlooked but these stats show how important it is for him to improve his decision making in the final third.
A New First Choice?
As mentioned, despite a string of impressive performances I believe it is premature to say Liverpool have a new first-choice left-back as both have great quality and offer attributes very different to one and other. In order to get the best out of each of them, Klopp must choose the right opposition to play them against where their differing attributes will be most effective. We are yet to really see either of them but in particular, Andy Robertson come up against any of the best wingers in Europe and how he deals with these challenges will perhaps go a long way to determining whether he can truly be considered a long-term solution at left-back. As for Moreno, it is far too early to write off his Liverpool career after such an impressive start to the season but it is fair to say with Robertson in such formidable form his chances may well be limited which means when the opportunities do arise he has to demonstrate to all of us the improvements he has made to his game not just in a defensive but an offensive sense also. It looks as though the Reds could have two fantastic left-backs on our hands but to jump to the conclusion that Andy Robertson is now our first-choice for this position would be premature and short-sighted – he has plenty of big tests awaiting him between now and the end of the season.