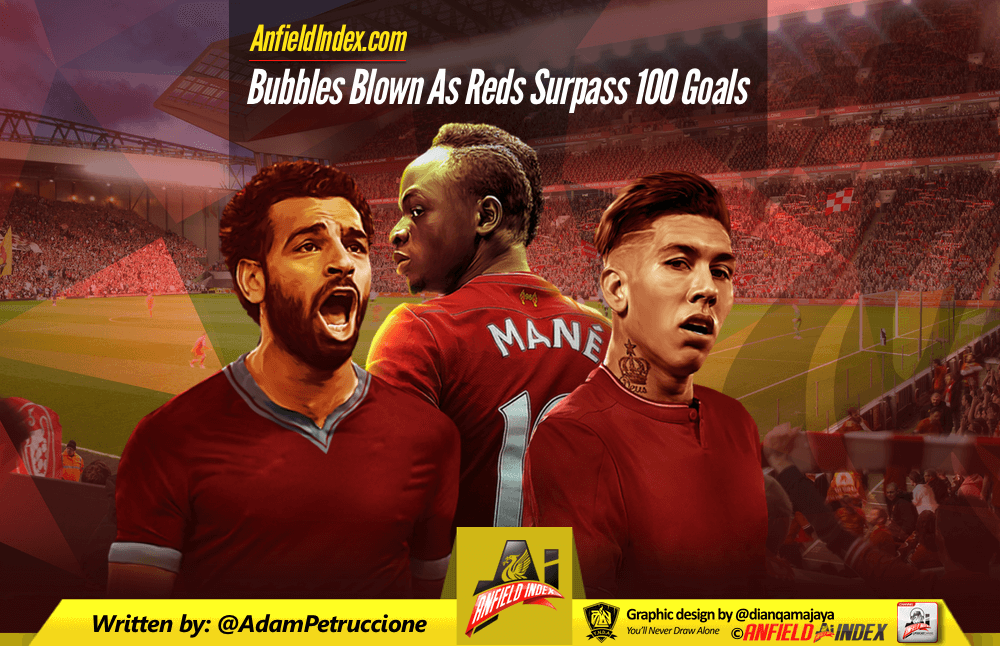 Bubbles Blown As Reds Surpass 100 Goals
Up to second on a Saturday with third and fourth facing off today. Ten matches to go. One foot already in the Champions League Quarter Finals. It's a good time to be a Red.
100 GOALS
After a feeling out period, not too dissimilar to what we saw in Porto, Liverpool found their stride and went on to pop all of West Ham's bubbles and left the Football Genius looking for answers.
It was the probably gone, but still great, Emre Can that put the Reds on the board first. A Mo Salah corner was too high even for Virgil van Dijk but Can was waiting just behind him to head the ball in for a 1-0 lead. The strike marked 100 on the season for the Merseysiders but was probably their most straightforward of the year.

As we've seen so many times under Jurgen Klopp, the first goal for Liverpool often opens up the floodgates, but there would be a couple of missed chances before we could increase the lead. Crosses and cut-backs came in from all angles, but the finishing just wasn't quite there, leaving Liverpool with a 1-0 lead at the interval.
AN OX IN THE BOX
Alex Oxlade-Chamberlain returned to the starting XI, this time in central midfield and it looked as if he's been working at it. He created loads of chances for himself and others in a midfield that didn't exactly control the proceedings, but they did their part to dominate the game.
It was AOC with an Emre Can-like, dynamic run through the middle of the park that would lead to the second goal of the afternoon. After bouncing off several hapless Hammers, Chamberlain slipped the ball through for Mo Salah who made a tough angle look easy. He has now scored in six consecutive matches for the Reds.
BIPPITY BOPPITY BOBBY
Roberto Firmino just keeps pouring it on. Our number-nine won't be exchanging kit numbers again anytime soon. There was a point in October when we were hoping for any goal for the Brazilian, but now it seems that he is not satisfied unless he scores with some flare. Another no-look, stinky strike was made possible by a mistake from Mario and an adept pass from Emre Can. Adrian charged out and made himself big to prevent a Firmino globito but he simply pushed the ball under the 'keeper, leaving himself with an empty net to slot into.
UNCLEAN
It would have been a perfect afternoon if we could have held West Ham scoreless, but several unlikely events had to transpire for Liverpool to concede. Emre Can was out-battled in midfield to start things off. Van Dijk allowed the strike through his legs, and some less than ideal positioning from Karius was the final piece that had to fall into place for LFC to allow Antonio's goal.
The Anfield faithful were audibly nervous. There was a moment where another strange Mané miss made the crowd wonder if a capitulation was possible but minutes later, Sadio would make amends.
An Andy Robertson cross was finally put home by a classy Mané finish. His earlier chance was easier, but as long as he keeps stacking up numbers there doesn't seem to be a need to worry.
Liverpool supporters can now enjoy their Sunday knowing that at least two of our rivals will drop points. Chelsea travels to United while City face Arsenal in London.
With ten matches to go Liverpool have positioned themselves about as well as could be expected. Clubs on the continent and in the Premier League have no answer for the Reds' attack right now while the manager is being afforded the time to comfortably calculate the best complimentary parts.
FiveThirtyEight now has our Top-Four chances at 97%. You'd have to think a similar percentage of Liverpool supporters are sporting Firmino-esque smiles right now.
Up the Reds.
These three ❤️#Salah #Firmino #Mane pic.twitter.com/XNNuU0GbGi

— Im Sardar (@_FILMBuFF_) February 24, 2018