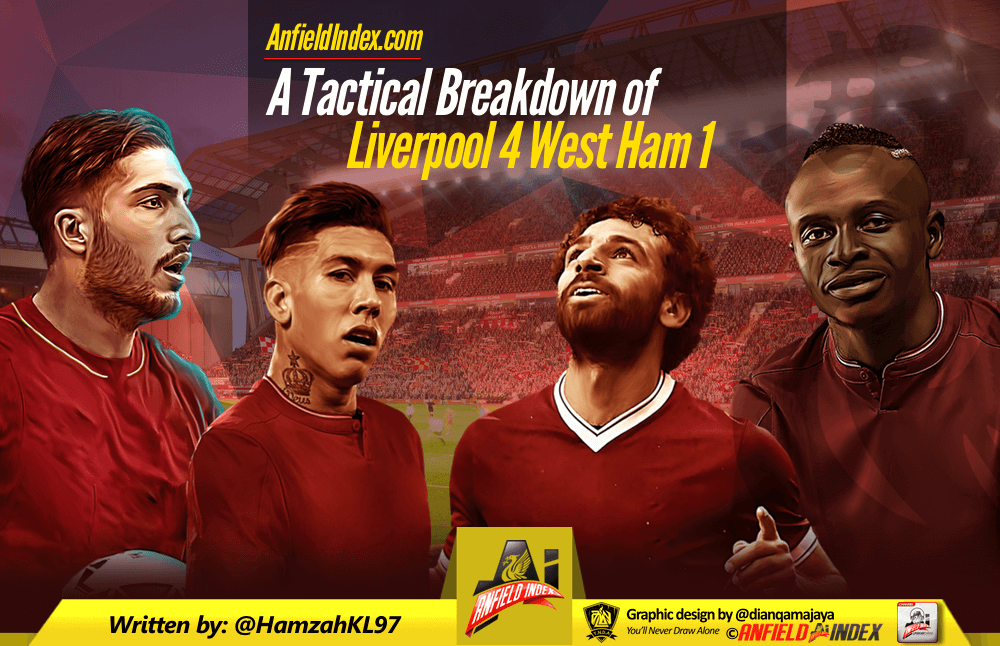 Liverpool 4-1 West Ham: A Tactical Breakdown
"It was a joy to watch, to be honest." – Jürgen Klopp
Jürgen Klopp was all-smiles as he delivered his post-match press conference, and who could bemoan him for being so, after such a strong performance from Liverpool. The Holy Trinity of Salah, Firmino and Mané not only bagged a goal apiece but thrived and attacked with intensity across the match. Liverpool's full-backs, Alexander-Arnold and Robertson, shone too with their offensive contributions remarkable, consistent and at a high quality throughout the game. Similarly, the midfield trio of Can, Milner and Chamberlain looked especially aggressive as they drove onto the West Ham defence and attempted to play more aggressive forward-passes or through-balls. It was a rounded and thorough performance from the team, who seem to be high on confidence after dispatching Porto and having an extended recovery period alongside the ability to prepare for this game without the distraction of cup football.
Tactically, there were a number of things which stood out to me: sustained pressure across the width of the pitch, attacking intent both centrally and wide, the positional contributions of the full-backs and the supporting work of the midfield to allow the forwards to thrive.
If we take the Liverpool average position map (orange), we can clearly see the full-backs in extremely advanced average positions. Compared to the Porto game, the full-backs were further forward, and the midfield spread further out too. This was a region in which Milner shone throughout the game, as he targetted the channel between the West Ham right full-back and right centre-back.

In this role, he worked extremely well with the aggressive Robertson, whose contribution (and Alexander-Arnold's) we can see in the heatmap below.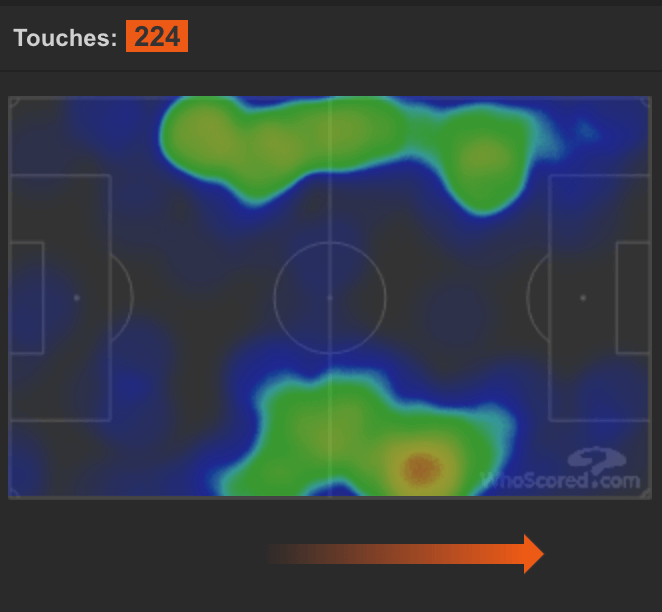 The contribution of Liverpool's midfield was colossal though, with the heatmaps of the trio greater than that of West Ham's midfield foursome: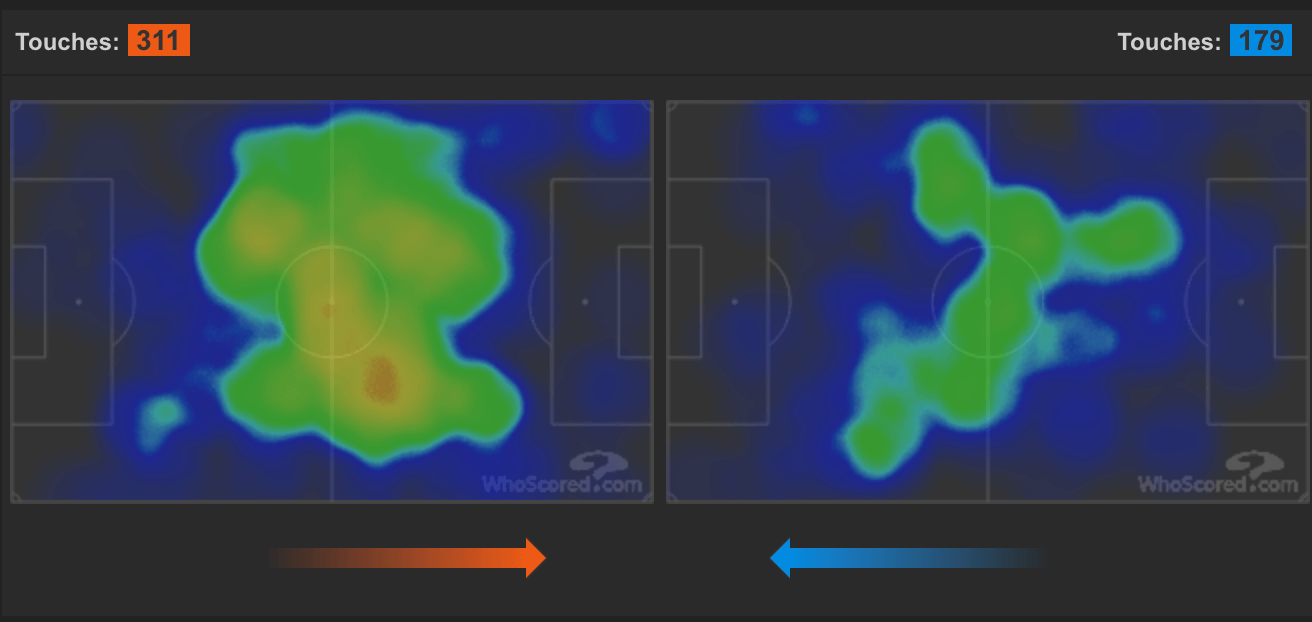 And this contribution was crucial in the context of the game. What we saw during the game was central penetration alongside that supporting work from the wingers, but to exploit this, Liverpool needed to be aggressive and show intent when in possession. All of the midfield three made concerted efforts to move the ball forward, either into the feet of the front three or in behind with through-balls: indeed, Liverpool recorded 11 through-balls in the match, illustrating this very point.
The Salah chance in the third minute, where he hit the post, which Milner instigated, not only showed to me that Liverpool were looking to be more aggressive from midfield, but also the direction in which the manager wishes the team to head in. Recent links, confirmed by Paul Joyce, report an interest in Napoli's Jorginho, a creative, deep-lying midfielder/playmaker. It certainly seems to me, from this evidence, and that of the game, that Liverpool are looking to exert creative control on matches both from deep and from high up the field – with Firmino. Getting the ball forward, and in between the spaces of opposition midfielders and defenders suggests a progression to a team which is looking to use its high possession rates better. We shall see if this trend continues over the remainder of the season.
As noted earlier, Liverpool looked to attack centrally. If you're a regular reader, you will no doubt wonder why this central approach worked so well, when usually against teams who employ the low-block it doesn't. Liverpool were simply more creative, more intelligent and far more clinical than they have typically been in those games, but the contributions of the full-backs and offensively positioned midfielders, who would often take on their man, and thus take them out of the game once they had progressed past them allowed Liverpool to overwhelm West Ham in the area just outside of the box. The rapid transition play from defence into midfield and immediately to the forwards was stunning. Fast combinations caught West Ham as they committed forward, and were unable to revert to their defensive shape, allowing Liverpool space in behind the midfield and the defence to exploit. Matip, Van Dijk and Can played a key role in this as they looked to play on the front foot and get the ball forward as much as possible, and as fast as possible. Liverpool were not just progressing up the pitch through pressing, they were doing it with the ball, but at the same speed and intensity at which they press: Liverpool were pressing with the ball.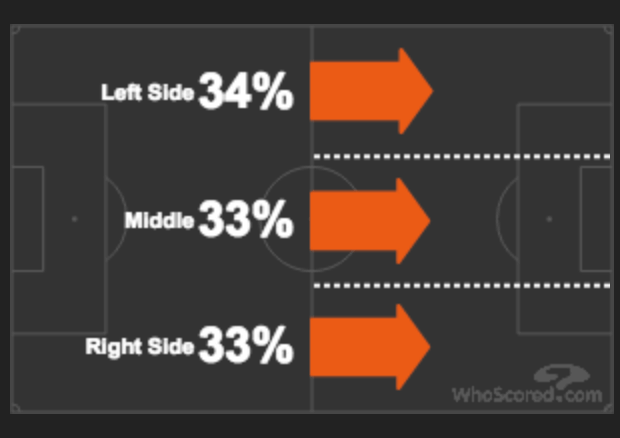 The passes preceding Chamberlain's assist to Salah explain what I've just described above best, and of Liverpool's 712 passes, 481 (67.6pc) were forward, and this was despite holding 68.3pc possession – a break from the trend in which Liverpool control possession, but fail to exert dominance upon the opposition.
Chamberlain also seems to be growing into his role at Liverpool. Indeed, the attacking-midfielder role dubbed the "Lallana-role", Chamberlain has very much made his own, and to an extent improved on: he made four key passes, the most of any player on the pitch, and his pace, ability to turn, quick passes etc., allow Liverpool to catch opposition sides in transition extremely well. The forty million pounds spent on Chamberlain was a source of celebration for Arsenal fans at the start of the season, but now seems a superb piece of transfer business by the club. I would ask whether his goalscoring contribution is something he should look to improve, but he seems to be trying to get into goalscoring positions already, as he took a number of shots in the game; hence, it appears Klopp and Chamberlain are looking to turn him from an inconsistent winger to a complete, rounded attacking midfielder, and so far they seem to be succeeding in doing so.
This sustained pressure across the pitch earned rewards, as Liverpool had chances aplenty, BBC's xG of 3.73, and Understat's 3.92 in favour to LFC confirmed this, however, West Ham still managed to score a goal.
It was a strange goal to concede, with Can attempting to take the ball forward in an aggressive, positive manner. As he tried to do so, Robertson pushed forward, as he expected to do, and Van Dijk stepped up, as he attempted to play Antonio offside. The mistake here is threefold, with Can's decision to try to get the ball forward, whilst positive, punished as he was tackled. In hindsight, he probably should have played a simple pass out wide. The other mistakes though are from Alexander-Arnold and Matip as they fail to push up and take Van Dijk's line. From there, Antonio races through on goal, and beats Karius, whose attempt to save the ball is curious, to say the least.
When watching Antonio's shot go past Karius, something seemed a bit strange, and whilst the ball found its way into the side-netting, and almost flicked the post on the way in, the pace of it and angle at which it crossed the line made me reconsider whether it was a good shot, or if Karius had some culpability. Indeed, when a shot has an xG of 0.1, there are always considerations and questions to be made, even if the shot placement was good.
Karius' positioning was actually outside of the post when the shot was struck, which is fine, for a keeper looking to close the angle down. However, the issue is that Karius takes a leftward step as the ball is hit, meaning he has leftward momentum as the ball goes across him. As a result, Karius is unable to spring and stretch into a long sprawled prone position, instead, his legs simply go leftward as his body collapses downwards, meaning he cannot reach the ball. In a tweet the other day, I mentioned how David De Gea, when a ball goes across him aerially, does not over commit with his positioning, but instead, he takes a few small steps and sets himself, and I believe this is a similar instance. Karius, like a slip-fielder in cricket, needs to be still, rather than bouncing or moving side to side, and that would allow him to react and propel himself off the ground towards the ball.
The point being, whilst some keepers will see a player running in for a header behind them & immediately try to sprint & cover the far side: their sidewards momentum takes them away from the best position. De Gea moves to the side very slightly meaning he's set & able to react.

— Hamzah (@HamzahKL97) February 22, 2018
Other than that though, Liverpool were remarkable and utterly dominant, however, in my breakdown of the Porto game I ended with a comment which stated tougher challenges lie ahead, or something to that effect, and whilst the team is flying high at the moment, I stick by that assessment. Nonetheless, I leave you with some rather pleasing indicators of the very real progress the team has and is still making under Klopp.
We are currently creating more XG while allowing less XG against,

scoring more goals whilst conceding fewer goals,

and winning more points per game than at any time under Jürgen Klopp

In fact since 13-14 for the PPG and attack….since Pepe-Carra and Agger for the defence

— SimonBrundish (@SimonBrundish) February 24, 2018
19week rolling averages
Highest Goals
XG
Points per game

Lowest Conceded
XGagainst#Progress pic.twitter.com/m32kdICIt8

— SimonBrundish (@SimonBrundish) February 24, 2018
Race for the top four. Arsenal out of it. Chelsea vs. Spurs on 1st April may prove pivotal. pic.twitter.com/6uo0x9YwkM

— Andrew Beasley (@BassTunedToRed) February 25, 2018