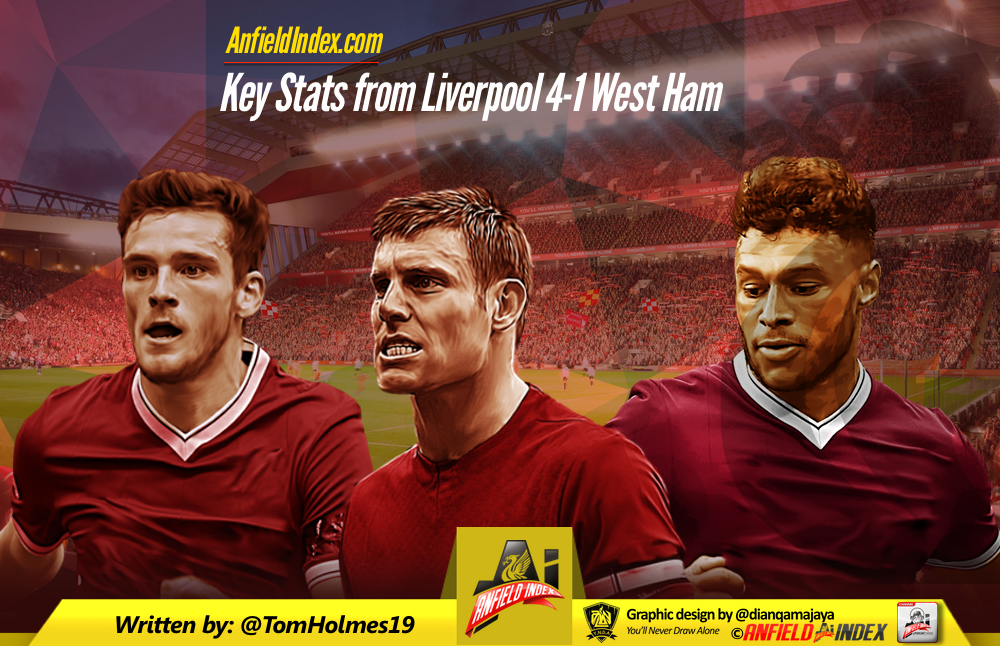 Key Stats from Liverpool 4-1 West Ham
Liverpool ran riot to put West Ham to the sword 4-1 on Saturday, but what were the key stats from a huge win at Anfield?
Red Hot Reds Break The Record 
Liverpool set their highest expected goals of the season with 3.92, with their previous best the 3.46 notched against Arsenal at Anfield early in the season. 3.92 is Liverpool's best xG since they beat Watford 6-1, with the xG that day 4.18. It's also the third highest xG of the Klopp era in the PL, behind Watford and the 5-1 against Hull, which was 4.65.
Of that 3.92, 3.44 (or 88%) of it landed at the feet (or head) of Salah (0.7), Firmino (0.79) and Mane (1.95), as the Reds created five big chances, scoring just two of them. Firmino (0.53xA), Can (0.72), and Ox (0.92) all created a big chance apiece, with the staggering Andrew Robertson creating two for 1.13 xA. That said, everyone in the team outside of the CBs and Karius created at least one chance.

That's how you score goals. Put it on a plate for your best strikers. Sounds easy doesn't it? Well the Reds made it look easy on Saturday.
Robbo and Ox Step Up 
Whilst in terms of goals it was the usual suspects for LFC, in terms of creativity, Robertson and Oxlade-Chamberlain were the two men who stepped up in a big way, between them notching over 2 expected assists, two actual assists, three big chances created and seven chances created. They both also contributed in other ways, with seven combined dribbles and three tackles each.
These are two players who were both signed in the summer, and both of whom have had slow starts under Klopp, but both are finding their feet in a big way and both were absolutely sensational in this game. I'll leave this topic with a small thread from the excellent Andrew Beasley on how Robertson stacks up creatively.
Andy Robertson created two clear-cut chances today.

It was the second time this season he's done that (also vs. Palace H).

He and Salah are the only Liverpool players to do this twice in the PL this season.

— Andrew Beasley (@BassTunedToRed) February 24, 2018
Reds Keep Rolling On
19week rolling averages
Highest Goals
XG
Points per game

Lowest Conceded
XGagainst#Progress pic.twitter.com/m32kdICIt8

— SimonBrundish (@SimonBrundish) February 24, 2018
As this data from Brundish demonstrates, Liverpool are enjoying their best half a season under Klopp. For those of you not keeping score, that 19 games rolling average begins immediately after the Spurs defeat, and since then we've clocked 44 points, 13 wins, five draws and one defeat. In that time we've scored 51 goals, conceding 16. Per game that's 2.32 points, 2.28 goals scored and just 0.84 goals conceded. That might not be title-winning form extrapolated over a whole season, but it'd be damned close.
Milner Jumps In 
Nine tackles from James Milner. NINE. This might be cheating but here's another thread by Beasley because it's 11pm on Sunday night and I have work in the morning. See you lot next weekend.
James Milner made 9 tackles against West Ham.
Milner averages the joint-most tackles per 90 by a player in their 30s in the PL this season. pic.twitter.com/pp7stKw3ib

— Andrew Beasley (@BassTunedToRed) February 25, 2018