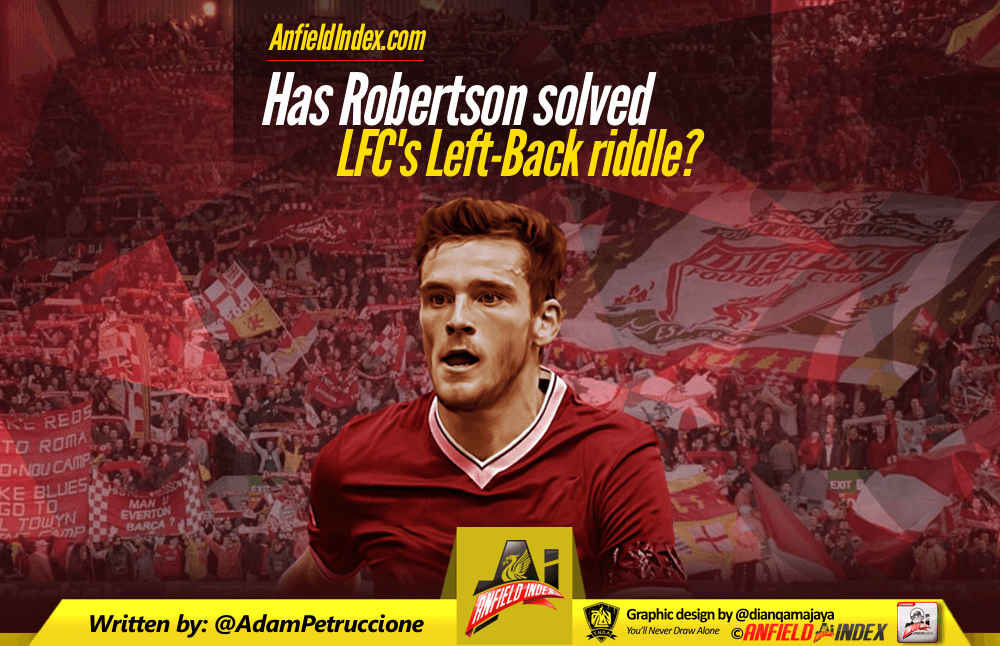 Has Robertson solved LFC's Left-Back riddle?

The only player who will give Mo Salah any competition for signing of the season will be our fullback Andy Robertson. The £8 million theft from Hull has been coming on in leaps and bounds in recent weeks, seemingly cementing his name in the team sheet despite the return of Alberto Moreno.
Robertson created two clear cut chances against West Ham, bringing his total up to five for the season. That is only topped by Azpilicueta, Walker and Holebas, despite Robertson only having played in 15 matches.
In the pressing game, Robertson has blown away Moreno and Milner's numbers, and has been in the side consistently across a period where Liverpool have improved defensively. so he's doing his part at both ends.
P18
W11
D5
L2
Goals 44 (93)
Conceded 17 (36)
2.11 points per game (80)

That'd be a season goal difference of 57. Only 2 teams in history didn't win the @premierleague with 57 goal difference pic.twitter.com/dbiihOg5Lw

— SimonBrundish (@SimonBrundish) February 26, 2018
Maybe this writer is biased because I happen to live a few blocks away from the stadium where Marcelo plies his trade, but despite Andy Robertson's tireless running, and glamorous attacking statistics I can't help but think he isn't the long-term fit.
Robertson is incredibly talented at putting in a cross, but too often our forwards aren't there to finish them, the outlier being Mané against West Ham. If those types of crosses were being put in against the Reds by opposition fullbacks I would need to change my Underoos several times a match. However, those types of passes don't seem a match for Jurgen Klopp's overall scheme or Liverpool's personnel.
Robertson is adapting and learning game by game, and that's a credit to him, but against low block sides especially, his passing to our Lilliputian forwards is a waste. Liverpool's left-back has to be a threat to create and dribble past a man from the wing and then cut the ball back or take his own shot. At least that would be ideal if a fullback existed who was capable of such a thing. Even the great Marcelo has only tallied 3 goals and 5 assists in 28 matches this season. Marcos Alonso is the only left-back in the top five leagues who has more than 2 goals with 6, but he certainly hasn't collected those from dribbling past his marker.
However, there is a fullback currently tearing up the Championship that was on our transfer list last summer. And according to Twitter, Jurgen Klopp never leaves gives up on a transfer target.
Young Ryan Sessegnon is so unbelievably talented and would be such a fit for Liverpool that he should be a top priority in the summer regardless of Robertson's performance over the remainder of the schedule. Clubs who are satisfied with competing, stick with Robertson. Clubs who are aiming to dominate go for the best regardless of who they currently have.
Marcelo the magician puts up some nice numbers. Robertson is impressing with his 5 clear cut chances created… but forget about chances for a moment. Sessegnon has scored 13 actual goals this season, himself.
Detractors will argue that he's only a kid, he's doing it in the Championship, he plays further forward sometimes…. These are all positives for me. Even when Liverpool play low-block sides their spectacular trio of forwards still tend to play relatively narrow. They leave the touchline for the fullbacks, but unless Moreno is on the pitch that never leads to much. If opponents are going to sit back against Liverpool next season, fine, have Sessegnon push up to the left side of the box and see what answer they have for that. With defenders already worried to death about Mané, Firmino and Salah, Sessegnon would have an easy time cutting in from the left.
The Fulham flyer is also versatile enough to play on the left wing. At 17 years old, he may eventually want to play up front, but Liverpool's style would allow him to transition smoothly from fullback to left wing. Providing a rotation option for the Mané would go part of the way towards replacing the Coutinho sized hole on Liverpool's left, leaving a creative midfielder still to target. The kid is no slouch as a defender either, putting up 1.7 tackles per game compared to Robertson's 1.5.
Ryan Sessegnon (17) has scored 18 career goals from LB including 8 this season and is currently Fulham's top scorer. He is very solid defensively and is beginning to epitomise the modern full-back. Would love to see him at Man City. pic.twitter.com/w9WCjW66Z7

— Robbie Fahy (@RFahy00) January 20, 2018
Craig Ward of the Sunday Express reported last week that Fulham would demand between 30 and 50 million for their prized youngster, but over the course of a ten-year career that would be more than reasonable. Rumours over the summer were that Liverpool pulled out of negotiations because they wouldn't guarantee starts to a 16-year-old, but based on the season he's had that shouldn't be an issue anymore.
Through January, Spurs were thought to be the main competition for Sessegnon. Since he continues to improve as a scoring threat by the day, the list of clubs looking for his signature is sure to expand by June. With no other standout English left-back this season there is even a shot for him to travel to Russia, sending up an even brighter flare to clubs across Europe.
Would Jurgen Klopp be willing to take this teenager for a day out at Blackpool Pleasure Beach? That seems an appropriate way to recruit a teenager and it worked eventually at least for Virgil van Dijk.
Andy Robertson is doing a more than credible job as a conventional fullback, but Liverpool need something unconventional to surpass Europe's mega-clubs. Sessegnon could be that key piece that puts the Reds over the top for years to come.
Go get him Jurgen.