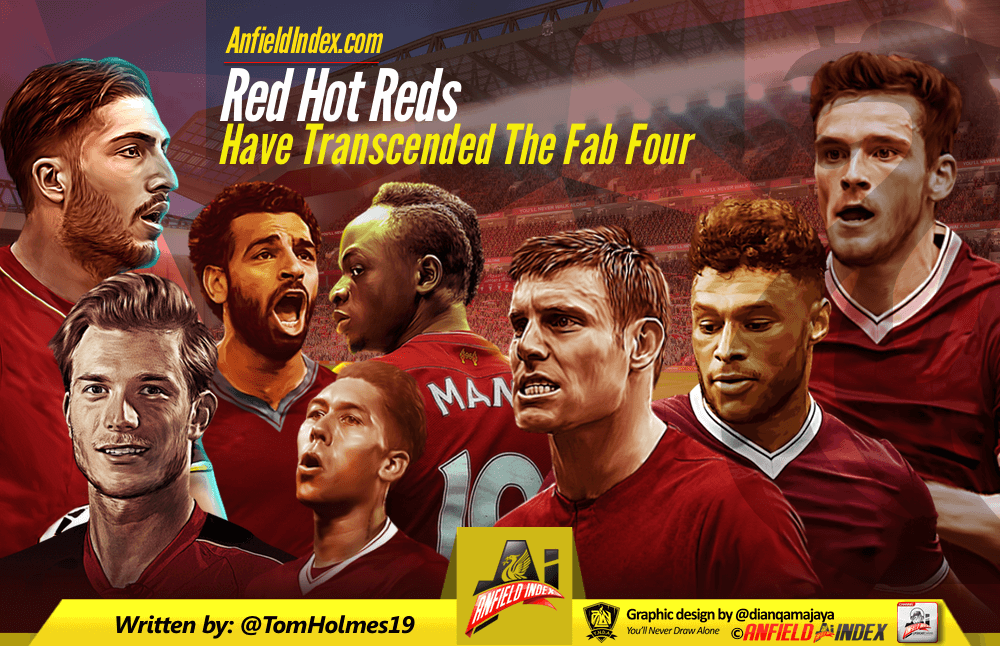 Red Hot Reds Have Transcended The Fab Four
It was rather telling that after a game in which all three of Liverpool's front three scored – taking them to a total of 66 goals between them – none of the conversation was about how good Salah, Firmino and Mané were. So I'm going to start this article with that bit. Because they were all very good against West Ham and indeed have been phenomenal all season.
Bobby was all flicks and tricks, passing brilliantly and putting the ball on a plate for Mané. His main contribution was his absolutely brilliant goal, with a deft touch to take the keeper out the equation and the no-look finish that once again stole some of the headlines.
Mané was electrifying and on another day would have had a hat-trick. Desperately unlucky to hit the post, he turned around a few moments later and calmly slammed the ball in off the post after a fantastic cross from Robertson. What impressed me a lot about Mané in this game was his movement, as he consistently got himself in great positions.

And of course Mo Salah, whose goalscoring record is simply unbelievable. He's now up to 31 for the season and showing no signs of slowing down. If anything he's speeding up. Whilst he failed to find the target with a tricky header and also slammed the woodwork, it was the calm, powerful finish at the exact right moment to take the game to 2-0 that once again proved decisive.
Three excellent players, all doing their jobs and winning games for the Reds. But this win, and if we're being honest Liverpool's recent form, was not just about the three boys up front, who put the ball in the back of the net.
To begin with the obvious, Emre Can was the fourth player to find the net, and his header at 0-0 will have calmed Anfield as they saw their side take a first-half lead. And in a game with some truly exceptional moments, there are very few better than Can's exceptionally flighted pass to Firmino to put the Reds 3-0 up. As usual, however, Can ran the midfield. He's becoming not just a dynamic, crucial element to our midfield, but also a genuine game-changer. He doesn't score as many goals as some would like, but when he does score, it's generally important.
And so we move to the two players who have taken, and rightfully so, the lions' share of the praise after this game. Alex Oxlade-Chamberlain has been a player who so far in his Liverpool career has played well in fits and starts. His inconsistency is frustrating, but when he's hot he's hot. It's been well over a month since he played a critical role in Liverpool's 4-3 win over City, and in the handful of starts he's accrued since then, he's been disappointing.
Nevertheless, he's been exceptional in some very important games this season and this was one of those. His assist for Salah's goal was ridiculously good (or lucky depending on who you ask) but he made two or three other excellent plays, including an absolutely sensational pass for Sadio, only to see Mané hit the post when it was easier to score.
And speaking of players putting it on a plate for Mané, this brings me many people's man of the match, Andy Robertson. Robertson created two big chances, including the delightful assist for Mané's goal, and he was an absolute machine up and down the left flank. The defensive side of his game is coming along leaps and bounds, but equally importantly, he's beginning to look like a fluid, functioning member of our attack, as opposed to merely an exceptional crosser. His final third play is more than just delivery, he's starting to make intelligent choices as well.
This article wasn't meant to be merely a eulogy for our entire starting eleven against West Ham, but I'll finish with one more player, although to be frank I could pick out any of the others for praise. Van Dijk, Alexander-Arnold and Milner all turned in very strong performances, but the player I want to highlight is Karius.
Karius has been the subject of fierce debate since Mignolet was dropped over the Christmas period. Many believe we should have signed a keeper in January or the summer, and that Karius simply hasn't done enough to demonstrate he is good enough to be Liverpool's keeper. And certainly, Liverpool's starting goalkeeper needs to have more on his resume than simply "not-Mignolet" (although don't get me wrong, I'd give anyone a run in the Liverpool goal based on the premise of them not being Mignolet).
But the school of thought arguing Karius deserved a prolonged run to prove what he is capable of in a settled defence is starting to get some momentum behind them, and Karius is starting to make a real difference. Against West Ham, he made a simply stunning save at 0-0 to keep out Arnautovic, the latest in a long string of decent saves. More importantly, he seems to fit Liverpool's style better than Mignolet. The defence looks less nervous, his distribution is better and he's really beginning to feel like a part of the team. Whether or not he's a stop gap until the summer remains to be seen, but so far he's making a positive difference.
The underlying point that I'm trying to get to is that Liverpool are increasingly a team that are not just firing on one or two cylinders, but all of them. It's easy to say that you don't win games like 5-0 in Porto without more than two or three of your players playing well but what's potentially being lost in the rhetoric and hype about Firmino and Salah (as I mentioned at the start, fully deserved hype) is that we are not just a team playing well. We are a team that is playing well because the vast majority of its cogs are turning in top performances week in week out.
Our full-backs are flying, and both Robertson and Trent have demonstrated that they deserve long runs in the side. Our central defenders look better for playing alongside VVD, who has barely put a foot wrong since joining. Our midfield looks, dare I say it, a more cohesive unit without Phil, and the five players we have in those positions are essentially rotating interchangeably without any drop in quality. As much as Emre is our best midfielder by a mile at the moment, he wasn't even slightly missed during the demolition job in Porto.
And then, of course, there's the Fab Three. 66 goals between them, none of them showing any signs of slowing down, and developing almost telepathic interchanges. This is a side that is not just thriving but actively improving all the time.
Of course, form is temporary and there is a case to be made that right now some of these players are being elevated above what we might expect of them, but that's the nature of football. When you have a manager and a system that is functioning somewhere near its peak, then the players involved will all benefit from it.
But in this case, it definitely feels like it's at least partly the opposite. Yes, the team is functioning near the top of its game, but the individuals inside the system are all churning out stellar performances and even if the system facilitates that, it can't ensure that. This is a team that since losing to Spurs have conceded less than a goal a game in the league, and are scoring even more goals without Phil Coutinho in the team. It hardly seems possible but Liverpool look a more fluid attacking unit without him at times.
Klopp deserves a lot of credit, but the players out there are absolutely stepping up at a critical time in the season, with European glory and Premier League progress very much possible right now.
Let's hope they can keep it up for another 13-16 games. Up the Reds.