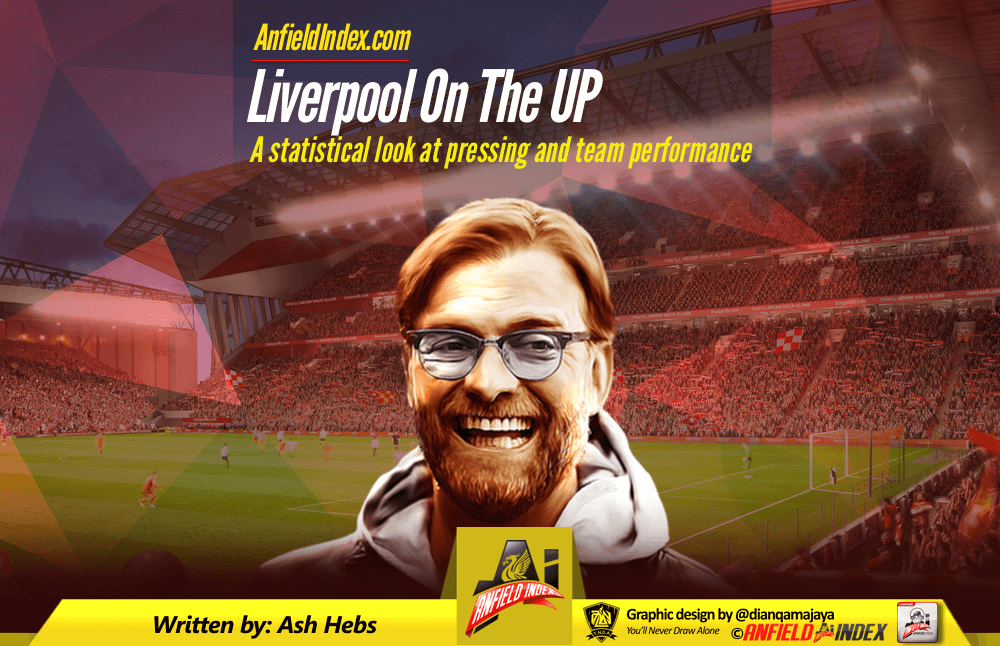 LIVERPOOL ON THE UP: A statistical look at pressing and team performance

Liverpool's current league position and recent Champions League performance emphasise the fine job that Jurgen Klopp is doing. Things are not perfect, they indeed rarely are in football. However, despite the squad still being a work in progress, the year on year improvement is undeniable.
A large part of Liverpool's success this season is down to the fine-tuning of the acclaimed gegenpress. The addition of the likes of Van Dijk, Oxlade Chamberlain and Salah have only served to add more pace, power and incredible work rate. Ingredients that are essential for Klopp's highly demanding, high-intensity system.
The beauty of putting the opponent under pressure
Pressing has been discussed in great depth on the AI Under Pressure (UP) podcast, join Anfield Index Pro to listen every week. The benefits of this style are twofold. Firstly, it offers defensive protection from the front. The press (by virtue of the mistakes it forces) also leads to good goalscoring opportunities. Particularly when the patterns of play are well executed. The opposition is forced into mistakes in often compromising situations. This naturally leads to better goal scoring chances.
The pressing stats put together by the UP team are testament to this and vindicate Klopp's preferred style: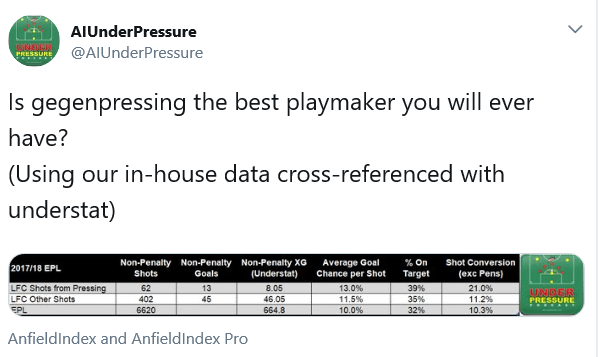 Our league pressing activity in open play has resulted in some impressive numbers:
13.4% of our total shots;
22.4% of our actual goals (a clear over-performance, partly attributable to a high-quality front 3);
14.9% of our expected goals;
Shot conversion from pressing is double the efficiency of the overall league performance;
Shot conversion is almost double the efficiency of LFC's own shots from non-pressing actions (of which there are plenty, so there is variety to the team's play).
Furthermore, in terms of % of shots that are big chances, we again see the effectiveness of the press:
LFC from pressing 21%
LFC non-pressing 16%
EPL average (exc Pens) 13.7%
The table above shows the virtues of a highly effective pressing structure, the sort of approach that made Klopp's Dortmund so unplayable in Germany. Although the table shows data for league performances only, the press has come into its own in European competition too. With pressing allied to Premier League level intensity, is it any wonder teams on the continent have been blown away by Klopp's side?
How do our boys compare with rivals?
Taking a deeper look into Understat, our attack is performing well. I analysed the top league performers based on "NPxG90 + xA90" over 1000 league playing minutes. The graph below shows the performance of Liverpool's players compared with the rest of the pack.
Definitions
NPxG90 : Non-penalty expected goals per 90 mins
xA90 :              Expected assists per 90 mins
xGChain90 :   Total xG of every possession the player is involved in per 90 mins
Conv:               Chance conversion

Observations are plentiful from the data, including:
Salah is showing elite levels of performance and no doubt benefiting from our press and high-octane style;
Coutinho (a player who played a big part in our attacking play) is not outstanding, he is just part of the pack;
Mane and Firmino have the scope to step-up and improve further in Phil's absence (in what was arguably a "too top-heavy" approach with fab 4);
De Bruyne, Hazard and Eriksen are interestingly omitted from list! They don't make the top 15, although they bring qualities of their own.
Are we too reliant on the press?
One might ask the question that, given the number of teams that park the bus, how effective is a press in such scenarios? I took a look on Understat to assess how the team performed when scores are level in a game. That is to say, when Liverpool need to break down the opposition (given we always go into games to win). Is the team a one-trick pressing pony or does it find a way to get a lead when space is at a premium? For this analysis, I have ignored situations when the team is losing, due to the smaller sample size. The full data is included below for reference, however.

Clearly, Liverpool's press opens up opportunities to score once the team is ahead, although the defence naturally suffers as goals against increases once the game becomes more open.
But how is the team comparing with top 4 rivals (when scores are level)?
This analysis looks at both Goals For and Against. The numbers contain a combination of pressing and non-pressing activity. Regardless, the attack is performing to the levels one would hope for and the press-oriented approach to our game makes us far harder to beat. We are encouragingly not far off City, the elite side in the league.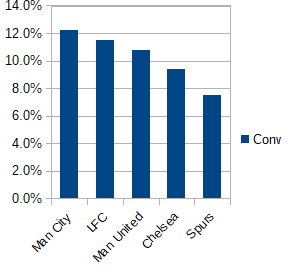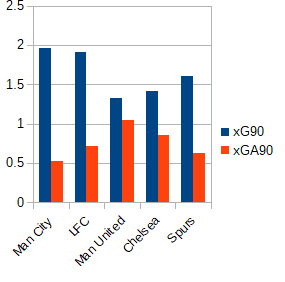 Liverpool's goalscoring potential doesn't look as unsustainable as City. When the game is tight we have 0.59 more actual goals versus expected, compared with 1.15 for City. We've perhaps been a bit lucky in defence when comparing actual goals conceded with expected goals conceded. But generally, we're in good shape.
Other brief comments on the data:
De Gea is hugely important to United as seen with 3.83 less goals conceded than expected;
Chelsea and United's more defensive style is evident; yet, when the game is tight perhaps their passive/reactive style doesn't offer as much protection as they would like (see xGA);
When comparing actual versus expected performance, Spurs are perhaps due a bit of good fortune – they are a team to keep an eye on throughout the race for top 4;
The Liverpool numbers are diluted by the Coutinho effect – it will be interesting to see a bigger non-Coutinho sample, but the evidence so far suggests we will be fine.
The future looks Red
To conclude, Jurgen Klopp is doing a terrific job with this team compared with far richer rivals. Performance levels are a big improvement on the football we were seeing under previous managers.
The potential for this team is huge. As Klopp selectively adds to the squad things should get better still. One can only imagine the full season impact on these numbers with the likes of Van Dijk and Keita in the team. Moving forward, Man City better watch out for Jurgen's Reds!