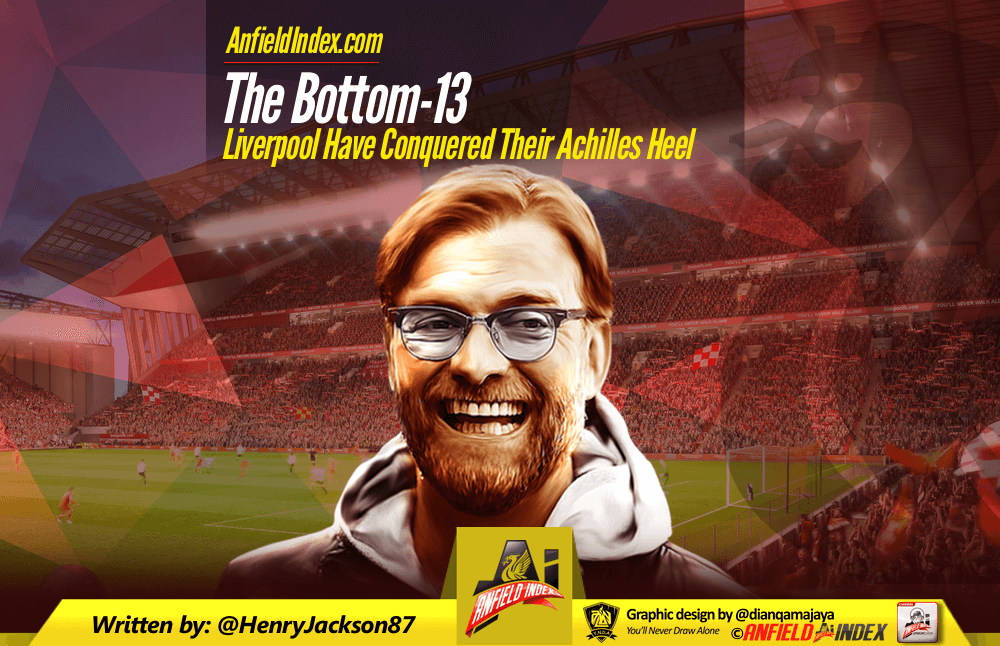 The Bottom-13: Liverpool Have Conquered Their Achilles Heel

I went for a drink with a good friend last week – A Man United fan, unfortunately – and as usual, we spent a vast chunk of our time talking about football.
The usual discussion about how the top-four will end up looking cropped up, and after making our predictions – it will be Chelsea and Arsenal who miss out, in case you're wondering – my mate declared, "Liverpool would be a shoo-in if they could just find consistency against the weak teams".
As a laid-back individual who generally shies away from confrontation, I nodded approvingly and didn't argue, but I couldn't help but feel a tinge of frustration deep down.
This is now a tag that Jurgen Klopp's side have been labelled with when in reality, it is an Achilles heel they are overcoming all the time.
When it comes to defining the 'weak' sides, I and many others mean those outside the current top six, excluding Everton, who can be a difficult proposition in the unpredictability of a Merseyside derby.
It's the other 13 teams.
You only have to compare the last two seasons to release how false the accusation being aimed in Liverpool's direction is, with huge improvements made.
In 2016/17, the Reds managed to win just 57.6 percent of their matches against these sides, which was problematic to say the least.
While they shone in the big matches, they were too often undone by the low block and looked horrendously one-dimensional when Sadio Mane wasn't around.
Liverpool lost six of those 26 Premier League games, including sobering afternoons against Burnley, Bournemouth and Swansea.
It is ultimately what cost them a proper stab at the title, with the Bournemouth and Swansea games, and similarly frustrating days against West Ham, Sunderland and Hull, all coming in a two-month winter period in which the wheels fell off.
Even the gritty victories at Stoke, West Brom and Watford at the tail-end of the season weren't convincing in the slightest, with Liverpool squeezing past their opponents in relatively undeserved fashion.
Stunning winning goals from Roberto Firmino and Emre Can were required at the bet365 Stadium and Vicarage Road, respectively.
Although people love to claim this weakness has continued into this season, the results show a very different story.
The Reds haven't been as dominant when it comes to facing their top-six rivals, unfortunately, but against the so-called "dross", they have largely excelled.
Klopp's men have played 19 league games against them this season to date, and only one of those has ended in defeat.
That was the 1-0 loss at Swansea in January, which was the kind of flat performance that happens once or twice to every team during a campaign, with the opposition taking their only chance of the game, and opportunities being squandered at the other end.
The cup defeats at the hands of Leicester and West Brom shouldn't be ignored, although the first of those saw a largely second-string team fielded by Klopp.
Fourteen wins have been chalked up in the 19 league games, making for a far more healthy win percentage of 73.6 percent in 2017/18.
Many of those triumphs have been absolutely emphatic, too, with at least three goals scored in 10 of the 14 victories.
Bournemouth and Brighton were both torn to shreds on the south coast; Huddersfield and Southampton caused Liverpool few problems away from home; Swansea and West Ham were taken to the sword at Anfield.
That says everything you need to know about how Klopp's men have conquered the sides that they are expected to beat, and it should silence the naysayers.
The manager has added pace to the side, with Mo Salah's influence truly remarkable and Alex Oxlade-Chamberlain slotting in effectively, and the attacking quality of Trent Alexander-Arnold and Andrew Robertson at full-back has added another dimension to the attack.
Liverpool are creating chances at will in these games now, and although the odd match will come along that follows the old pattern, they are becoming an increasing anomaly.
Some overly-harsh critics will point to the disappointing draws with Watford, Burnley, Newcastle and West Brom and criticise, but the Premier League is extremely difficult, and expecting to win every single game against those below the top six isn't feasible.
It's not as if Liverpool's rivals are any better in this respect – they are largely worse, in fact, barring the unstoppable Man City.
Man United have won 13 of their 19 matches against weaker teams (68.4%), with two defeats seeing them beaten more than Liverpool.
Tottenham may have only lost once, away to Leicester in November, but six draws means that their winning ratio (61/%) is also inferior to the Reds'.
Chelsea have come unstuck five times, which is very poor from their point of view, although one draw means, like United, they have won 13 out of 19 (68.4%).
Top-six vs. weaker opposition

Man City – P20, W18, D2, L0 (win percentage: 90%)
Liverpool – P19, W14, D4 L1 (win percentage: 73.6%)
Man United – P19, 213, D4, L2 (win percentage: 68.4%)
Chelsea – P19, W13, D1, L5 (win percentage: 68.4%)
Tottenham – P18, W11, D6, L1 (win percentage: 61%)
Arsenal – P17, W10, D3, L4 (win percentage: 58.8%)
Arsenal almost don't deserve to be spoken of in the same breath as the five above them, given their dismal season, but let's compare anyway.
The Gunners have recorded just 10 wins out of 17 (58.8%), with four defeats thrown in, and they find themselves way adrift in sixth place.
A hallmark of Arsenal down the years has been their ability to win the matches they are expected to, but that has changed this season, and it is a huge reason for their struggles.
So there you have it, only City have enjoyed a greater wins-to-matches ratio against the bottom-13 since August.
It would be nice to see this lazy opinion of Liverpool start slowly being put to bed, but that feels like wishful thinking. If it applies to them, it applies to their rivals, too.
The Reds will lose a bad game sooner or later, and the same old vultures will start circling, but you can live safe in the knowledge that this weakness is now a thing of the past.
It's the latest obstacle hurdled by Klopp, as he looks to turn Liverpool into title challengers.