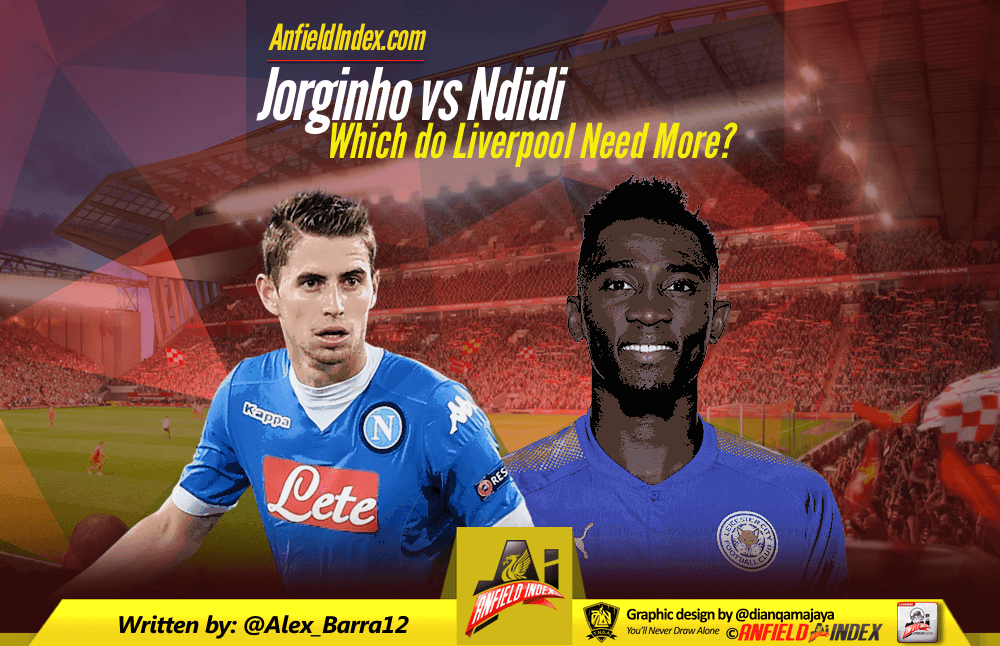 Jorginho vs Ndidi - Which do Liverpool Need More?
With Emre Can's departure to the exotic shores of Turin imminent, Liverpool have recently been casting an eye towards a new midfielder.
The Times' Paul Joyce recently revealed that Napoli's Jorginho is a target for Jürgen Klopp to fill his need for a #6 – a deep midfielder to sit at the base of a three or next to Naby Keita in a two. So too has Wilfrid Ndidi been linked with a move to Klopp's red revolution, leading many to pose the question, which of the extremely different players do Liverpool most need?
Liverpool's Needs
It seems a somewhat tired point give Liverpool's stark defensive improvement, but the fact remains the only team to have conceded more goals than Liverpool in the Premier League this season is Arsenal, who have been, at points this season, rather shambolic. The improvement of personnel was the key factor in mitigating the number of cheap goals Liverpool conceded – individual mistakes have been Liverpool's Achilles' heel since Rafa Benitez's departure.

The most common complaint before Virgil van Dijk's arrival was that their centre-halves were too often exposed, leading them to crumble under pressure. A purely defensive midfielder would ease those woes, patrolling the gaps between the midfield and the defence.
However, Klopp's high tempo, the high pressing system also requires midfielders who are able to move the ball quickly. Naby Keita's feet certainly fit that bill (he's completed the third most dribbles of any player in the Bundesliga this season) but to complement the directness and energy of Liverpool's Guinean, the ball needs to move along the ground quickly. Simply put, someone like Wilfried Ndidi doesn't possess the passing range to instigate counter-attacks like Klopp needs.
But there is a man who does.
Jorginho
The Brazilian-born Italian operates under a very similar style to Jürgen Klopp with Maurizio Sarri, and though he wears the #8, his actual position fluctuates between the deepest point in midfield and the second man of the fluid midfield three. Sarri's quick passing, high tempo style has seen his side earn plaudit after plaudit for their eye-catching football, and Jorginho has undoubtedly been a key facet to that.
The front three consisting of Lorenzo Insigne, José Callejon and winger-turned-number-nine Dries Mertens (sound familiar?) requires two things to function at high capacity – space and service. In a similar vein to Roberto Firmino, Dries Mertens' role sees him drag defenders out of position and allows Insigne and Callejon to drift inside. Jorginho's ability to find an incisive pass, even in tight spaces, means that front three are constantly supplied with pristine service.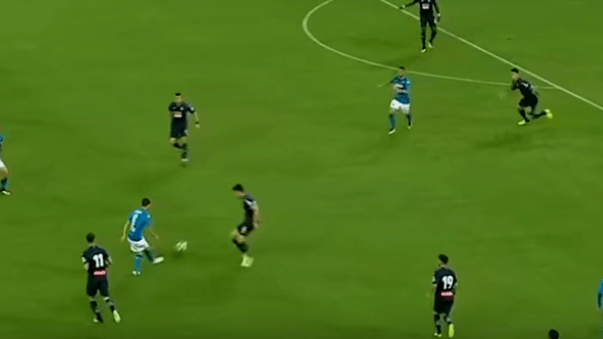 Inside a bustling final third, Jorginho looks to find the feet of Lorenzo Insigne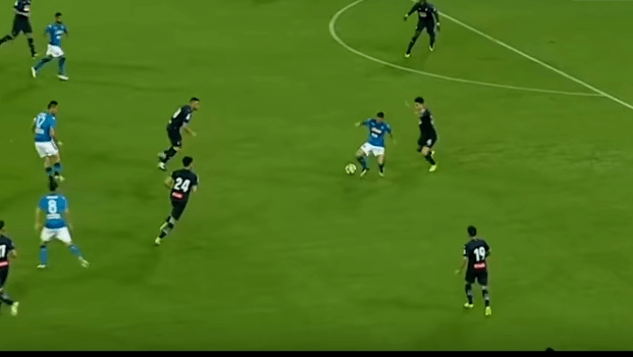 Insigne takes the ball at his feet but needs to move quickly as he's surrounded by three opposition players. He opts to pass back to the man he received the ball from Jorginho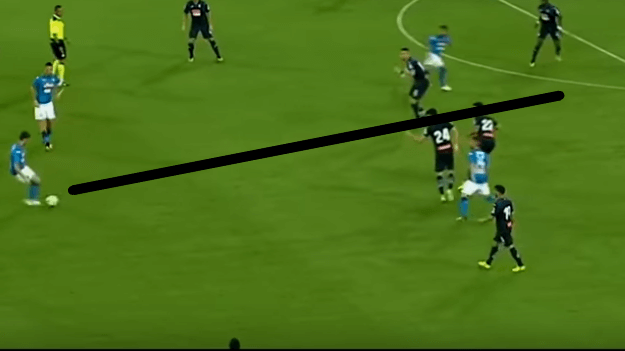 Who, seeing the space made by Insigne feeds the ball through four Napoli players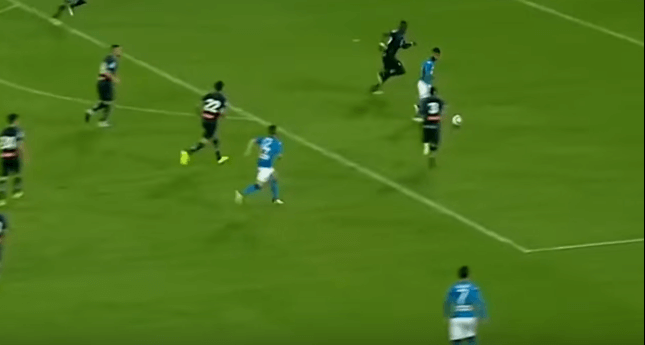 The result is a clear-cut chance, leaving Insigne one on one, due to one incisive pass.
Jorginho's impressiveness is not only belied by the fact he makes 1.7 key passes per ninety minutes (per Understat) but that, more subtly, his xGBuildUp (that is, how often he's involved in the build-up to Napoli's goalscoring) is at 0.59 – in comparison Emre Can's is hovering around half that at 0.36 (again, per Understat). He also passes the ball 94.3 passes per ninety, leading to a very simple conclusion: Jorginho is integral to the way Napoli build to their incredible goalscoring prowess.
It all sounds like a perfect fit for Klopp's Liverpool, and yet there is a caveat. The way Jorginho is able to get on the ball in the centre of the park, the way he's able to dictate the tempo of a game and the way he's able to find incisive passes are all allowed to occur because of the protection he's offered in the form of Allan or the extremely impressive Amadou Diawara. Jorginho's ability to intercept the play is solid, if not spectacular (he makes 1.7 interceptions p/90, more than Emre Can but less than Naby Keita) and yet his positional awareness when teams counter attack has always been an issue. It's a common occurrence for a player who's naturally a #8 but is stationed in the deepest role in midfield.
The fact remains, if Jorginho is stationed at the base of Liverpool's midfield, he won't be able to offer sufficient cover for Liverpool's back four. Given the fullbacks are constantly marauding forward, and Naby Keita should absolutely not be forced to babysit for Jorginho's positional lapses, it would leave Liverpool's centre-halves rather vulnerable.
Wilfried Ndidi
Wilfried Ndidi is a tackling behemoth. He's made more tackles and interceptions combined than any other player in Europe's top fives leagues. He averages 4.1 tackles p/90, leading many to compare him to the man he replaced – N'Golo Kante.
While that comparison is all too convenient given Ndidi's role as a pure defensive destroyer differs from Kante's as a roaming pursuer, it does indicate just how quickly Ndidi has settled into the Premier League; now one of Claude Puel's mainstays. There's also the myth that he doesn't get forward – he does; taking more shots per ninety (1.3) than Emre Can (1.1) and Jorginho (0.6.) He's yet to score a goal in the Premier League this season, but the aspiration is there.
But he wouldn't be in Klopp's side to shoot, he'd be there as the man to stop opposition counter-attacks – and integrally – begin counter-attacks for Liverpool's attacking quartet (Naby Keita's arrival will only enhance Liverpool's threat in transition.) To properly exhibit how an impressive tackler could benefit Liverpool's counter-pressing style, see his quasi-assist for Riyad Mahrez against Stoke earlier in the season.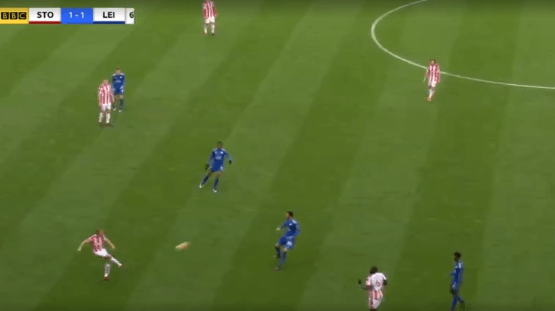 Stoke win the ball back and Leicester's high press leaves them caught out, as Vicente Iborra vacates his position in midfield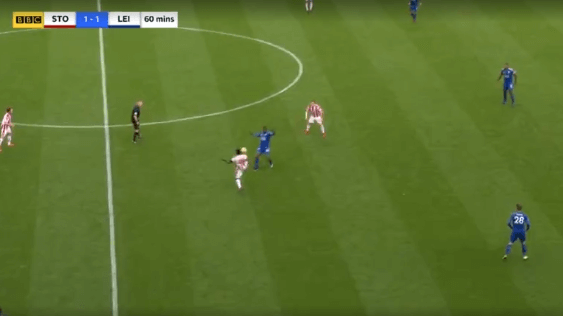 The ball over the top finds Mame Diouf, who has three options to pass to in order to get a free run at Leicester's defence. Ndidi reads the play and gets extremely tight to him as he receives the ball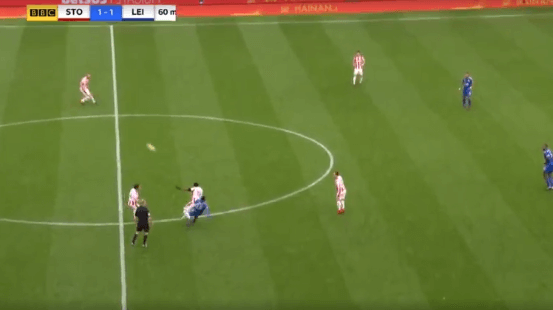 He makes a crunching tackle, knowing his front three are all reactive to the slightest loose ball. The tackle turns into something of a pass as it's sent over Stoke's left side and finds Riyad Mahrez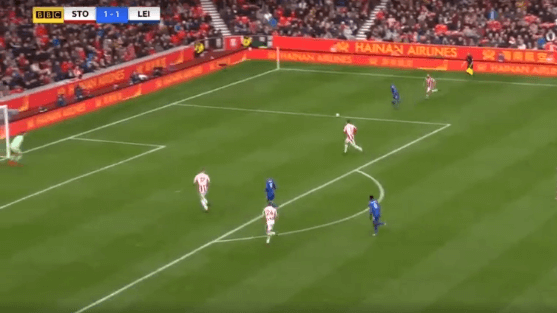 With a single touch, Mahrez turns Ndidi's tackle-cum-through ball into a three on three opportunity, shooting past Jack Butland to give Stoke the lead. Ndidi's assist came from a single tackle
Who Fits Best?
Of course, the fact of the matter is Liverpool ought not to have one without the other. Liverpool's ability to control a midfield is dependent on both stopping counter-attacks to protect their often-vulnerable back four, and creating passing lanes for the dynamic front three, with a quickened tempo and smooth passage of ball movement. Jorginho offers the latter but is dependent on a defensive midfielder to do the grunt work that he simply won't do. Wilfried Ndidi is a defensive behemoth but offers little in possession, when Liverpool have the ball in and around the final third and an incisive key pass is needed.
Pair them together, and you have quite the combination. Add Naby Keita onto that? A mouth-watering trio capable of supplementing Liverpool's already saliva-inducing attacking triumvirate.
The fact is, either signing would both improve Liverpool dramatically while simultaneously leaving a weakness needing to be filled. Clever tactics could make either work in Klopp's midfield, but the reality is plain: Liverpool probably need them both.
All stats via whoscored.com unless otherwise stated