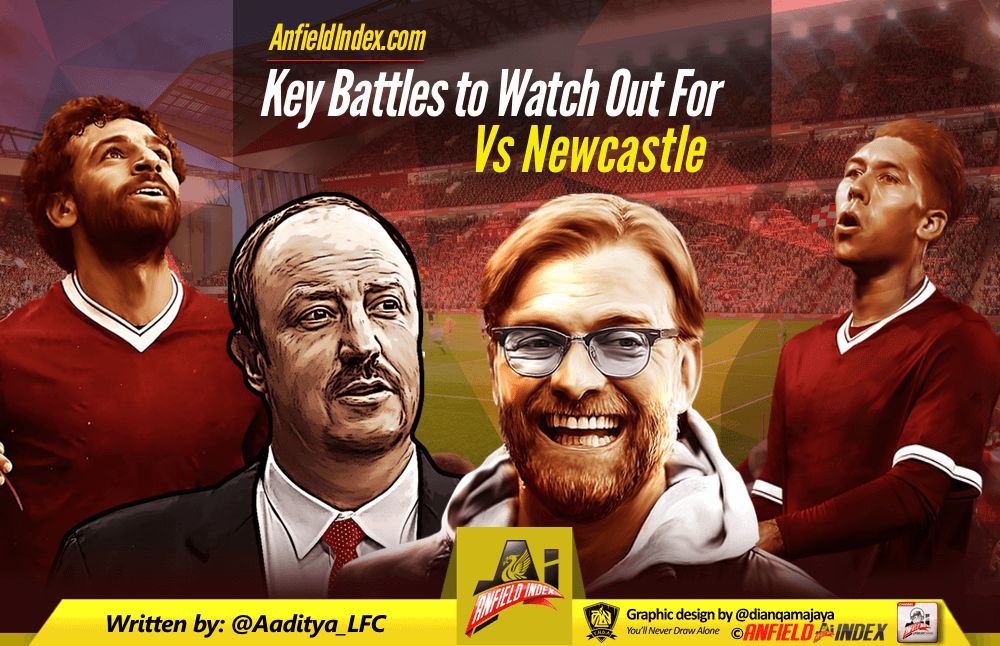 Liverpool v Newcastle United Preview - Key Battles
High-flying Liverpool head into a crucial phase of the season, looking to strengthen their grip on the top 4 and maybe even second place in the Premier League. They welcome ex-manager Rafa Benitez and his Newcastle United side to Anfield on Saturday, as they look to continue an impressive run of form where the Reds have been free-scoring and have considerably reduced the number of goals they leak.
For Newcastle, this game will be treated as a bonus fixture where they aren't expected to get any points, which could enable them to play without any pressure and possibly come out with precious points in their fight for Premier League survival.
Since Benitez left Anfield, the Reds have come up against their former manager three times, and have managed just three draws in those games – a 2-2 draw against Chelsea at Anfield in April 2013, a 2-2 draw against Newcastle in April 2016, and a 1-1 stalemate at St. James' Park earlier this season.

The Reds are arguably in their best situation heading into a clash against Benitez, and that is enhanced by the fact that for the first time since he took over, Jurgen Klopp could have every senior player in the squad fit and available for selection.
Here are the key individual battles to look forward to, ahead of the clash:
MOHAMED SALAH v PAUL DUMMETT
With 31 goals this season already, the King of Egypt is flying. He is part of a frightening Liverpool attack that seems to be scoring goals for fun, and he will once again be the leader of the pack on Saturday night.
For a stubborn Newcastle defense, this could be among the toughest tests they face, because of the sheer pace of the front three and how electric they can be, on their day.
When Dummett was at Anfield in May 2014, the last game of a season that is bittersweet for the Reds, he got sent off for an appalling challenge on Luis Suarez that hampered the Uruguayan's participation in the World Cup that followed. So it is safe to say he doesn't come back with exactly happy memories.
The pace and intelligence of passing and movement between Salah and the Roberto Firmino will be what will primarily concern Dummett. Their ability to switch positions without anyone really noticing has been one of the pillars of that flourishing partnership. That would mean that Dummett cannot do things on his own. He will have to have his centre-backs and defensive midfielders on the same page as him.
Newcastle cannot afford to allow Liverpool space. They will most likely concede possession and sit back to allow us to have the ball, but it is the hunger with which the Reds' front three attack space that could bring about the Toon's downfall.
For Dummett, he will need support from Kenedy or Christian Atsu, whoever starts in front of him on the left flank, because along with Salah, there is also the threat of a marauding Trent Alexander-Arnold and possibly even Alex Oxlade-Chamberlain to deal with on that flank, and if Liverpool are able to isolate the Newcastle left-back, that could spell doom for Magpies.
ROBERTO FIRMINO v JAMAAL LASCELLES
Firmino is the system, as Klopp has put it on so many occasions. The fact that he is not a traditional no.9 will make Lascelles's task on Saturday unenviable. Lascelles is a traditional English centre-back – dominant in the air, and someone who tries to impose his physicality on the opposition striker.
But none of that will really come into play, given how the Reds use Firmino in the system. Firmino is perpetually on the move, and that would mean that Lascelles will earn his wages as club captain and leader of the defense on Saturday.
Lascelles has had a very good season so far, with calls for him to make the England squad growing louder by the day, but he hasn't had to deal with someone as unique as Firmino so far this season – the Brazilian was rested for the reverse fixture at St. James' Park earlier this season.
With 22 goals this season, the Brazilian has added to his game what many thought was the only weakness in his game at the start of the season – an end product. But everything else about his game, apart from the goals, are what makes him the player that he is.
Firmino's pressing could actually lead to a gameplan for Newcastle to bypass the press and go long, but with Islam Slimani still unfit and no other recognised target-man in the squad, that could just play into the hands of Virgil van Dijk who will gobble up those aimless hoofs in his sleep.
But that is secondary for Lascelles and co. Their primary role is going to be to stop Firmino when the Reds have possession. When he's on the ball, he's capable of magic and when his team-mates have the ball, the intelligence of his movement is something very few others in the league possess.
JURGEN KLOPP v RAFA BENITEZ
The former Reds boss came under criticism from some quarters for the way he set his team up for the games against Manchester City – with his ultra-defensive tactics coming under heavy fire.
But with Benitez, one knows that his teams are always built from a solid base, and there is no reason for him to change that at his old stomping ground this weekend.
Newcastle are sure to allow Liverpool possession and sit deep in their shape, closing down space in behind. On the evidence of a few games this season, Liverpool struggle when they come up against such a system.
For example, when the Reds played Swansea in January, the Welsh side were happy to let the Reds go wide and use their full-backs while not having to bother about the front three getting too much space. Newcastle could follow a similar template, but both Andy Robertson and Trent Alexander-Arnold have shown in recent weeks that they're as much a threat in the final third as they have been solid defensively.
Klopp knows that this is the way Benitez will set up, and it is up to the squad to find an answer to get the win against that setup, but it will be interesting if Rafa decides to throw up a surprise, and gets his team to try and match the Reds.
That is a far-fetched assumption because a man as experienced as Benitez will know that it is practically suicide to try and match the Reds at their own game and that is never how the pragmatist in him will think.
So, the Rafa Benitez bus against Jurgen Klopp's counter-attacking Liverpool. It will be an interesting watch to see how the Reds break Newcastle down, but if they do, then they put themselves in further command of their own top 4 destiny.