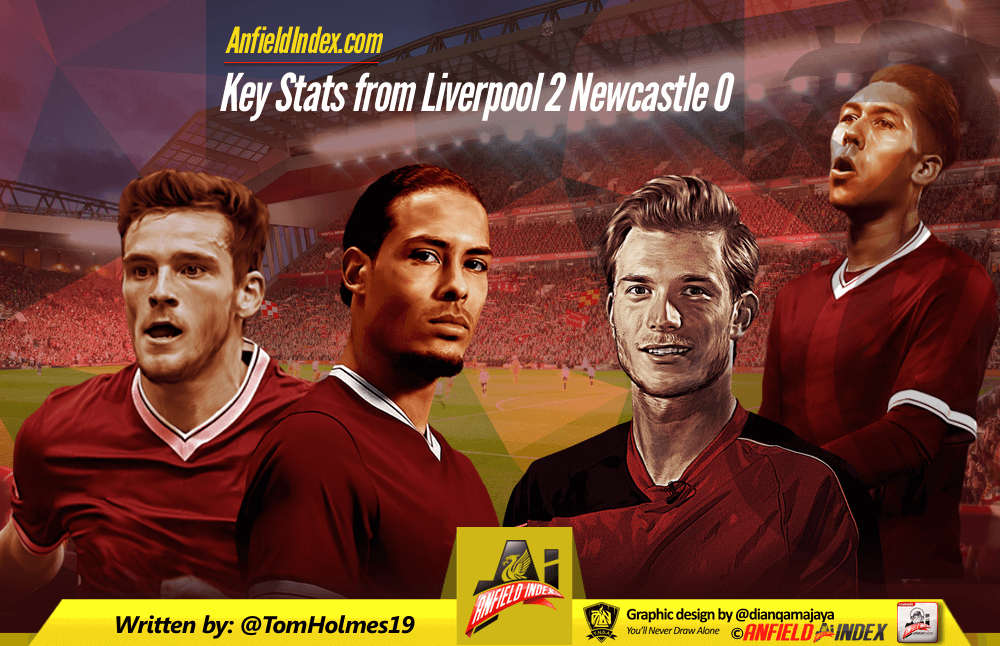 Key Stats from Liverpool 2-0 Newcastle
Liverpool moved back to second, at least for 48 hours, by comfortably beating Newcastle 2-0 at Anfield. But what were the key stats from the game?
Defensive Solidity Re-Emerging
Liverpool have recently increasingly defended well in patches, but this seems to be a patch that is working for the club. One goal conceded in their last four games, with three clean sheets in their last five league games. And there are quantifiable underlying stats too, as the Reds have only conceded more than 1 expected goal on one occasion in their last ten games, their 2-2 draw with Spurs. As a result, the Reds have conceded just nine goals in those ten games, and five of those against City and Spurs.
This Newcastle game was another good example of a deserved clean sheet. Newcastle created 0.26 expected goals, Liverpool's third-best xGA of the season (behind Huddersfield and Man United). And a large part of that was down to Virgil Van Dijk.

Van Dijk won 6/8 aerial duels, including 5/6 defensive aerials. He won 3/3 of his tackles and as a result wasn't dribbled past (no mean feat in a game in which Newcastle completed 21 dribbles), also making both a clearance and an interception. Van Dijk was also very important in keeping the ball off the opposition, completing 93 of his 106 passes, with a xGBuild of 0.19.
Karius Making A Difference
As important as defending well is, you can limit an opposition to a handful of shots on target and still need your goalkeeper to do the job. Karius' save to deny Diame was a great save, and is the latest in a long line of not just good saves, but important saves. Karius is increasingly becoming a clutch goalkeeper, as the stat below indicates.
Update:

– 9 saves with a one-goal lead
– 5 with the score tied
– 1 while trailing by a goal
– 2 with a lead of 2+

16 of 18 with the result in the balance https://t.co/sVWy9YE1BQ

— Alex Mansfield (@el_mansfield) March 3, 2018
Moreover, Liverpool tend to concede a lower xG with Karius in goal and that cannot be a coincidence as his style tends to calm the defence. Liverpool have conceded 7.29 xGA from his 10 league games, with only one game above 1.0 xGA (the aforementioned 2-2 Spurs draw), whilst with Mignolet in goal, the Reds have conceded 21.07 xGA from 19 games. That's 0.73 vs 1.11.
In terms of keeping the team moving, Karius brings more to the table too. In the last two games, he has contributed 0.56 and 0.81 xGBuildUp, on top of 0.62 against Huddersfield a few weeks ago. Mignolet's highest xGBuild of the season is 0.38. Karius' average xGBuildUp is 0.24 this season, compared to 0.11 for Mignolet. (Thanks to Si Brundish for directing me towards this section of the analysis).
Bobby Firmino Keeps On Creating
In an attacking sense, this was not one of Liverpool's most exciting performances, although it didn't need to be. They created two big chances and scored both of them, and their overall xG was just 1.57. But the individual who shone in an attacking sense was, despite not scoring, Bobby Firmino.
Firmino created comfortably the most chances, with four, and the highest xA with 0.68, as well as a xGBuildUp of 0.41. Firmino created one of the two big chances, his delightful assist for Mane's goal (a move Firmino himself started by winning the ball back in his own half). Firmino now has seven assists in the league this season, and has the team's highest xA (7.27) and third highest xA per 90 at 0.3, behind only Solanke (0.45) and the departed Coutinho (0.39).
Reds Shaken Swans Out Of Their System 
For a rocky week, it looked as if Liverpool's season might slide off the rails. All of their familiar problems returned for two horrible games against West Brom and Swansea, but that Swans defeat hasn't even slowed the Reds' league form down. It remains their only league defeat in 20 games now, with 47 points accrued, and Liverpool have now picked up 13 points in the five league games since, with a 5-0 win in Porto to be thrown in for good measure. We also remain unbeaten in the league at home this season, with thirty-three points from fifteen games.
If there were any fears that Liverpool's poor form against the dross would return, those fears have been proven unfounded, as we've now won eight of our last nine games against teams outside the top six, and have lost just one of twenty-one all season. Next up in the PL? The big one.