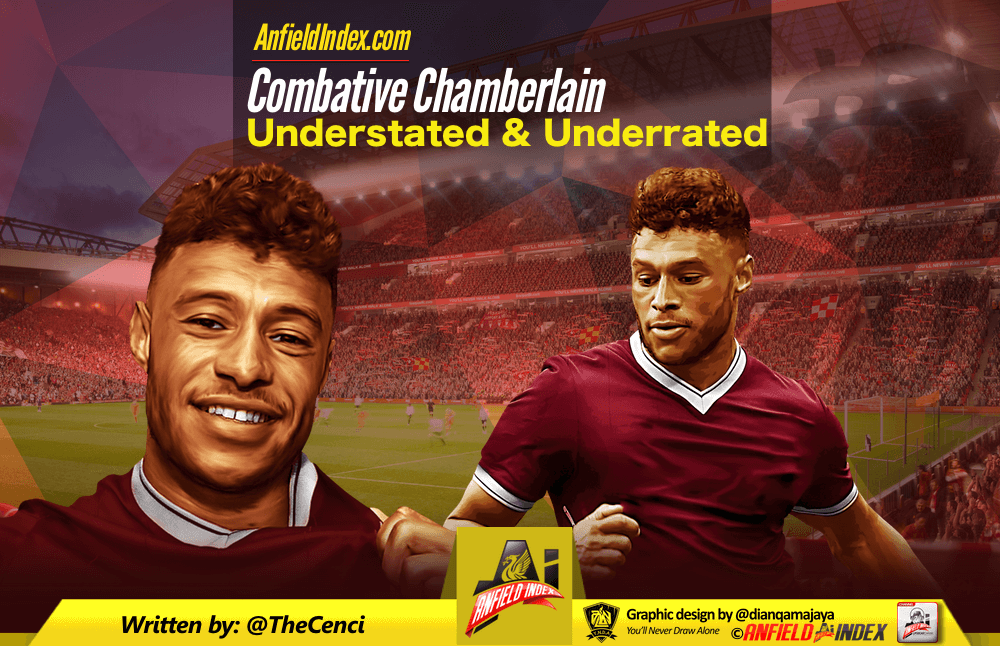 Combative Chamberlain: Understated & Underrated
Let's begin with Gary Neville.
Twice in the past week, the pundit has used his position in the Sky Sports studio to call out laziness in the elite of the Premier League. At Wembley for the League Cup final (sponsorships changes but the competition remains so please excuse my not mentioning them), he made the following point about Arsenal's atrocious midfield.
"I don't even want to talk about them because they've been an absolute disgrace. Ramsey and Xhaka walking at Wembley. Xhaka, walking, Ozil, walking. Why are you walking at Wembley when you're 0-2 down at Wembley?"
A fair question. Gary Neville may not be everyone's cup of tea and I, for one, find it irritating in the extreme that someone I threw barbs at for over a decade is an entertaining and lucid commentator, but he does know a bit about what is required to play at the highest level. The bastard.
He wasn't finished there though. This Sunday he took up cudgels and set about Chelsea and their lacklustre performance at the Etihad. Some have argued that he went too far in his criticism and that his pro-Man United bias shone through. Surely it's no coincidence that both sides played for United's great rivals, was sick of seeing them doing well and tore into their opponents for failing to do his bidding.
There might be something to this but it has to be said that Chelsea really were as adventurous as Arsenal were brave seven days earlier. At least Chelsea can point to a need for not getting destroyed in a league where goal difference may be vital. Arsenal had a trophy to win after all so why not at least go for it?
It's telling then that when it was Liverpool's turn to face City, Jurgen Klopp had a different idea about how to play them. True, he had seen his side turned over to the tune of 5-0 earlier in the season in a game which saw Sadio Mane sent off and a defensive shambles in the second half which allowed City to run riot, but he learned a lesson there. Come the return fixture the Reds attacked City rather than choosing to sit back and beg for mercy as many have done before them. That approach isn't for everyone obviously. Imagine a side running full pelt at Liverpool and playing a high line. As Steven Gerrard famously said in 2014 'All the best.' You need the fitness, ability and nous to do that.
On Saturday evening Newcastle United chose to sit back and frustrate Liverpool rather than support their loan striker Dwight Gayle. They became a tough nut to crack. The Reds even resorted to the odd ball over the top into the channels to break the stifling midfield and were briefly stymied in their quest for space in which to play. It was the run of one man which made the difference and changed the game. An understated and underrated man.
When Alex Oxlade-Chamberlain (I can't bring myself to call him 'The Ox', sorry, though, if any readers are interested The Who had an instrumental of the same name which was rather good. No? Please yourselves) arrived at Anfield for the small matter of £35m many frowned and wondered just why we were blowing so much on what would ultimately be a squad player. Furthermore, he was a man who had scored just nine League goals in six seasons at the Gunners. And that was just his goal return. Add to that the fact that he was part of the aforementioned problem with Arsenal – that they play like, as Graeme Souness said, 'a team of son-in-law's (That could be the greatest description of a team I've ever heard) and it was baffling to see just what Jurgen had seen in him.
His audition in the 4-0 League game did little to calm those fears. His tracking of Liverpool's midfield was half-hearted at best and though anyone could be excused for covering for Aaron Ramsey that day. Alex was welcomed warmly enough at Anfield when he arrived, but he wouldn't have put any more bums on seats had such a thing been required.
And he did struggle at first. His debut came in that hammering at the Etihad when he came on as a second-half substitute for Mo Salah. The Egyptian was Liverpool's best option of a comeback but Jurgen decided that the upcoming game against Sevilla was a better use of his time.
Alex scored his first Liverpool goal against Maribor and his first League strike came in the away game at West Ham. It's his third goal which was his most notable though. Sending a squirming ball through Edison in 'that' game in January.
Those are just the goals though and it's been the last two games in which he's really come of age in a Liverpool shirt. The sloped shouldered Alex of Arsenal would never have ran through the four tackles at Anfield in the West Ham game to put Sadio Mane through last week and his persistence once space finally opened up against a Rafa-drilled Newcastle side, this time for Salah, is exactly what we needed in both games. Liverpool play with pace and verve but sometimes a more industrial approach is required. A man who is happy to run head-on at the opposition's number 6 and centre-backs is always helpful. Variety is key. A balletic midfield may occasionally need a bludgeon.
Oxlade-Chamberlain now finds himself as close to a regular starter as it's possible to be in this team. I say this because even the captain isn't guaranteed to play every game and Gini Wijnaldum will soon return from injury. James Milner will also expect minutes on the pitch and this is before we ever consider Naby Keita next season.
The only thing he can do is to keep doing what he's doing now.
Not everyone saw this coming and the blowhards on Twitter and elsewhere who said that they always trusted the manager and are better fans for thinking that this change of form, of attitude or whatever, was guaranteed the second he turned up are kidding themselves. I don't recall anyone saying he would be shit as such. More that he didn't exactly get people running to their local sports shop to have his name stencilled on the back of their shirt just yet. Actually, that might be partly due to economics and shirt space more than anything, but you see my point.
Actually, I should say in the interest of fairness, Leanne Prescott of Anfield Index's Writer's Pod fame was an Oxlade-Chamberlain fan from Day One. I'm fairly sure she has a scrapbook of him.
Surely it's no coincidence that Alex has gone from a fairly pedestrian winger/wing back under Wenger to a midfield grafter under Klopp. He's a Liverpool player now. In more than one sense.
Long may it continue.