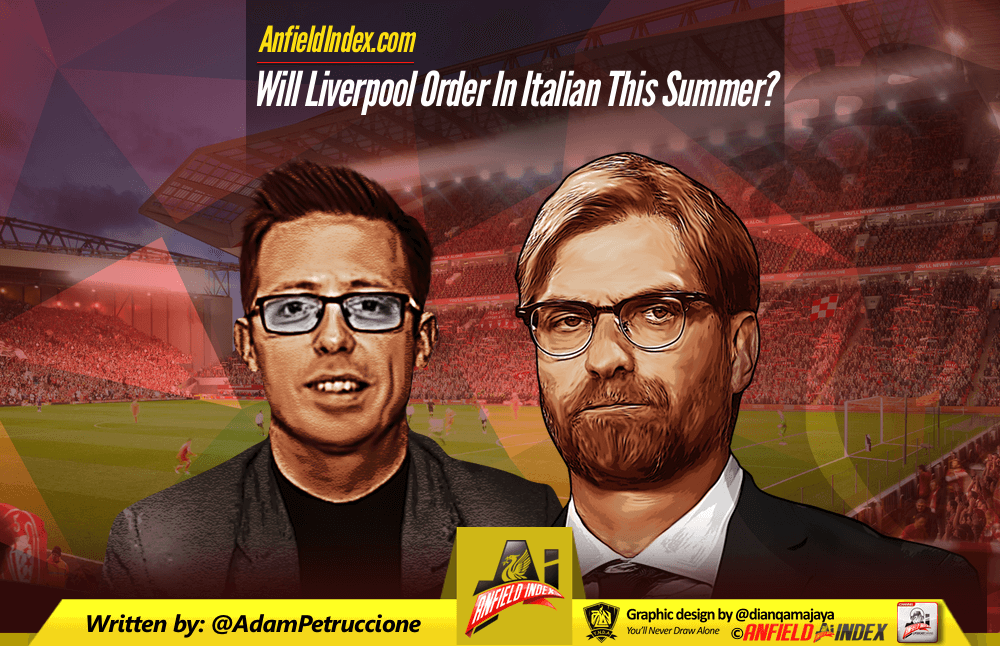 Will Liverpool Order In Italian This Summer?
The better Liverpool play the higher the standard becomes for any potential new additions in the summer. With the Reds now 2nd in the table and cruising through the Champions League round of 16 while playing some outstanding football there targets will have to be astronomically high to make an impact on this side.
If Liverpool are going to find players who will make a Salah-esque impression on the squad, it might be prudent to return to the scene of that robbery and hunt for their next big addition in Serie A.
Between Jorginho, de Vrij, Allison and Milinkovic-Savic there is a feast of Liverpool links coming out of Italy. Even a return of Suso has been pondered in some circles.

AIPro's Dave Hendrick interviewed Football Whispers' Ryan Baldi this week to put some meat on the bones of these links as we edge closer to the summer.
SIXTH SENSE
Jorginho is an interesting one to contemplate. The defensive midfielder we imagine solving 'the six' for the next five years is more in the mould of NDombèlé or Ndidi; much more defensively skewed than a creative player. Jorginho is not that. However, when you picture a midfield with Naby Keita wreaking havoc along with Oxlade-Chamberlain's pressing prowess, perhaps a player who specializes in quick transitions makes a lot of sense for Jurgen Klopp. Who would doubt the manager at this point?
He's that kind of guy who will sit at the base of midfield and dictate play in a way that nobody else in Europe does at the moment. – Ryan Baldi, A-Eye Scouted Podcast (AIPRO)
https://twitter.com/watch_lfc/status/969549656735801344
ANOTHER RECORD BREAKER?
Allison is a much more straight-forward target. He passes the eye test with spectacular saves and statistically, he stands out, topping the Serie A charts in terms of expected goals conceded. As with all positions for Liverpool these days, the desperation to find upgrades is rapidly diminishing. What value the Reds place on replacing Karius with Allison is unclear off the back of the Liverpool keeper's recent performances.
It's just a matter of judging what budget Klopp is working with… and what kind of chunk that's going to take out of it. £65 million if it goes that high, I wouldn't be too concerned. – Ryan Baldi, A-Eye Scouted Podcast (AIPRO)
A fee in the £65 million range would be a world record for a 'keeper. Would Liverpool pair the world's most expensive centre-back with the world's most expensive goalkeeper? Anything is possible in these heady times for the Reds, but with Karius' metrics now creeping into the range of the other top-4 'keepers it wouldn't be surprising to see the club use those resources elsewhere.
PRICE SERGE
The pie in the sky target from Serie A is Lazio's Sergej Milinkovic-Savic. Having just turned 23, he's now the same age as Paul Pogba was when he returned to Manchester United. His rapid development and unique size will see him be the belle of this summer's ball. Tempting as it is to imagine Keita and SMS as Liverpool's advanced midfielders it is more likely that he lands in Paris, Madrid or Manchester.
He's got a real subtlety to him that you don't often see from a guy of his size. – Ryan Baldi, A-Eye Scouted Podcast (AIPRO)
Milinkovic-Savic GOAL! Beautiful goal from the Serb, great pass from Anderson and sent looping over Consigli! 1-0! #sslazio #SassuoloLazio #lazio #savic #goal pic.twitter.com/iRWagyekzZ

— Lazio Blog EN (@LazioBlogEN) February 25, 2018
Milinkovic-Savic looks more incredible by the week, but as we've seen with Pogba, no signing is guaranteed to transition well to Premier League life. They can't all be Mo Salah after-all. If Liverpool can't pull off a miraculous signing like this, look for them to target alternatives like Lyon's Houssem Aouar who is earlier on in his development.
FREE DE VRIJ
From three of Italy's most expensive luxury goods, we switch to a player who is available on a free this summer, Stefan de Vrij.
On a free I don't see why Liverpool or any top club wouldn't at least be having a look at him.– Ryan Baldi, A-Eye Scouted Podcast (AIPRO)
How necessary is it to bring in a top centre-back when the Reds have Matip, Lovren, Klavan and Joe Gomez to pair with Virgil van Dijk? That is certainly up for debate. Again, as Liverpool continue to ratchet up their level of play, the calculations as to what players are capable of improving the club is sure to change. There are concerns about the Lazio man's lack of pace in a high-pressing system.
It's possible that a deal for de Vrij was already agreed to before Lovren's latest renaissance. If that's the case there are sure to be outgoing defenders in June. Finding the signing of VVD's countryman to pair with him in defense on a free may just be too much value for Klopp and Edwards to resist. Aside from that the three premium deals discussed here are still long-shots to be completed despite all of the chatter on the interwebs.
With Liverpool's ambitious projects off the pitch it remains to be seen how much the club can spend above and beyond money that comes in from player sales. An addition of Jorginho or Allison might require several squad player sales to fund either while Milinkovic-Savic's ship sailed last summer when we could have signed him in the £65 million range as well.
So at the end of the day, watch for de Vrij, hope for either Jorginho or Allison, forget about Savic and most of all, enjoy Liverpool's current players for this season's dozen or so remaining matches.