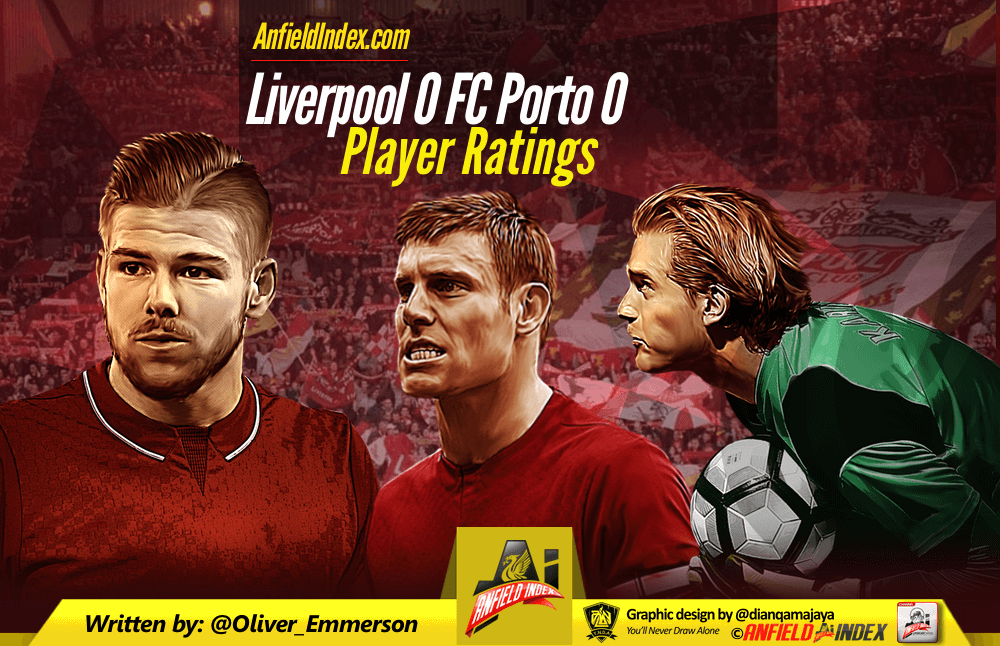 Liverpool 0-0 Porto: Player ratings from a European snoozefest
Job done, professional work, blah blah blah. That was a little boring, wasn't it?
Liverpool (5) 0-0 (0) Porto. Onto Old Trafford and into the quarter-finals.
Another clean sheet for Big Loris
Loris Karius (7): Keeps clean sheets, looks cool. And now he's done the simple stuff in a simple manner! Lively off his line in the first half, a couple of average saves. Good that he was kept in.

Joe Gomez (6): A little rusty on his comeback but nothing to be worried about. Wonder if he starts on Saturday.
Dejan Lovren (6): Some horrible work on the ball in the first half especially but did put in a good block late on to make up for it.
Joel Matip (6): He's not Virgil, is he? Nothing stupid but nothing especially smart, you get the feeling the fact there's a debate over whether he should play over Lovren tells you all you need to know about Van Dijk.
Alberto Moreno (10): With Andy Robertson putting in such good performances, I'd forgotten how much I'd missed the mad bastard. So entertaining to watch, as if you supplied a cheetah with multiple Class A drugs.
Milner the star in the middle
Jordan Henderson (6): Good enough for the occasion. One inventive ball in the first half nearly came off.
Emre Can (6): The same as Henderson, really. Kept the beard in touch for the weekend.
James Milner (7): Continued his mini-revival with another good performance, deserved an assist. Never stops running which is mad given his legs shouldn't theoretically work anymore.
Poor Sadio
Sadio Mane (6): Five goals in three games in the build-up and the ones you really want to fall in still won't. Lively enough on a night where he didn't need to do too much, unlucky to hit the post.
Roberto Firmino (6): Seemed about an inch away from scoring a header every five minutes. Good to get him off early.
Adam Lallana (5): Should never play in a front three. It's not his fault, but it is.
Subs
Danny Ings (5): Just won't go in for him, the poor thing. Solanke-itus.
Mo Salah (6): Keen to remind everyone he's boss, in case we'd forgotten.
Ragnar Klavan (5): I miss him. That smile.