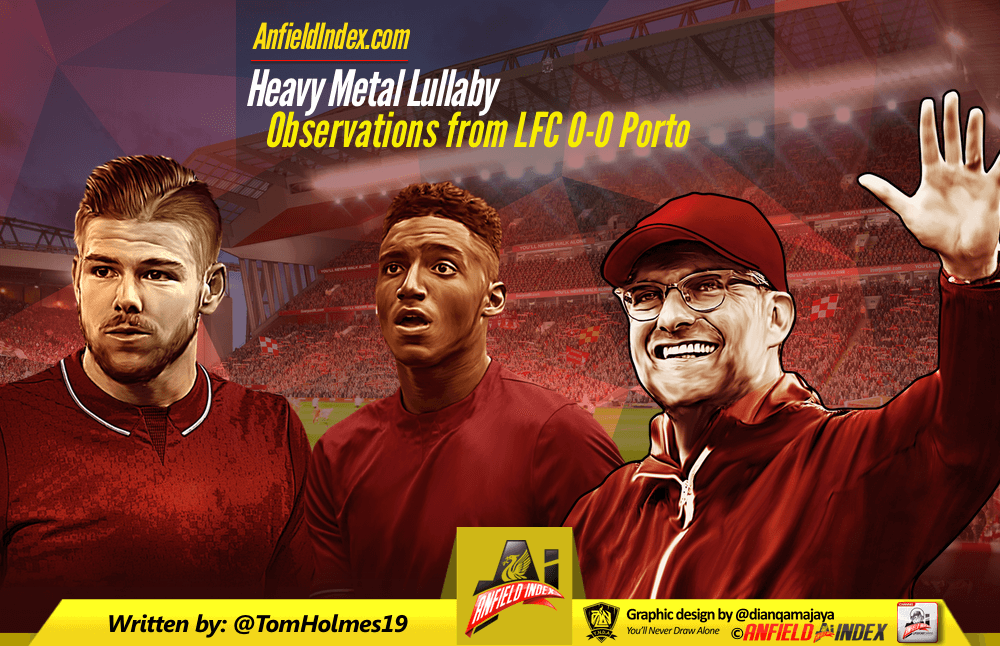 Heavy Metal Lullaby - Observations from LFC 0-0 Porto
Liverpool cruised into the quarter-finals of the Champions League, following up their 5-0 away win at Porto with a comfy 0-0 draw in the return leg. So what were the observations from a rather un-exciting game?
Boring, Boring Liverpool Do The Job
On paper, it wasn't billed as a hugely exciting game, and perhaps Liverpool deserve a lot of credit for making it every bit as boring as they could. In the first twenty minutes there was a lot of passing between the central defenders and centre-mids and as a result, the game quickly stagnated. In a game such as this one, where there's a very slim chance of one side making a comeback, the other team needs to kill the game for half an hour or so, and it was notable that Liverpool only started to play in the latter stages of the first half.
If there was a standout, it had to be James Milner, who showed the most intent and the most creativity of the workmanlike midfield trio, and without Van Dijk's raking passes, it was he who played the most expansive football. But truthfully, everything from Klopp's team selection to the way Liverpool controlled the game indicated that this was not going to be the best game of football Anfield has ever seen.

Full-Backs Stake Their Claim – But Is It Enough?
I thought that both Moreno and Gomez were decent tonight. Neither made any significant mistakes defensively – although neither was tested – and I thought that both attacked well when given the opportunity to do so. Gomez, in particular, looked sharp down the right-hand side whilst Moreno increasingly as the game went on attacked whenever he could.
But, perhaps due to the calibre of opposition and the state of the game, whilst both played well tonight, it may not be enough for either of them to wrench back a starting spot for the weekend. Moreno, in particular, was very wasteful in the final third, and whilst we can have a chuckle at his two horrendous dives, Robertson was eye-catching in a different way against West Ham last weekend.
Ultimately, with both glad to get ninety minutes under their belt as they return from injury, this was a good stage for both players' development in the context of fitness and the season, but both will face a tough task to wrestle back a starting berth in more meaningful games.
Danny Ings Shows His Class
I am a huge fan of Danny Ings. I think he's a decent player who given the opportunity to show what he can do still has something to offer Liverpool Football Club. So seeing him come on and thrive in the final half an hour of this game, offering more of a spark than Bobby Firmino did, was a pleasant surprise. Whether he was slaloming through the midfield, winning the ball off the opposition in their own box or firing headers at goal, he offered something different and worked harder than anyone to make an impact.
He also linked really well with Mo Salah, who was easily Liverpool's best-attacking player despite only playing twenty minutes. Salah gave Ings a terrific chance towards the end, and only the brilliance of Iker Casillas denied the Englishman a thoroughly deserved return goal.
Rest and Relaxation
Jürgen Klopp will have been very grateful for the chance to rest some of his big names, and perhaps even take a night off himself. Klopp isn't the sort of manager to ever fully relax, but he may well have put his feet up a little bit as his side coasted through. Van Dijk was an unused sub, as was Alex Oxlade-Chamberlain who looks a nailed on starter at the weekend. Mo Salah only got twenty minutes, both Mané and Firmino came off early, and as mentioned, returning players such as Lallana, Moreno and Gomez all got minutes under their belts. This was an exercise in squad rotation at its finest, and the Reds have a fully fit squad to take to Old Trafford as a result.