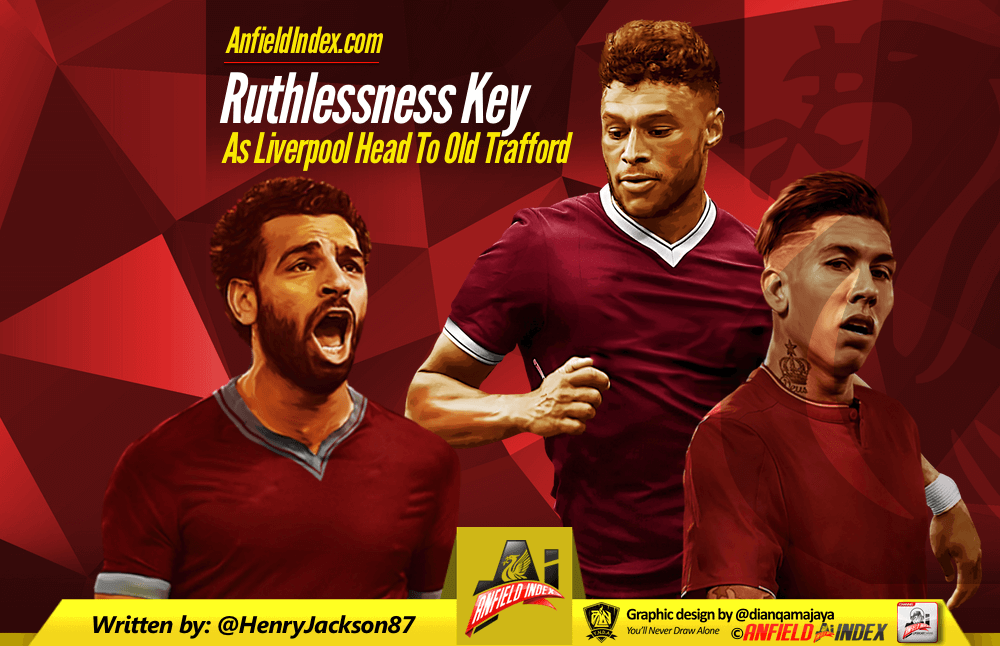 Ruthlessness Key As Liverpool Head To Old Trafford
So here we go again, the return of one of the most unbearable fixtures for many Liverpool fans: Man United away.
It is a game that we love to win more than just about any other but know all too well how bleak defeat can be.
Unfortunately, that has often been the case at Old Trafford lately, with the Reds managing just two wins there since 2004, losing on 12 occasions in that time.

That was then and this is now, however, and there can be few doubts that Liverpool are better than their bitter rivals at the moment.
Admittedly, that isn't reflected in the Premier League, with United somehow two points clear in the second place, but occasionally, the table will lie.
Let's not forget that Arsenal ended up finishing ahead of Tottenham in 2015/16, when in fact Spurs were Leicester's only real title challenger until the final few matches when they essentially gave up.
Anyway, back to more pressing matters.
Jurgen Klopp's Reds are playing far superior football to Jose Mourinho's latest production of "Let's Bore You To Tears", and they are cutting a more cohesive unit with a harmony within the squad more apparent than down the M62.
On paper, this is a wonderful chance for Liverpool to record a rare win at a tough ground – Mourinho has lost just once at home as United boss – but recent evidence suggests there has been a sense of bottling it and not being clinical enough against United.
The last four meetings have all ended in draws, but the Reds should have walked away with victories on every occasion.
The dour 0-0 draw last season saw Mourinho's pragmatism at its most sleep-inducing, but this was no tactical masterclass from the Portguese. Liverpool let him off the hook, in what remains one of the most frustrating matches of the season.
While United barely threatened at any point, Klopp's men opened up their opponents numerous times, with poor finishing and the freakish ability of David de Gea earning the visitors a point at Anfield.
How did he save that Joel Matip effort with his foot?
After the game, Klopp declared, "we don't score easy goals anymore", and that has felt like the case against United for too long now.
Last season, Liverpool were again the better side in two forgettable contests, certainly by the dramatic standards this fixture has set down the years.
James Milner's first-half penalty looked to be steering them to a priceless 1-0 win in the title race in January, only for Zlatan Ibrahimovic to pop up with a late equaliser.
The stalemate on Merseyside in October 2016 was less one-sided than the one that took place 12 months earlier, but Liverpool still enjoyed 65 percent of the possession. The chances that came their way were again not taken, though.
Emre Can and Philippe Coutinho were both denied expertly by De Gea, who has enjoyed so many unbeatable days against the Reds that it is becoming painful viewing.
The fourth of those successive draws actually ended in Liverpool reaching the Europa League quarter-finals, but the 1-1 scoreline on the night was still extremely flattering on United.
They bossed the Red Devils on their own turf, and in the end, they had taken their foot off the gas so much at 1-1 – the tie was effectively over – that they lacked ruthlessness when it came to attempting to embarrass their adversaries.
And that right there is the keyword: ruthlessness.
This is what we have to see Liverpool produce at Old Trafford on Saturday afternoon when the two sides meet in a crucial contest.
We all know how the match is likely to pan out, with Mourinho playing like the away side, his team of talented individuals threatening sporadically and Liverpool looking the more aesthetically-pleasing, in-control team.
The Reds' attack, perhaps Europe's best at the moment, has the ability to destroy United's makeshift defence, but will they find the net when push comes to shove?
Will Mo Salah show the same level of nerve and accuracy as he has in his last seven starts, in which he has scored every time? Or will he fluff his lines like he did at Man City in September, when the score was 0-0 and Liverpool were the better team?
Can Roberto Firmino show the watching world that his finishing really is world-class, should he be sent through on goal at a match-defining moment?
Does Alex Oxlade-Chamberlain have the belief to make key attacking decisions in Liverpool's most testing match, as he has in lesser games this season? Or will he become invisible when is teammates most need him?
At the other end, Loris Karius and the defence must show that they can be switched on for 90 minutes in a cauldron of noise, proving that their recent improvements haven't been overrated.
Trent Alexander-Arnold cannot afford to be overawed by the situation; Dejan Lovren must not return to the worst version of himself; Virgil van Dijk has to be every bit the most expensive defender in the history of the game.
It seems unfair to question these things, given the excellence produced this season, but Liverpool do have some sort of mental block against United, much in the way Everton do against the Reds. Not that bad, but you get my gist!
They fail to get over the finish line too often, and if they come a cropper on Saturday, a second-place finish will suddenly feel a long way off again.
Mourinho is a master at getting results, but as much as the Reds have improved in that respect of late, you still feel they could freeze this weekend, despite running the show.
Perhaps this is just huge pessimism on my part, but I can already see the "Liverpool left to rue missed chances" headlines doing the rounds if they are not careful.
If they can pass this test with flying colours, with big opportunities being buried and the defensive unit remaining switched on all afternoon, it will be another major leap forward under Klopp.