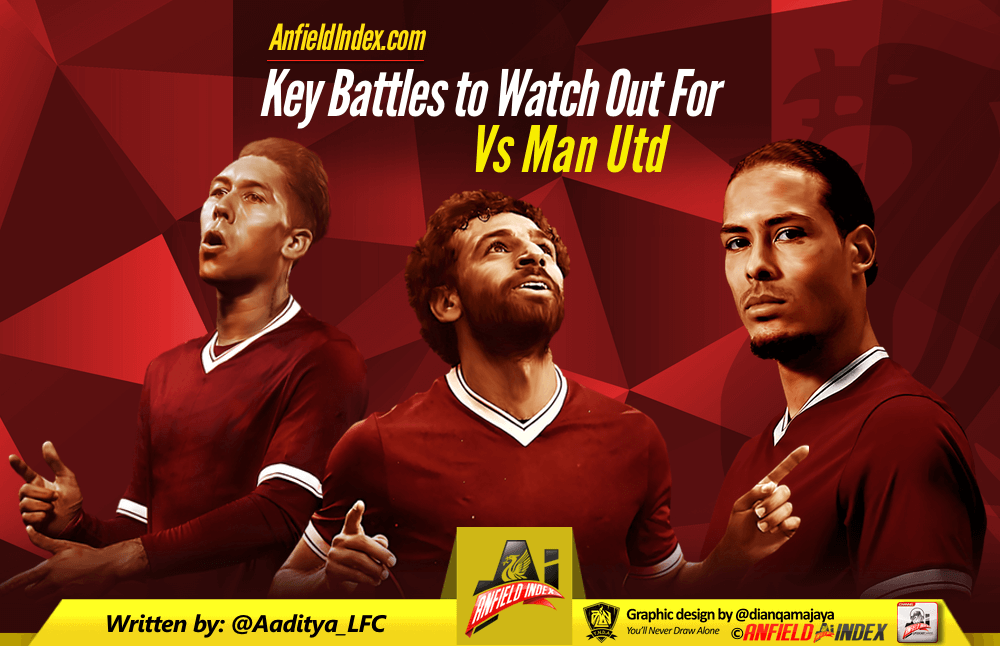 Manchester United v Liverpool Preview - Key Battles
Liverpool travel to the Old Enemies' den on Saturday, in what will possibly be the defining encounter in the race to be the best of the rest in the Premier League.
Manchester United are on a high after Nemanja Matic's injury-time thunderbolt gave them a big win at Selhurst Park against Crystal Palace. Liverpool, on their part, are still riding the crest of the wave, remaining unbeaten since the FA Cup defeat to West Brom at the end of January.
The Reds will be in buoyant mood and will welcome back Gini Wijnaldum to the squad. Also, Jurgen Klopp will be happy that the Reds didn't have to be at full throttle in midweek against Porto, with Virgil van Dijk getting a break, Mo Salah playing just fifteen minutes and both Bobby Firmino and Sadio Mane not play the whole game.

That could be important because Liverpool will have to be at their peak of fitness to break down a well-drilled, stubborn Manchester United unit.
Here are some key individual battles that could decide the outcome of the game.
ROMELU LUKAKU v VIRGIL VAN DIJK
Lukaku has been in good goalscoring form in recent weeks, but it has been extremely encouraging for Jose Mourinho that the Belgian's overall involvement in United's attacks have been telling.
Apart from his ability to hold the ball up and be up for a physical battle with the opposing centre-back, Lukaku does not hesitate to run the channels, and he does have the pace to trouble defenders when he is one-on-one against them.
He will be up against an absolute man mountain. Van Dijk's entry in the Liverpool side has coincided with the Reds looking the most secure at the back that they've looked in a very long time.
Van Dijk's task is not going to be easy, but it is something that he will relish. He has won 83% of all the aerial duels he has been in, since joining the Reds, and if that is anything to go by, Lukaku is going to be in for a difficult afternoon.
That is where the likes of Alexis Sanchez and Anthony Martial become important. Liverpool, even now, are a little notorious for being slightly lax on the second ball, and that could be an area of worry. If Martial or Sanchez are close enough to Lukaku, they could pick up the bits and pieces, should the Reds fail to clear their lines effectively, even if Van Dijk wins the initial header.
CHRIS SMALLING v ROBERTO FIRMINO
Smalling has come in for a lot of criticism from United fans for his recent performances, and that has been with good reason. For someone who has been at the club for as long as Smalling has, it is reasonable for the fans to expect him to be a real leader at the back. But unfortunately, the Englishman has not done that.
Instead, he has looked shaky in every way possible. On Saturday, he will face one of the tougher assignments for a Premier League centre-back, as he comes up against an inspired Brazilian genius.
The threat that Firmino poses to centre-backs is so unique, it is difficult to prepare. Smalling would do well to be aware of how those around him have positioned themselves, because sometimes he tends to follow the striker around a little too much, thereby leaving gaps for other players to occupy.
If a centre-back tries to follow Firmino around the pitch, that is a recipe for disaster. That is where Smalling will need help from Matic and Scott McTominay. It is important from United's perspective that Firmino isn't allowed to drift in between the lines, from where he can orchestrate play so effectively.
For Firmino, his movement is intelligent enough to evade the opposition's best-laid plans and find himself where he wants to. If Sadio Mane and Mo Salah – either side of him – can find space to run into, they really needn't worry about Firmino linking up with them, because as he has shown enough and more times, Firmino will find a way to ensure he has an impact on games.
ASHLEY YOUNG v MOHAMED SALAH
Despite Luke Shaw returning to full fitness, Mourinho has largely stuck with Young at left-back, and it is likely to continue at the weekend as well.
Salah just cannot help himself at the moment. He scored his 32nd goal of the campaign last weekend and looks primed to add to that tally significantly. Just two more goals will take Salah past the 33 goals that Fernando Torres scored in his first season at Liverpool, and there could not be a sweeter occasion or venue for the Egyptian to break that record in than on Saturday at Old Trafford.
At this point, for most Premier League left-backs, it has become a case of "Make no mistakes. And then pray" when it comes to dealing with Salah, because of the brilliance that he has shown.
With Salah, it is not just about his electric pace. Obviously, that is a huge asset he possesses, but his close control, his positioning and the intelligence of his movement, to go with the speed he does it at, is what makes him an absolute nightmare to deal with.
Young will need all the tenacity that Sanchez can bring on to the pitch because for a non-regular left-back, the last thing you want is to face Salah in a one-on-one situation.
For Mourinho though, Salah could leave a huge question. Does he stick to his pragmatic style, play the low block and deny Liverpool the room to play, while risking antagonising his own fans? Or he does he decide to take the game to Liverpool and leave his team vulnerable to the sheer explosive pace of Salah and co.?