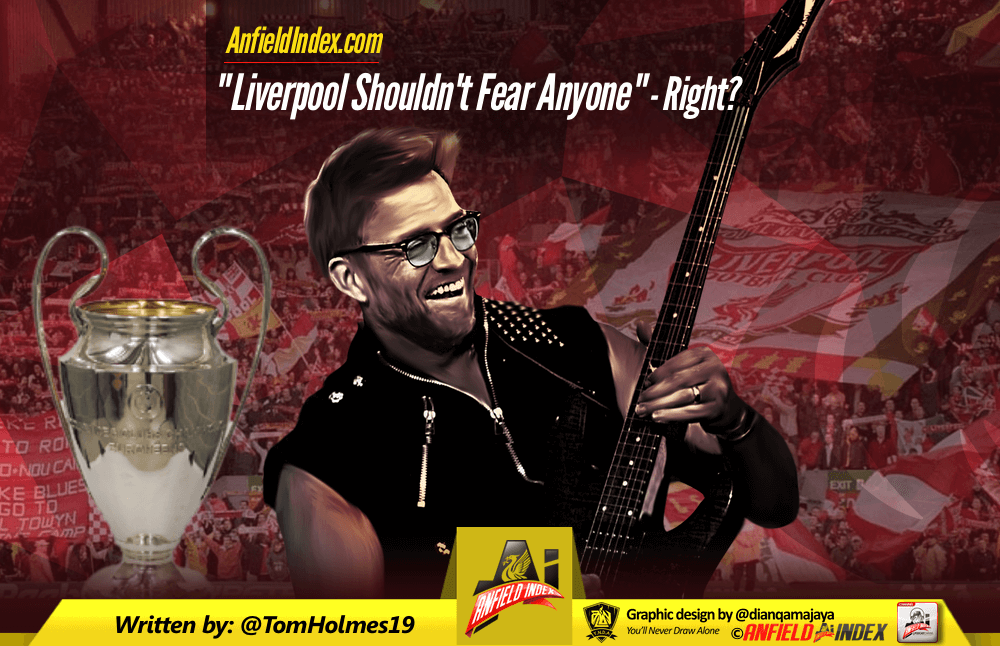 "Liverpool Shouldn't Fear Anyone" - Right?
"Liverpool shouldn't fear anyone." This is the common statement, trotted out by everyone from fans, pundits and players. And if you're expecting this to be the part of the article where I mount an argument that disagrees with this parable, well then you clearly haven't read any of my articles before. Because I am forever the optimist, delusional or not. And Liverpool shouldn't fear anyone.
There are a multitude of reasons why Liverpool shouldn't fear anyone, so let's start with the obvious. We're in the quarter-finals of the Champions League. For the majority of fans, that would have been considered the target. The goal. Even if you consider the quarters to be the bare minimum, then that bare minimum has been accomplished.
The point is that the club have reached a point where there are very few scenarios where the team have done themselves a disservice, and with so many strong teams left in the competition, there are only one or two teams left to whom losing would be a really poor result. To say Liverpool essentially have a free hit is probably taking it too far, but the fact remains that to reach the semi-finals at this stage would probably be considered an overachievement, and Liverpool are probably going to have to defeat a top team to do it.

So does the fact that the fear factor of losing has been all but taken away remove the reality that Liverpool should fear the biggest and best teams in Europe? Not by itself, but it helps. The simple fact is though, that there are no teams out there in Europe who Liverpool should be looking at and thinking: we've got no chance.
That's not to say that we'd go into every single game as favourites, and suggesting that would be ludicrous. We'd be favourites against the winner of Roma v Shakhtar, we'd be favourites against Sevilla or Chelsea if they made it through. If we played Man United that would be a toss of a coin or perspective over two legs as to who you made favourites, you'd have to hope we'd learn from Saturday's defeat at Old Trafford. Juve would be very interesting. Anyone else (Barca, Bayern, Real, City) you'd have to say we're favourites to get knocked out.
But being underdogs doesn't mean Liverpool don't have a serious chance against anyone that they come up against. Over the last few years, we've proved that tactically we can go toe-to-toe with City, and there are very few big clubs who would relish a trip to Anfield.
Klopp's Reds have the perfect set up for a big European tie, as they've at times demonstrated over the last few years. They have a fight about them that makes them hard to knock down, tactically they're well set to exploit certain weaknesses amongst the big teams, and in terms of quality, they simply aren't miles away.
Liverpool have a frightening ability to counter-attack that means that any team in Europe will be worried about having too much of the ball. If Liverpool are able to press and counter Guardiola's Man City into submission in ruthless, brutal style, then no team in Europe is safe. Someone like Juve might be tactically a better set up to face Liverpool, but they don't have the sheer quality of Bayern or Barca.
Moreover, I think an underrated factor in this Liverpool side is how good the players are. People are quick to praise Salah, and to an extent Firmino and Mane, but other than that, how many players in this Liverpool side are routinely lauded for their performances? The likes of Emre Can, Van Dijk, Robertson and even Karius are developing into top tier players in their respective positions, and yet all of the focus is on either the attacking trio or Klopp's tactics.
My point here is that there are a lot of interesting tactical reasons to say that Liverpool have got what it takes to tangle with the big boys, and the various results we've had over the last few years to reinforce that are indeed proof of that. But equally, in terms of the quality of the starting eleven on paper, I don't think Liverpool are as far away from the likes of City and Barca as people think they are.
Liverpool are not just a team who on their day could give a top side a game – and don't get me wrong, we absolutely are a team who on their day will give a top side a game and trust me, we'll need to be at our best to beat any of the quarter-finalists. But Liverpool are turning into a consistent, dangerous, impressive European outfit.
None of this is to suggest that we should be anticipating a 6th Champions League win because we're not that good yet. And none of this is suggesting that we should be waltzing into the Nou Camp or the Allianz and going head to head with the best and matching them stride for stride. But we absolutely should be confident that we can make a good show of ourselves whoever we end up facing, and we absolutely should be excited at the prospect of what this side is capable of.
As the great Karl Coppack said on the Writers' Podcast this week: "I want to see what this side can do." Because ultimately, that's the only way we'll know if this Liverpool side are good enough to beat a top European outfit. We can talk until the cows come home about whether or not Liverpool should fear Real Madrid (they shouldn't) or Barcelona (maybe they probably should). But the only way we'll know for sure is if we go to a big European side and play them on our own terms.
Do I think this Liverpool side are capable of knocking out anyone left in the competition? Well yes, obviously. Football is an often unpredictable sport and so much can happen over 180 minutes. The simple truth is that Liverpool are close enough to Europe's elite that there's every chance they could beat anyone left in the competition. That chance might be slender against certain opposition, but equally, it might not be against others.
But should Liverpool fear anyone? Well no. And that goes beyond pointing out we have nothing to lose. And it goes beyond tactics, and it goes beyond quality and it goes beyond almost every other footballing consideration.
Because this is Liverpool Football Club. And when that team in that famous red kit steps out onto Anfield's turf, they're capable of performing feats of magic, of miracles and things that simply we never ever could have dreamt about. European nights at Anfield are back, and whatever happens, we simply cannot let that magic and that momentous occasion be spoiled by fear. Especially not of any of the current UCL contenders.
Are we the best side in the Champions League? Obviously not. Should we be confident anyway? Hell yes. Am I asking too many rhetorical questions for one article? That's for you to decide. Up the mighty Reds.