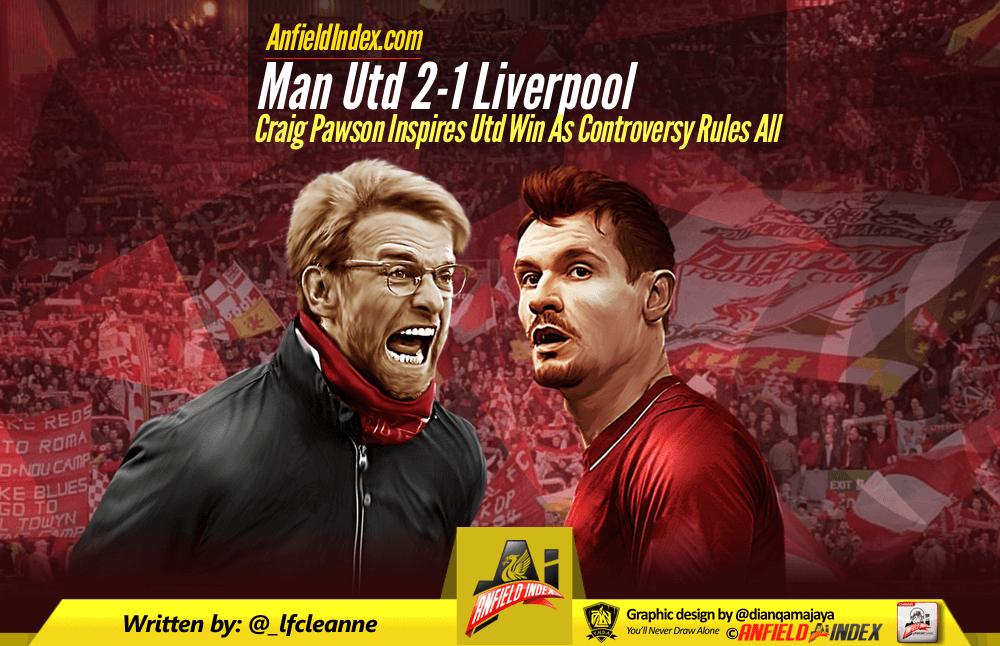 Man Utd 2-1 Liverpool: Craig Pawson Inspires Utd Win As Controversy Rules All
Games between Liverpool and Manchester United at Old Trafford tend to follow a certain narrative with a free-flowing attacking unit coming up against a double-decker bus. Then there's the referee who's never too far from the headlines.
This game was no different, providing the perfect illustration of a Mourinho-Klopp showdown in an affair dominated by controversy.
The first-half displayed the not-so-impressive side of Liverpool; Dejan Lovren did Dejan Lovren things after spouting his mouth pre-match about forming a formidable partnership with Virgil Van Dijk that would help restrict Romelu Lukaku. The Croatian's decision to come out the back and challenge for the ball from David De Gea's goal-kick exposed Trent Alexander-Arnold, with Marcus Rashford getting inside his man before cutting back on his right-foot and powering the ball beyond Karius.

Lovren having a bad game after bigging himself up in an interview is our Groundhog Day.

— David (@lfcmaestro23) March 10, 2018
Lukaku had the better of Lovren all game, dominating the centre-back in the build-up to United's second just minutes later after Van Dijk failed to steer his header in from a corner. A simple long ball saw Lukaku nod it down and thread through to Mata before Rashford was on hand to double his tally courtesy of a deflection from Trent. Days after being touted as the best partner for Virgil Van Dijk, Lovren was painfully exposed as Liverpool stumbled to half-time.
Things got even more calamitous when Juan Mata found himself in acres of space inside the area, hoping to recreate his 2015 bicycle kick after more indecision at the back. 2-0 at the break and not a sight of Mane, Salah or Firmino showing their usual nous in attack.
The second-half brought an improvement in performance, but sadly not fortune. Liverpool huffed and puffed, retaining possession to build up sustained moments of pressure on the United defence as Mane and Firmino grew into the game. Yet, another game fuelled with controversial refereeing decisions, or lack thereof, saw Liverpool sink to defeat at Old Trafford.
First, there was the blatant handball from Valencia from Robertson's low-drilled cross. The away side should've been rewarded just before the hour mark when Robertson's low cross hit Valencia on the arm. The contact was clear as day, with Valencia's outstretched arm diverting the ball out of danger, yet Craig Pawson insisted there was no wrongdoing; a decision that's less surprising given his record of awarding fewer penalties than any other Premier League referee.
That was a clear penalty, Valencia handball. pic.twitter.com/vLDkLTygUH

— Mootaz Chehade (@MHChehade) March 10, 2018
Liverpool did find a route back into the contest though, with Eric Bailly replicating Firmino's no-look finish to divert the ball into his own net from Mane's cross. From then, it was very much one-way traffic as Liverpool continued to press for an invaluable equaliser. There would be two further penalty shouts, with Salah brought down inside the area before Marouane Fellaini appeared to trip Mane.
Adding insult to injury, Antonio Valencia's rash high-footed challenge on Mane was only met by a yellow card in one of the most suspect refereeing performances witnessed in the Premier League.
Of course, while not directly an excuse for Liverpool's lacklustre first-half display, had Pawson done his job the result would've been far different come full-time. Those who aren't advocates of VAR need only to watch this game for further indication of why it belongs in the future of the game.
Liverpool have every right to feel aggrieved, with poor officiating clouding yet another game in England's top flight. The sad thing is, it's no longer much of a surprise.
Still, top-four remains all to play for and this performance won't have changed many minds that  Liverpool will be there come the end of the season.