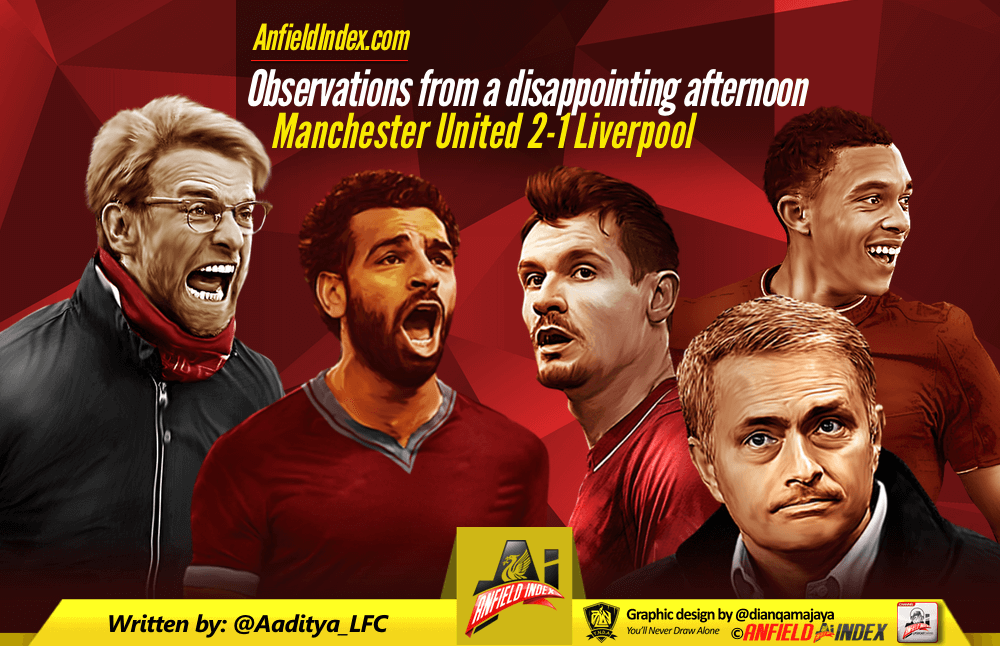 Observations from a disappointing afternoon | Man Utd 2-1 Liverpool
Liverpool made their way to Old Trafford in the best of form as the Premier League's marquee fixture finally lived up to its billing, with the Red Devils emerging 2-1 victors.
Marcus Rashford's first-half brace put Manchester United in command, but Liverpool didn't give up without a fight.
Eric Bailly's calamitous own goal gave Liverpool some hope, but there was to be no further joy for the Reds, as United defended like only a Jose Mourinho side can.

Here are some key highlights from the game:
Trent and Lovren have nightmares
Last season, Trent Alexander-Arnold made his first ever Premier League start at Old Trafford and won rave reviews for his performances. However, it wasn't such a happy visit to the enemy's bastion for the youngster.
His momentary lapse in concentration in the 14th minute allowed Marcus Rashford to get on the end of Romelu Lukaku's flick-on. Rashford still had a lot to do once he had gotten goalside of Alexander-Arnold.
But an inspired flick left the young Scouser not knowing what had happened around him, before United's 'Boy Wonder' curled one past Loris Karius into the far-post.
Ten minutes later, Rashford found himself in a similar situation again, and this time, Alexander-Arnold turned his back on Rashford and ultimately, that proved fatal. The deflection off of the young Scouser's heel took the ball beyond the grasp of Karius and into the Liverpool goal.
But both of those goals could be averted if Lovren had won his initial header. This is yet another big game in which Lovren has not stepped up and made his presence count.
At this point, you would have to think that Jurgen Klopp would have to think about who partners Virgil van Dijk in the middle of the defence, as that is evident something that has not been sorted out yet.
The Salah threat is snuffed out
Coming into the game, the biggest fear for anyone associated with Manchester United would have been the threat posed by Liverpool's Egyptian star, Mohamed Salah.
But they did a fantastic job to keep him quiet all game, with Ashley Young in particular deserving huge credit for the way he stuck to his task and gave the Egyptian no joy at all.
It helped that Young is a natural right-footer, which enabled him to move to his natural side when Salah cut in to get the ball on his lethal left foot.
Salah didn't have a shot on target all game, which exemplified how well United dealt with him. The communication between Young and the centre-backs was also spot on, with Chris Smalling being a rock when faced by the Egyptian.
Mourinho does a number on Klopp
A Portuguese pragmatist against a German football romantic in England's biggest game. In the end, the Portuguese pragmatist had a big smile on his face.
Mourinho knew that for United to have a chance, they would have to take Liverpool's pressing out of the equation, and so they did. It was clear that they were looking for Lukaku at every possible opportunity.
But that much was obvious. What was credit-worthy was the way United went about their business. It was not their plain old mindless hoof ball. There was a clear plan to how they hit the ball forward.
They ensured that Lukaku was always challenging Dejan Lovren in the air and not Virgil van Dijk, given the Dutchman's presence in the air.
Matic and McTominay in the centre of the park suffocated Liverpool and allowed them no space to work the ball into the likes of Salah and Mane.
In the end, Mourinho 1-0 Klopp. Manchester United 2-1 Liverpool.