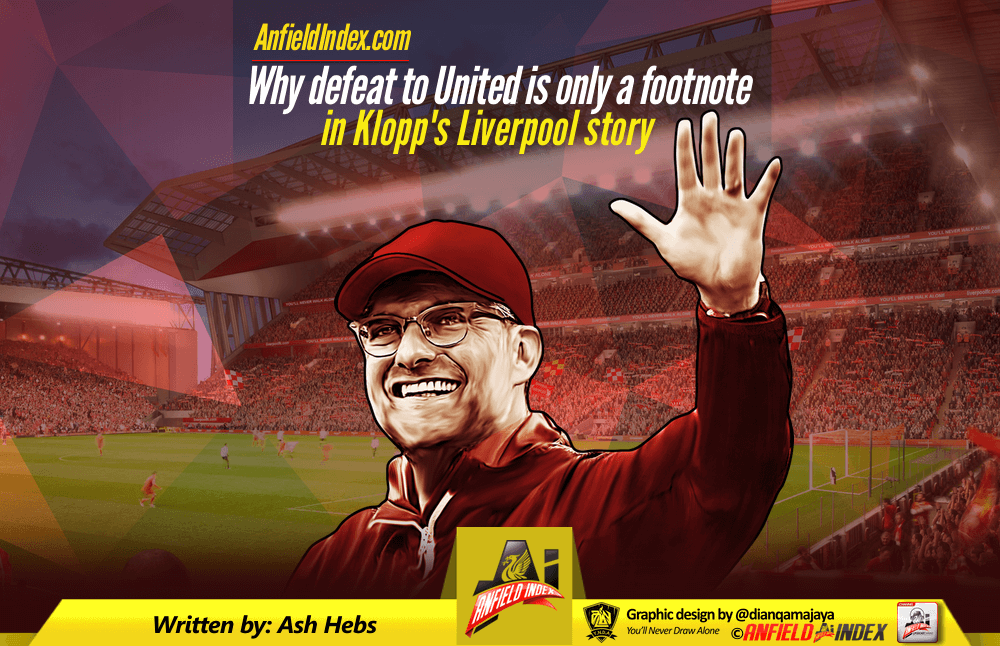 Why defeat to United is only a footnote in Klopp's Liverpool story
Old Trafford hasn't been a happy hunting ground for Liverpool over the years. This weekend's result ensured that remained the case. United did what United do and took their chances and then held on for dear life.
Our rivals were aided and abetted by a criminally incompetent refereeing performance. How Craig Pawson can call himself a professional referee is beyond me.
More pain at United
Defeat to United hurts more than perhaps any other team. When Klopp's Liverpool side plays such expansive and brave football, defeat to such a "basic" team is even more sickening. Like them or not, Mourinho's United do what all Mourinho teams do. It's not pretty but it's effective. Effective by virtue of the sheer quality he can afford to buy. Papering over the clear cracks that are there for everybody to see.

In an era of ever-evolving tactics, the likes of Guardiola and Klopp put Mourinho's out-moded and limited methods to shame. But Mourinho's forte, his percentages game football, paid off on Saturday afternoon. That said, the damage was largely self-inflicted in the first half. It was a familiar story as woeful individual and team defending cost us in a big game once more.
Despite Liverpool's best efforts (and make no mistake, United were on the rack at the end) a draw was not to be. United could not have had any complaints had the scoreline ended 2-2. If only Salah's last-minute volley had been lower, it would have capped off an imperfect but valiant second-half performance.
My fear at halftime was that we might see a capitulation under the aerial onslaught of United. However, this team is made of sterner stuff than the tame surrender we saw at Wembley against Spurs.
The existing problems with Klopp's team are well known. Thankfully there were no new scares on Saturday. In many ways, the team is still suffering from the inability to secure the services of both Van Dijk and Keita in the summer. Clearly, the biggest weaknesses lie in the midfield and defensive balance.
Whilst this squad is good enough to compensate against weaker opposition, it is often not enough against the better teams. Our top 4 head to head record is testament to this.
Defence goes AWOL
The defensive meltdowns in particular, explain why we have so many draws this season. Man City are poised to end this game-week round of fixtures 9 wins better than us. That statistic is absolutely staggering.
The draws are a result of the control the midfield loses at key moments under pressure. This also affects the defence. An imperfect defence also causes panic across the team. It can go horribly wrong as we saw away to Spurs, Sevilla and in the first half at Old Trafford.
Whilst Klopp was able to land Van Dijk in January it was probably a little too late. Nevertheless, his performances have shown what can be achieved moving forward. What is obvious is we cannot expect Virgil to solve all the issues by himself. The Lovren experiment, like the Mignolet one before it, has gone on for far too long. Matip doesn't seem the answer either. We probably need a new partner for Van Dijk moving forward.
For me, the goalkeeping spot looks sorted for now. I felt Karius came of age at Old Trafford, with his punched clearance against Fellaini and his magnificent interception and pass forward at the death. It was another solid game from the young German, who is finally showing the sort of form we expect from a Liverpool keeper.
Midfield sacrifices…for now
The inability to sign Keita this season or even a replacement for the uncommitted, distracting and now departed Coutinho also comes into play. The midfield is light on guile and creativity. Klopp has taken a pragmatic approach of focusing on the skill sets of the existing midfielders. He has implemented a system that brings out the best in them. But it doesn't come without sacrifices.
Our midfield is full of pace, power and pressing ability; its real qualities lie in what is done off the ball rather than on it. This team does not have a deep-lying passer who can calm the game down under pressure. Naturally, this inability to dictate the tempo of the game leads to shortcomings in the games against better calibre opposition.
Possession is crucial in key moments when the team comes under the cosh. It is also important in supplying key passes to our formidable front 3. It is much easier to defend with 10 men behind the ball when the likes of Mane and Salah have to drop deeper as they did against United. But they had to do this as they weren't getting the right supply from midfield.
This meant that there was nobody occupying the United defenders around the penalty area. It allowed United to harry and break up our possession play in and around the box.
The arrival of Keita and the inevitable departure of Can provide Klopp with the opportunity to address this midfield imbalance in the summer.
For now, United end the weekend with a moral victory. With a 5 point advantage over us, it feels like this was the defining game in the race for second spot. Let them have it; next season we will come back stronger.
The only way is up
Looking at the year on year evolution of the two sides, can anyone say Klopp isn't doing a better job (pound for pound)? The ceiling feels much higher because Klopp is willing to push the boundaries. Unlike bygone years, where defeat to United emphasised the gulf in quality between the sides, things now feel different. It is surely only a matter of time before we overtake them while Mourinho is at the helm.
With the right 2-3 signings in the summer, one senses United won't get away with this kind of win against a Klopp Liverpool moving forward. If anything they will be the exception rather than the norm. The trajectory of both teams feels different with Liverpool coming swiftly up the hill while United stall half-way up.
Let's get back to beating the teams we can, secure top 4 and focus on the summer. The weaknesses can then be banished and this team can translate high footballing ability into the consistent results it deserves. Nowhere more so than Old Trafford.
Yes, the result was disappointing. But in the wider scheme of things, it only emphasised what Klopp has to do to prevent these defeats moving forward. To make this team a regular, credible trophy challenger.
Nothing is guaranteed in football. All the same, on the evidence so far he is as equipped as anyone to get it right.