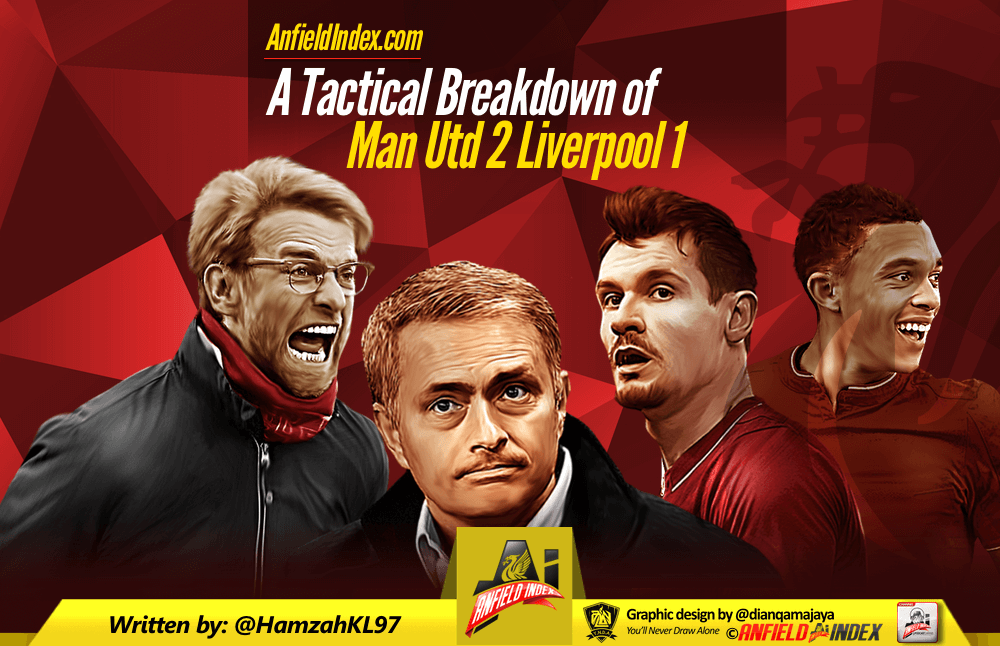 Manchester United 2-1 Liverpool: A Tactical Breakdown
There's no game that manages to make me as uneasy as the Manchester United tie at Old Trafford: genuinely, I can't eat on matchdays. Maybe it's the trauma of defeats and the subsequent stick that every young fan gets at school that's caused it – who knows, but in all seriousness, after Liverpool won 0-3 there back in 2013/14 – with three penalties awarded to Liverpool – I was, and still am, utterly convinced Brendan Rodgers performed some juju or struck a deal with Satan in return for that scoreline. Perhaps the deal was that we'd be doomed to have awful refereeing decisions against United until the end of time. Who knows.
Anyway, we'll take a step away from the subjective and try to break down just how Manchester United beat Liverpool, and a number of key things stood out for me:
1) United's defensive set up
2) Key errors by Liverpool players
3) United's clinicality
4) Tactically, the impact of the early goal on the match
5) The offensive ineffectiveness of Liverpool's midfield

For Manchester United, there was a clear gameplan – nullify Liverpool's main attacking strengths. Liverpool predominantly attack down the middle, with narrow inside-forwards opposed to wider players in the front three – as Manchester City use. Furthermore, Liverpool press and counter-press most dangerously in the midfield third, where the forwards can spring onto a defensive line which is either exposed or still attempting to transition into an organised shape.
To deal with this, Manchester United did a number of things: Mourinho set his team up to focus on congesting the central areas, with an extremely tight back four, with a midfield block ahead of it. This midfield block also was positioned to cut out passes from Liverpool's CBs/CDM into the forwards.
One way to cope with a midfield block like this is to use a CB or CDM's on-ball ability and encourage them to bring the ball forward and draw one of those midfield blockers out of position, in order to create space. Generally, Liverpool's players were reluctant to do so, as Can took up a very deep role which essentially took the ball off the CBs, and deprived them of drawing out United's midfield players. But this is not all Can's fault – a great deal of credit has to go to Mourinho, who employed a press which nullified the ability of the Liverpool CBs/CDM to drive forward. This was not a parked bus by any means: my best vehicular analogy to describe this would be the Batmobile from The Dark Knight, which had the ability to produce a Batcycle – but Bat-related analogies aside, what I'm trying to say is Manchester United had a clear counter-attacking outlet and used it efficiently.
Tactically, the game could have been quite different if it were not for the early goals though. Mourinho sides prey upon mistakes by the opposition side, and Liverpool's inability to defend the long-ball into Lukaku was all United needed. With the early goal, the game was basically over. Liverpool needed to be aggressive, and United just needed to frustrate Liverpool and counter-attack. It was a dream situation for Mourinho's side. Very much like the Liverpool victory over Porto, once one team had to commit offensively, the other side could choose their moment and pounce.
Reminded me of the first 20 minutes against spurs at Wembley. Our game plan has been thrown in the bin due to the soft goals. Opposition now dictating the pattern of the game and could get messy.

— Dan Kennett (@DanKennett) March 10, 2018
This was essentially the story of the first half, and while we need not break down the goals themselves, I will say this: Dejan Lovren has received a lot of criticism for his involvement in the goals, but the goals are certainly not solely his responsibility. Lovren's greatest asset is probably his aerial ability, but against Romelu Lukaku most centre-backs in the world will likely lose out over the course of a game in aerial duels. Admittedly, Lovren should do better, but more so, it's incumbent upon the team and the manager to recognise this issue and be proactive. Emre Can should have supported Lovren in those aerial situations, and with respect to the goals in particular, for the first, Alexander-Arnold should be positioned inside Rashford, and for the second, Can should attempt to bring down Lukaku, before he offloads it to Mata.
Individual errors, combined with a tactical ineffectiveness did cost Liverpool, but that's not the full story of the game. In the key moments United shone, Liverpool did not – Van Dijk missed a header at a key point within the game, and the decision making of the Liverpool midfielders was especially poor throughout the game.
Liverpool needed a number of things from their midfielders throughout the game, and especially in the second half, but the two most important aspects, funnily enough, are oxymoronic: Liverpool needed both patience and directness from their midfielders.
With Can as the 6, Mané and Salah (one of whom would occasionally swap with Firmino) covered by United defenders, Milner, Chamberlain and the rotating loose player from front three were the players whose Liverpool's penetration would derive from. However, Chamberlain was ineffective early on and was substituted off when he seemed to be getting a grasp of the demands of the game, having earlier wasted possession through attempting pot-shots from outside the area, while Milner positionally was not aggressive enough – mindful of the United counter-attack.

The average position map (above: United in orange, attacking left to right, and Liverpool in blue, attacking right to left) displays some of the issues Liverpool faced. United were extremely compact and narrow, with Salah, in particular, finding it especially challenging to find space, and on the occasions he did, he could very rarely isolate Young, and attack him in a one on one situation. But this was also because of Liverpool's fullbacks not being advanced enough to create wide overloads: Alexander-Arnold, in particular, found himself further back than usual – likely because of the threat of Rashford, targetting the channel between him and Lovren – whilst Robertson was not wide enough – he should have been hugging the touchline, as both Milner and Mané were operating in the inside-left channel, rather than taking up a non-threatening position, and further congesting Liverpool's play.
Milner and Chamberlain though have a great deal of responsibility within this though – when they picked up the ball, they should have been more proactive, and drove forward with it, onto and past the first United defensive line. Their role in the midfield three is essentially a "free eight", but they did not act as one – the modern "free eight" is someone akin to David Silva or Kevin De Brunye: they move the ball forward, into space and break defensive lines. Milner and Chamberlain failed to do so, with their positioning, their passes or their dribbling, and this made breaking down Manchester United far more challenging. When you add in the choice to not focus on using wide areas (seen below), it's essential that those midfielders do their job and bridging the forwards to the rest of the team, but they simply did not do so.

The lack of patience attested to earlier is also evident in the graphic below: Liverpool were clearly frustrated at not being able to get the ball into good areas often enough and resorted to taking low-percentage shots from outside the box, and of those shots in the box – they were from set pieces – so this is very much an open-play issue against defensive sides.

That's not to say Liverpool did not create chances, far from it: there were a number of really good penetrative and dangerous passes made into the box that were either well defended or simply not met by a Liverpool player. There were perhaps three good quality balls into the box which broke through the United defence but were not capitalised upon.
The match result today was defined by routine long balls and second balls. For me, a much bigger question was raised by the general pattern of play. Our plan A was ineffectual at 0-0 and even less so at 0-2.

— Dan Kennett (@DanKennett) March 10, 2018
The ineffectiveness of Liverpool's CMs against low-block teams is something we've known for a while. If Liverpool want to persist with attacking centrally, in simple reductive terms, they need a dribbler and a passer to occupy one of, or both, of those "free eight" spots. Having players that can break the lines with the ball and unshackle the forwards is essential if Liverpool want to progress as a team, and develop a possession-based domination gameplan, as an addition to the counter-pressing gameplan, for when it does not work as effectively.
Today was the 28th Liverpool league game in the last decade to feature four-or-fewer shots on target in total.
Opposing managers with more than one match:
6 Tony Pulis
2 Sam Allardyce, Sean Dyche, Paul Lambert, Jose Mourinho.

— Andrew Beasley (@BassTunedToRed) March 10, 2018
Liverpool did not play great, but when a team like United set up as they did, Liverpool were not really going to blow them away. Nonetheless, Liverpool made a number of decent chances that could have produced goals, but they also should have done more with the ball too.
Largely, I prefer to stay away from the issue of officiating, as this is meant to be an objective analysis, but in the second-half Liverpool were far more aggressive and proactive with the ball, and worked their way into scoring positions – and against a team as well drilled as Manchester United, teams get few chances at all, and thus when they do make a smart one-two around the box, and a player is fouled, the referee has to do their job properly, or they'll essentially determine the outcome of the game, and that is what happened. There were four Liverpool penalty calls, and while I'll dismiss one isn't that convincing, the Valencia handball I'll give the referee the benefit of the doubt (even though it was a penalty), but the foul on Mané was as blatant a penalty as you'll ever see, and the foul on Salah by Young as clear as day too.
In truth, Liverpool played alright, they certainly could have done better, but they were not poor overall, they just made crucial errors in key moments which were capitalised upon. Liverpool probably deserved a draw, but United were value for at least a point too: Liverpool handed United the game, and to their credit they took it. Fair enough.
But Craig Pawson, Craig Pawson is utterly useless.