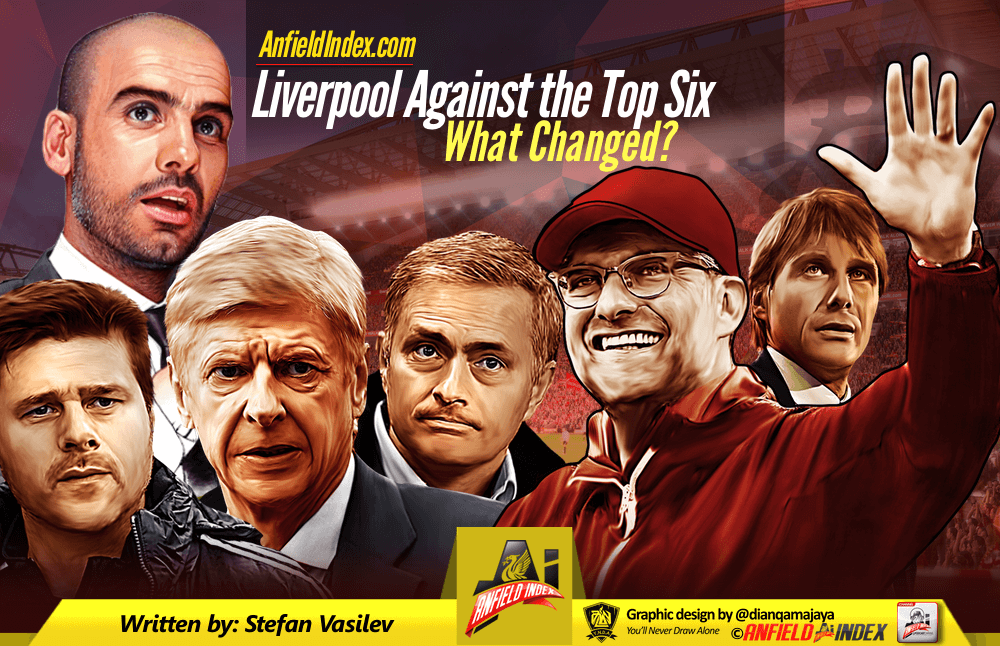 Liverpool Against the Top Six - What Changed?

Before the start of the season, Liverpool was on a 13 game unbeaten streak against the top 6, dating back to January 2016. In our first match against a direct rival, we dismantled Arsenal at Anfield, winning 4-0. In the eight top 6 meetings that followed the Reds only managed to win once, a bad run capped off by the frustrating game on Saturday. So what changed?
Comparing to 2016/2017

*BCC – Big chances created; BCS – big chances scored; BCCR – big chances conversion rate;
BCA – Big chances created against; BCSA – big chances scored against; BCCRA – big chances conversion rate against
Shots with xG 0.33 or higher are considered big chances
There are actually some positives in the table above. Overall the Reds are also scoring at a better rate than last season, even though the big chance conversion rate is significantly lower. LFC is still unbeaten at home in the league this campaign. Even though Liverpool won 2 fewer points against top opposition at Anfield this season, performance wise we have done as good if not better. The three draws against Spurs, Man United and Chelsea were a bit unlucky. Spurs got a last second controversial penalty, Chelsea were bailed out by a fluke goal and Man United… well they parked the bus and got away with it.
A side note: I know nobody cares about xG after a loss such as last weekend, but here is an interesting fact: Manchester United have a combined xG in their last four games with Liverpool of 2.65 (0.66 xG per game). For the same period, Burnley managed to create 2.26 xG against us (0.56 xG per game). Jose Mourinho has truly managed to turn them into a rich man's Burnley.
The two main problems jump out on you right out of that table: defense and away form. It's quite obvious that when a team concedes 20 goals in 9 games (14 in 4 away games) wins will be few and far between. The Reds have allowed almost two big chances per game against the top 6 – more than double compared to last season. The opposition has taken advantage, successfully finishing an astonishing 65% of them. 11 of the 20 goals the Reds conceded came from clear cut chances. Even if the opposition has converted at a way higher than average rate and one can find excuses in luck, allowing so many opportunities is just not good enough.
The defensive numbers away from Anfield are mind-blowing – 3.25 big chances allowed per game, 3.5 goals conceded per game. In a way we have improved as the season progressed, going from 5 goals conceded away at Man City, to 4 at Spurs, 3 at Arsenal and 2 at Man United. Excluding the match at the Etihad when the whole team collapsed after the Mane red card, the reasons for the defensive woes are series individual errors and bad defensive decisions.
at Spurs: LFC get Lovrened for the first half an hour (even though both goals could have been prevented by other players after the initial mistake). After somehow staying in the game conceded a second set-piece goal in the last minute of the half.
at Arsenal: Joe Gomez and Mignolet make terrible errors
at Manchester United: LFC get Lovrened again in the first half an hour (even though both goals could have been prevented by other players after the initial mistake).
I don't think much has changed defensively. We all know Lovren has a mistake in him, it's just that last season he made those errors against teams sitting lower in the table or when he made a mistake against a top team the opposition failed to take advantage of it. Joe Gomez and Trent Alexander-Arnold have gotten a lot of exposure and experience this season but are still a weakness against top sides. Clyne has been missed in such matches.
Fine margins
The numbers highlight the main problems. But when one looks at the way some of those matches went it's hard to not feel hard done by some of the events. Every big refereeing decision in our last two top 6 matches went against us. Virgil van Dijk missed a point-blank header to equalize in the first half. Had Mane been half a second faster against Man City the game was going in a different direction? Had William actually managed to cross that ball properly we might have won against Chelsea. For some reason, the Reds have been a centimetre behind a play in marquee matches. And it happens, last season things went our way more often than not.
Pundits, writers, supporters – everyone has a narrative. Most often it is based on the simplest of numbers – goals scored, goals conceded, points won or the most obvious errors. Those narratives can be changed by a ricochet, a slip or a blow of a whistle. Ashley Young "kept Salah in his pocket" while Lovren was stupid to give the referee a decision to make against Everton. I like to look for counterpoints and explanations rather than jump on the bandwagon. We haven't been outplayed by a top team since that Spurs defeat. The Reds haven't won many such games also but that's because of a combination of defensive errors (which every team makes) and more than exceptional finishing by the opponents (which is random). The team should still try to make their own luck and reduce the number of good goalscoring opportunities allowed to an acceptable number. There has been a regression defensively against LFC's direct rivals but there has been a defensive improvement against the rest of the league. The Reds are currently at 2 points per game, exactly the same as last season but with the remaining schedule having only 1 top 6 match up the getting the better of the mid and lower table teams is far more important.
*Stats courtesy of Understat.com