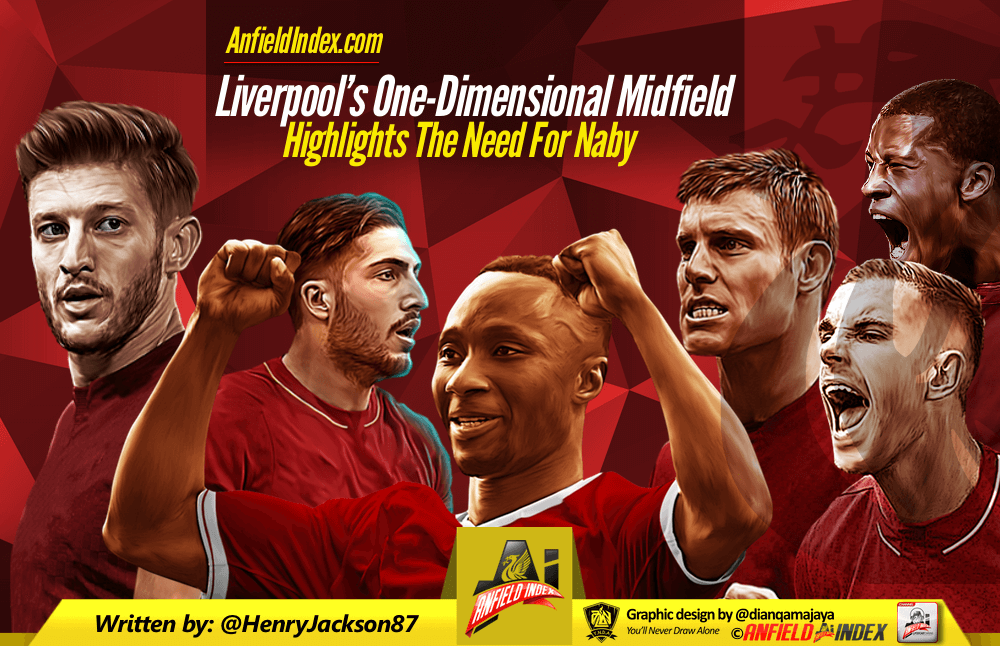 Liverpool's One-Dimensional Midfield Highlights The Need For Naby
Last Thursday, Naby Keita was starring for RB Leipzig as they defeated Zenit St Petersburg 2-1 in the Europa League.
The Guinean laid-on a delightful assist for Timo Werner, gliding through the midfield before finding the forward in inch-perfect fashion, on a night that also saw him win all five of his tackles, complete five take-ons and enjoys a 93 percent passing accuracy.
It was a midfield masterclass, during a season in which Keita has actually been criticised for downing tools at times.

The African superstar will become a Liverpool player this summer, in a move that has been described as a game-changer by many, with the 23-year-old widely regarded as one of Europe's most influential midfielders.
Blessed with the unfathomable energy of N'Golo Kante and the effortless ability of Andres Iniesta, this is a footballer capable of being one of the Reds' biggest signings in many years.
Virgil van Dijk will prove to be the top class centre-back that Liverpool have lacked for so long, and exactly the same will apply to Keita further up the pitch.
Less than 48 hours after he was making us giddy with excitement after another elite showing for Leipzig, Liverpool were taking to the field at Old Trafford, looking to overtake Man United and enhance their hopes of a top-four finish.
Unfortunately, but rather predictably, the Reds again failed to find their top form at the home of their biggest rivals – when did they last play well there for 90 minutes? – eventually going down 2-1 in relatively limp fashion.
While Dejan Lovren was deservedly lambasted for yet another poor performance in a big game, as well as some criticism being aimed in the direction of Trent Alexander-Arnold and the below-par attacking trio of Mo Salah, Sadio Mane and Roberto Firmino, it was the midfield that disappointed the most.
Jurgen Klopp opted for Emre Can, James Milner and Alex Oxlade-Chamberlain, which was an understandable decision, considering all three have been in decent form recently.
Captain Jordan Henderson had to make do with a place on the substitutes' bench alongside Gini Wijnladum and Adam Lallana – interestingly, Liverpool's most cohesive midfield-three during the Reds' most dominant run of form early last season.
Although none of Can, Milner and Oxlade-Chamberlain disgraced themselves at Old Trafford, it was still painfully evident that this is a Liverpool midfield lacking in guile, drive and world-class quality.
There is a Keita-shaped void waiting to be filled.
Philippe Coutinho's exit may not have been felt in the slightest up until the United game, but this was an afternoon that showed why he is such a loss, and why the arrival of their next potential talisman cannot come soon enough.
Coutinho's ability to conjure up an opportunity from nothing is a rare gift, and without it on Saturday, United looked secure and safe in the knowledge that no great threat was coming from midfield.
Oxlade-Chamberlain was the biggest culprit on the day, producing some rash passes, losing the ball and seemingly becoming less confident as the first-half continued. You could visibly see him shrinking.
He tried to make amends after the break, prior to his substitution, but it was a match that further raised question marks about his dependability in the really crunch clashes.
Milner did his best in typical Milner fashion, but this is a 32-year-old who has never been renowned for wreaking creative havoc and unlocking defences. There are limitations that are plain to see.
Can didn't do a long wrong at the base of the midfield, often standing out more than most, but again, there were no moments of class that caught the eye, and he was guilty of holding onto the ball for too long – one of his most frustrating traits.
Would Henderson, Wijnaldum or Lallana have done more? Probably not, as the second-half cameos of the latter pair showed.
Either way, the need for Keita to inject some magic into the side was so painfully evident.
Contrary to popular opinion, the six Liverpool midfielders mentioned above are all good footballers in their own right, bringing different attributes to the team.
Not one can be considered remotely world-class, however – Can definitely has the highest ceiling, but doubts remain over his consistency – and that is where Keita's arrival is going to prove so pivotal.
The Reds' soon-to-be new hero would walk into any midfield in Europe, and there are plenty of experts still surprised that Klopp has managed to lure him to Anfield over one of the true current powerhouses, such as Barcelona or Real Madrid.
He is going to transform things in the middle of the park, whether it be his ability to break up play or produce brilliance in the final third, and it will be the next piece of Klopp's jigsaw that gets completed.
The German is slowly building a team worthy of challenging in the Premier League and the Champions League, but for all its strengths, the midfield personnel does not jump out at you.
They are all players who could excel with a phenomenal player like Keita next to them, but when the onus is on them to be the inspiration, too often they fall short.
You could make arguments for any of the six to stay at Liverpool beyond this summer, once you put personal agendas aside for one second, but their shortcomings are exposed too often.
With Can likely to leave, another midfielder will also come in this summer, but Keita is the one. He is an extraordinary talent and one who will make such a difference on days like Saturday's Old Trafford disappointment.
I can't wait to see him in a Reds shirt.