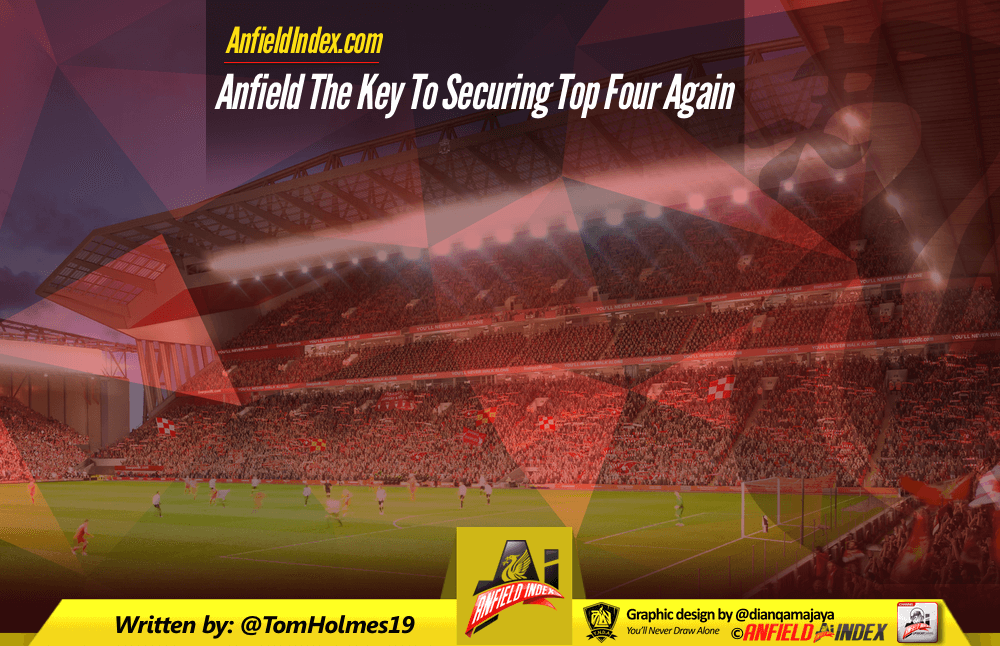 Anfield The Key To Securing Top Four Again

With just eight games now remaining in Liverpool's Premier League campaign and the Reds sitting 4th, four points clear of 5th place Chelsea and with a trip to Stamford Bridge to come, Liverpool's season very much remains in the balance, not to mention the Champions League quarter-final that the Reds have to look forward to at the start of April.
76 points is the mark that keeps being brought up as a target and it's fair to suggest that at least one of Chelsea and Spurs will surely drop enough points that 76 would be enough to secure top four, just as it was last season. That means that Liverpool will need about 16 points from their last eight games, two points per game, the rate that they've been pretty much on for about four months now, and are currently bang on.
So this article is to highlight the importance of Anfield in the run-in, both in the league and to an extent the UCL. Liverpool's four away games between now and the end of the season are trips to struggling Crystal Palace, Merseyside rivals Everton, bottom of the league West Brom and finally, of course, Chelsea. So that's a potentially tough kettle of fish.
On paper, Palace and West Brom should be easy wins, even away, but Palace have been something of a bogey side for the Reds and will be desperate for points. Likewise, West Brom are wretched at the moment, but Liverpool don't play them until the third week of April. If Pardew is sacked by then, and they're still in the Premier League, then West Brom could be a horrible away game, and Liverpool have failed to beat them twice already this season.
I don't need to point out that the Derby is never a guaranteed three points, even though Everton are absolutely awful, and a trip to the Bridge with everything on the line sounds like my idea of a perfect recipe for an enema.
However, Liverpool can all but take their away form out of the equation with twelve points from their four home games. On Saturday, the Reds play Watford, before facing Bournemouth on 14th April, Stoke the final weekend of April and then finally Brighton on the final day.
That's four teams that are, bluntly, not that good. They average 32.5 points this season, their average position is 13th, and they average 11.5 points away from home. Against the top six, these four teams have only three points between them against the top six away, Bournemouth's 3-0 win at the Bridge.
Arguably the most important thing about Liverpool's home opposition is that they're largely mid-table. Watford, Brighton and Bournemouth sit 10th, 11th and 12th. None of them look like going down, and all of them should be all but safe by the time Liverpool play them. Bournemouth only need one win before they come to Anfield, Watford are already pretty much okay and if Liverpool host Brighton on the final day needing a result, their opposition will surely have secured Premier League status for another season. Only Stoke might travel to Anfield needing a result, but equally, with only two weeks of the season left after that game, they might already be sunk or safe (probably sunk).
And Liverpool is, so far at least, a force to be reckoned with at home in the Premier League. Unbeaten at home, with nine wins and six draws, Liverpool have secured 16 points from their last six home games, and a solid portion of their home draws have come against tough opposition, with West Brom the only side outside the current top half to have got a draw at Liverpool this season. Newcastle, Swansea, Huddersfield, West Ham, Palace and Saints scored one goal between them, shipping 18. And in the Champions League, Maribor, Spartak and Hoffenheim all felt the full force of Liverpool's destructive power at home.
And even if Liverpool can secure 10 points from their four home games, allowing for a slip up somewhere, that would only require six points or so from their away games. It's entirely plausible that Liverpool could only need one win from their away games, should they get the job done at Anfield. And with circumstances the way that they are, we should be backing the Reds to get that job done and get over the line.
But that also means that the Anfield atmosphere will have to be that of a cup final, or that of a European game, in all of our last four remaining home games. We know exactly what the stadium will be like when we welcome one of Europe's top teams in the Champions League quarters, and we should absolutely be demanding a similar atmosphere in our remaining home games.
Liverpool won five and lost just one of their last eight home games last season, and they need to prove that once again they can deliver at Anfield in clutch situations, as this season comes to a close. There is of course, still plenty of room for a slip-up or two, Chelsea are in bad form and have some tough games coming up before we play them, but Liverpool could make their lives a lot easier for themselves by doing the basics right and smashing their final four home league games.
But then last season Liverpool won just one of their last four home games, drawing to Bournemouth and Southampton and losing to Crystal Palace, whilst winning away at Stoke, West Brom, West Ham and Watford to secure seventeen points from their final eight games, so what the hell do I know? Just go and win all of our away games again.
Up the Reds.