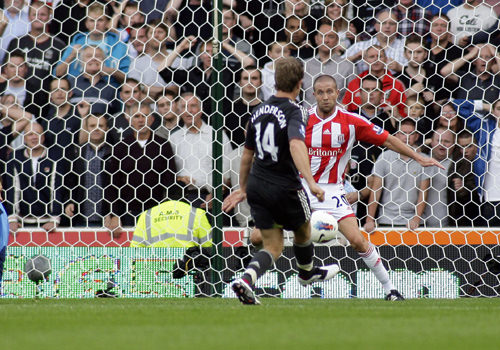 Stoke City Vs Liverpool FC | Defence v Attack

It was not a good day for Liverpool FC on Saturday, 10th September. A loss to Stoke at the Britannia Stadium for the second consecutive season does not make for good reading. However we're going to try and present a few statistics together to show a few of the factors we believe contributed to the fact that Liverpool FC didn't win against Stoke City.
The answer is obvious. It was because Liverpool FC couldn't convert their chances on the day. It was one of those days where you'd do everything except attain the goal that you so desperately wanted to achieve. Here are some of the basic stats from the game that really drive home how dominant Liverpool FC were against Stoke City:
As you can see Liverpool FC were dominant in nearly every single basic statistic displayed in the table on the left. The possession stats are staggering as it's been a long time since Liverpool FC have been so dominant in possession of the ball against a team away from home in this manner.
The shot stats were again one sided with Liverpool having eight times the shots that Stoke City had. The total number of passes in the game were 740. With Liverpool having almost 74% of the passes correlating almost exactly with the ball possession statistics.
The crosses Liverpool put in were almost three times as much however their accuracy was only seven percent better than Stoke's which could point at Stoke's resolute defending.
In fact after delving into the Opta Statistics on EPLIndex.com I've noticed that Stoke managed 28 headed clearances of which 18 were effective or successful. This would point at how they managed to get on the end of Liverpool FC's crosses and clear them successfully. Liverpool managed 6 of which 5 were effective or successful which points to the fact that they were not under pressure at all or at least not in comparison to Stoke.
Further investigation shows that Stoke attempted a total of 68 clearances whilst Liverpool FC attempted only 14. This would also point to the amount of pressure Stoke felt. However it looks like there is a bit of a trend developing with Stoke City as the stats are suggesting that Stoke also did something similar in an away game at West Brom late last month with them attempting 44 clearances in that game. However this was a home game for them so you'd expect them to be stronger at the Britannia.
We feel a mix of resolute defending from Stoke City and poor shooting from Liverpool FC were the causes of Liverpool FC's loss. A quick look at the shooting statistics for Liverpool below:
As the table on the right shows, Jordan Henderson took four shots and had an accuracy of 75%. However this is misleading as all three of his shots on target were related to the one opportunity. His first shot out of the three was the one he really should have done much better with. He placed it way to close to Begovic and should have put more power into the shot. The next two were good goalkeeping and excellent defending from Stoke City as their defenders blocked the space between Jordan and the goal.
Luis Suarez was next with a 50% on target accuracy. Charlie Adam's shot on target was also in the the chance that started with Jordan Henderson's initial miss. The rest of the side really didn't have much success with getting shots on target.
You can see from the StatsZone illustration on the left that Liverpool attempted 24 shots and only got 7 on target. The illustration includes blocked shots which we have not included in the table above. Liverpool had eight of their shots blocked by Stoke City's defence which again points to Stoke's resoluteness and grit in defence. Being the home side you'd expect Stoke to be on the front foot much more however in this game it seems that all they did was defend, and defend well as they've kept a clean sheet.
There wasn't much Liverpool FC could really do apart from maybe choose the opportunity to shoot a little better. The fact that only seven of the shots were on target out of 24 attempted shows that they could have done better. When you factor in that four of those seven shots on target and one blocked shot came within one thirty second period or phase of play it makes the statistics look even worse as you'd have 3 out of nineteen on target for the rest of the game which really is a poor return for shots on target.
So the stats do show that Liverpool FC dominated the game and had many attempts on goal however these are skewed by that one phase of play where Liverpool FC should have scored and scorned chance after chance, all within 30 seconds. Had one of those chances gone in we really believe Liverpool FC would have gone on to win the game.
A lot of fans are blaming referees and officials at the match however had Liverpool FC converted the chances that they had created it would have been a different story and rather than concentrate on the bad officiating or unlucky aspects of the game we should really hope that Liverpool FC can start to put away some of the chances that they've worked hard to create. One could point at Luis Suarez's attempt in the last few seconds as a chance you'd expect him to finish the majority of the time. It just wasn't Liverpool FC's day.
In this battle of Defence V Attack, the defence came out on top but not without at little help from the attacking side's wastefulness in front of goal.
We're going to leave you with the Liverpool player's passing statistics just for your viewing pleasure! It was interesting to see that Craig Bellamy completed all 14 of his passes earning a 100% pass completion in the last 23 minutes of the game.
If you're interested in the statistics presented in this article please do visit http://www.eplindex.com, you can register for stats there for as little as £1.50 per month!