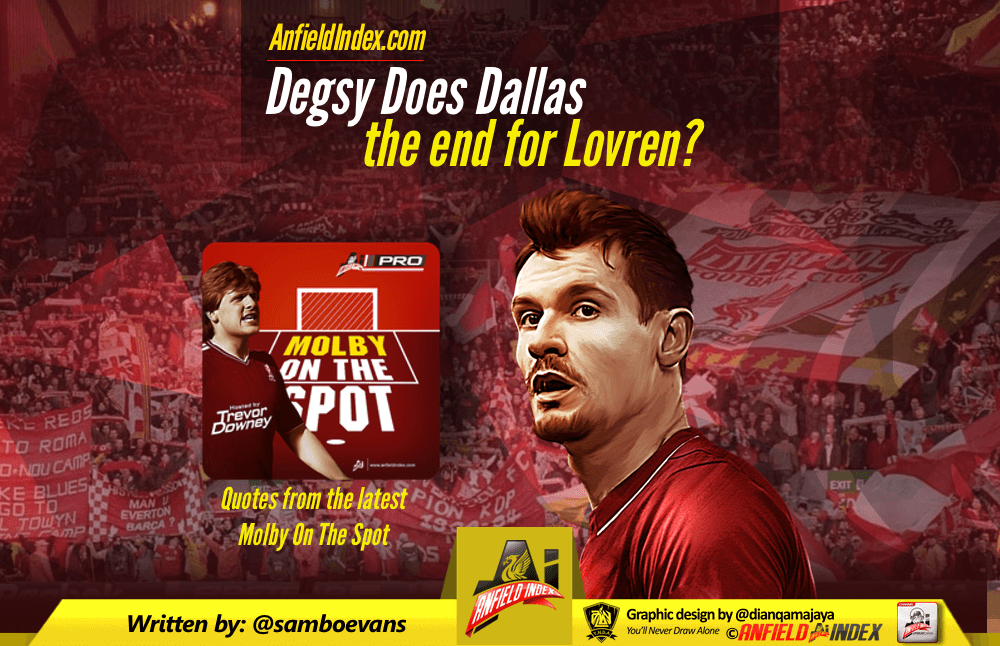 Degsy Does Dallas - the end for Lovren?
Talking to Trev Downey for the Molby on the Spot podcast this week, Jan Molby gave his opinion on Dejan Lovren after the Man United game: "He's played himself back into trouble, hasn't he? In terms of Mourinho and his tactics, there's no doubt that they picked on Lovren a little bit. They decided that Lukaku could handle him in the air, and also physically. However, I still think there's a long way from Lukaku winning the flick on or bringing the ball down to then scoring so I still think they got a little bit of luck with their tactics."
"To finish off about Lovren, don't you think when he plays against the type of Lukaku, he almost bounces off them doesn't he… You don't have to run in to them or fight them, just be in the right position. If you ever want to watch a masterclass of someone who looked physically weak but knew what to do with his timing, Phil Thompson. Phil was just incredible but with Lovren, I think he just wants to prove too much I'm a bit of a hard man here, you know. Just play the game."
To hear more of Jan Molby's thoughts in this week's episode of Molby on the Spot, subscribe to AI Pro now.
This is the problem with Dejan Lovren.

After Lovren's second calamitous error creating the chance for Rashford's second goal against Man United, I overheard someone in the pub shouting "Lovren gets f***ed more than a pornstar". And despite the crude nature of the remark, it's hard to argue with the fact that Lovren does get targeted as a weak link by opposing teams, and gets exploited accordingly.
Lovren has shown that he is a front foot defender. And it was this defensive style that first caught the eye of Gary Neville and Jamie Carragher when they were raving about one of his better performances whilst playing for Southampton. But looks can be deceiving. The more you watch Dejan Lovren, the more you can see that the front foot nature of his defending is more of a weakness than a strength.
The benefit of defending aggressively and proactively like Lovren tries to do is that it can mean that you can occasionally snuff out attacks a lot quicker than if you decide to defend passively and cautiously. The massive drawback of Lovren's style of defending is that if he mistimes his aggressive challenge by just a fraction of a second, he totally commits himself and leave the attacker a free run at goal. This means that whenever Lovren makes a mistake, it very often leads to a clear-cut chance for the opposition or a goal.
The worst thing about Lovren is that when he does make a mistake, he seems to try too hard to make up for it which leads to even more errors. A prime example of this was against Man United on Saturday. After losing the header to Lukaku and leaving a gaping hole in the centre of the defence for Rashford's first goal, Lovren seemed extra determined to win the aerial duel against Lukaku the second time around. This ended in disaster.
The funny thing is, according to Opta's stats, Lovren did win the aerial duel in the challenge with Lukaku for the second goal! The problem is, in "winning" the ball in the air, Lovren fell on his backside and gifted the ball straight back to Lukaku who then had a free run at goal which led to Rashford's second.
The exact same thing happened against Tottenham in the away game, where Lovren made a dreadful error for the first goal and tried to make up for it by being aggressive with this towering header (complete and utter miss).
Yet again Lovren's gung-ho nature left the defence exposed and gifted the opposition a goal.
Lovren clearly has all of the physical attributes needed in order to be a top class centre back. He's 6ft 2, has decent pace for a centre-back and is aggressive. That's not the problem.
The problem with Lovren appears to be his mentality and decision making. When the there is a high-pressure situation in a match, Lovren's poor decision making is amplified tenfold.
It's hard to think of a Liverpool defender with so many unforced errors throughout his Liverpool career. And this isn't something that can be coached out of him now.
He's 28. He's not 20-year old Joe Gomez who can be taught and developed.
Lovren has been making unforced individual errors on a regular basis for too long now.
This is Dejan Lovren's level. It's time to end the experiment.
To listen to the Molby on the Spot podcast and loads of other fantastic content, subscribe to AI Pro Now.