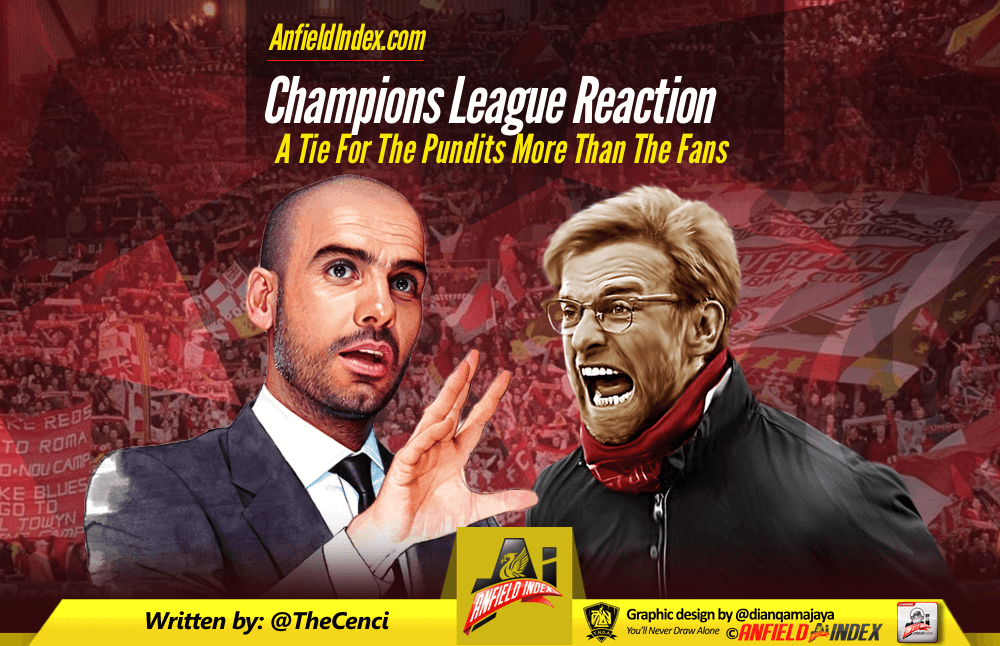 Champions League Reaction: A Tie For The Pundits More Than The Fans
As I write this the early days of April 2018 contain the following fixtures.
Wed 4th April: Liverpool v Manchester City
Saturday 7th April: Everton v Liverpool

Tuesday 10th April: Manchester City v Liverpool
Three games in six days that will provide a season's worth of drama and mayhem. Talk about make or break.
Those are three huge games. City are seemingly unstoppable, and the Reds are coming up the hill, boys. This is the tie the pundits wanted.
But it is, in fact, a disappointing draw. Not the games themselves, you understand. After all, these are the games that every fan adores, and this is a schedule that we are all looking forward to. Some will point out that we are the only Premier League side to beat City, and that should put us in good stead, but I don't mean that. It's this.
European fixtures mean European travel.
The matches only form a small part of the actual occasion. The rest of the fun lies in the ephemera.
This involves the race to buy flights and accommodation immediately following the draw before the price becomes prohibitive. Then there's the day itself. Meeting up with your mates before the flight, the 'what time is too early to drink' discussion, the hotel, the check-in, the taking over of the town and village squares of continental Europe and the game itself.
We've been deprived of that. The distance between Anfield and the Etihad Stadium is 36 miles. The AA claims this can be done in 55 minutes. As I say, a disappointing draw. Not for us the beer halls of Munich, the heat of Madrid or the sweeping majesty that is Rome. Oh no. We get to witness the vista of Ancoats on a Tuesday night.
No offence to City here. I'm sure their fans are thinking the same. They can visit Liverpool any time. There's no mystery or intrigue to be had. It's not a European game unless a passport has to be exhibited. Not fair.
But as to the games themselves, well it was always going to be a tough draw. I wonder if, like me, you were baying at the TV when Sevilla's name came out of the hat – begging that it would be joined onscreen with 'Liverpool'. I would have taken that and then maybe Roma. Instead, it's a home-grown clash between Klopp and Guardiola.
At least both managers will save vital scouting time. There can't be much for one manager to learn about the other. They have faced each other 12 times before – mostly in Germany – with Jurgen winning six and losing five. No one has a better record against Pep.
The two games will be strategically tough though neither manager are keen on coy encounters. The two league games produced 12 goals after all, so it's unlikely that there will be two 0-0 games.
Also, it's a shame that we're away from home in the second leg. I much prefer to fight a war of attrition in the first leg and then bring them back to Anfield, ideally with an away goal in tow. City too will fancy an away goal and no can deny that they have the arsenal to produce it.
Liverpool's strength is concentrated in their firepower. Mane, Salah and Firmino fear no one and all have goals against City this season. They may all have to score again in the tie to see the Reds through. City's goals can come from anywhere and gone are the days that Aguero and Silva were solely responsible for the movement and quality finishing that produces them. Sterling and Sane are incredibly dangerous and will have to be marshalled throughout. And that's before you look at Kevin De Bryne.
Is there any chance he can contract mumps or something? The man is practically unplayable.
The Belgian is favourite to win the end of season gongs this season, narrowly edging out our own Mo Salah and though he was only effective in short bursts at Anfield; he was a nightmare in the final ten minutes. He needs dealing with. Maybe we can persuade him to take the week off.
It will be a tough task, but Liverpool should fear no one. Jurgen Klopp is especially adept at managing a side's run-in – a skill he revealed at the end of last season when Liverpool changed from an all-guns approach in the final weeks of last season to a collection of narrow, pragmatic victories to guarantee Champion's League football. If half the final score-line at the Anfield game reads 'Man City 0' we really stand a chance. If the second leg is a straightforward one game shootout with away goals in our advantage, then it could be a classic. Maybe that would be Jurgen's tactic. Pep would love an away goal too, of course.
Elsewhere, the big boys have avoided each other thanks to some good luck or 'warm balls' depending on your view of UEFA conspiracy. Barcelona/Nike and Real Madrid are more than likely to make it to the semi-finals along with Bayern Munich. I'd love Liverpool to join them in the final four.
And if we can beat City in three hours, the sky really is the limit.
I'd still take a re-draw though.
Keep European games European!