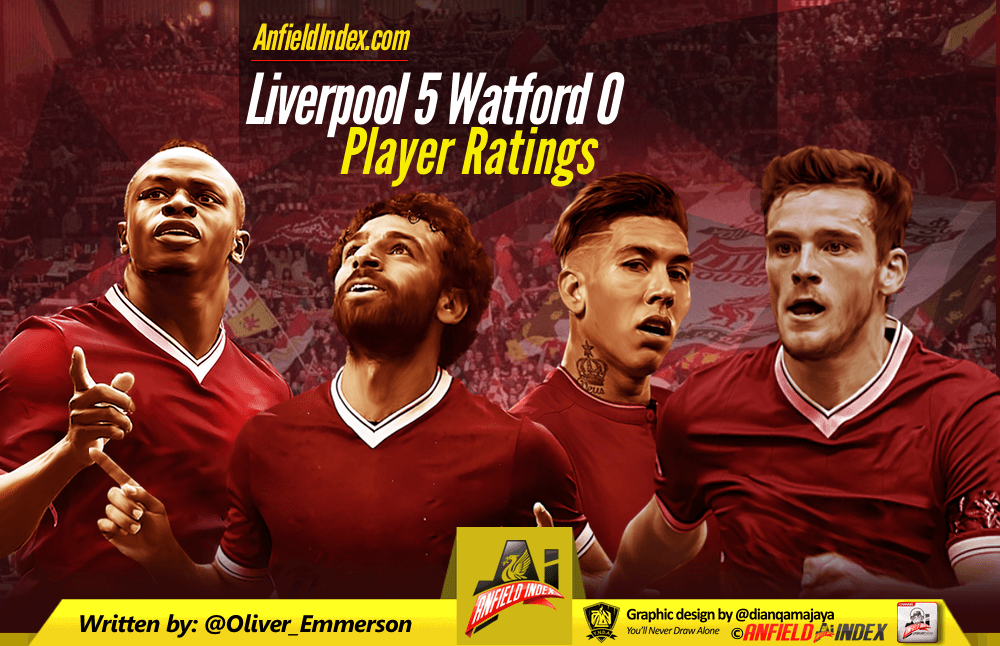 Liverpool player ratings as supreme Salah shines against Hornets
There was something so routine and yet so unbelievable about that. For a player who scores so frequently, it's mad that it's Mo Salah's first hat-trick. Even crazier that he decided to score four, not three.
Liverpool 5-0 Watford – into the home-stretch of the season with a win.
Andy Robertson's gang of beautiful lads
Loris Karius (6): Another clean sheet, tidy in everything he did.

Joe Gomez (5): Misjudges a header for Watford's first shot on target as Richarlison beats him to the ball, not the first time that's happened this season and the ever-growing concern is that it won't be the last. Not himself at the moment but has been in and out of the team, in fairness.
Joel Matip (6): Back in after Lovren got Lukaku'd at Old Trafford and looked fine. One good block towards the end.
Virgil van Dijk (6): Big mouth, even bigger passing range.
Andrew Robertson (7): Peach of a cross, isn't it? He's really quite something. Swapped Kevin Stewart for him, don't you know?
Worries about Emre's back
Jordan Henderson (6): Is it controversial to say that in some games, he needs Emre Can to hold his hand? Starts well, plays some nice passes and then is absolutely walked past for 10-15 minutes after the German goes off injured. Okay after that, but painfully obvious that receiving the ball on the turn is one of his weaknesses.
Emre Can (6): Get that back sorted for City, lad.
Georginio Wijnaldum (6): Played well. Lots didn't want him to start so a nice answer to them, didn't seem to lose his head at 1-0 when everyone else was. Surprised he went off so early but you can assume he's lacking a bit of match fitness.
Magic Mo aided by other top performances
Sadio Mane (8): Lovely little ball to Robertson for the second goal, could have won a penalty if not for a questionable offside decision. Add two assists and his best effort to get Ings a goal and it's a pretty complete performance from Mane in terms of creating.
Mohamed Salah (10): Sod it, I never hand out 10's but here we are. Had the Watford defence under his spell from the first minute to the last. Two goals in the first half and he deserved an assist for that pass to Firmino. Gets his assist for Firmino within five minutes of the second half, then proceeds to add another two goals.
Roberto Firmino (7): That little chop to take Salah's pass away from the defender deserved a goal. Then decided to get a goal from a Salah pass, with a filthy flick into the corner. He's just lovely, best goals total of his career.
Subs
James Milner (6): Did exactly what I expected.
Alex Oxlade-Chamberlain (6): Big fan of him coming on with the game won and setting about trying to win it all over again.
Danny Ings (6): Basically replaced Solanke in the sense he comes on at 4-0 and everyone tries to get him a goal.