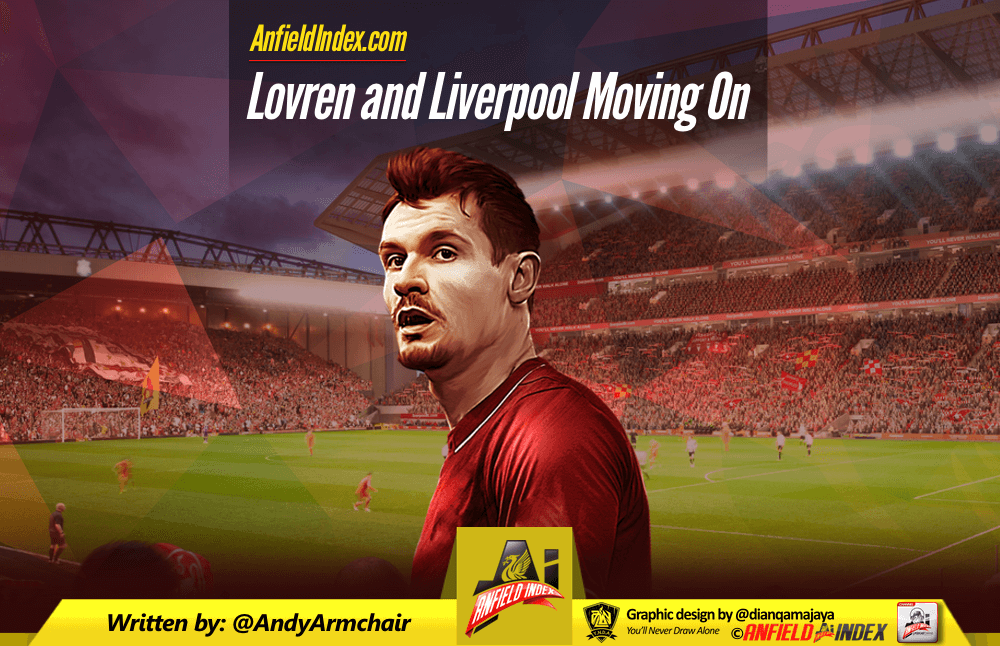 Lovren and Liverpool Moving On

I've never taken defeat against Manchester United well. Even back in the eighties when we were THE team, in our era of domination, defeat to them was particularly sour. Maybe it was because I had friends who supported them and it was their rare opportunity to taunt me. They were still a big club, with big ideas and would spend big in pursuit of success, but they still couldn't break our stranglehold.
They were few and far between back then, but when they did beat us, it felt so much less bearable than losing to anyone else for me. The nineties were stomach churning and the 1996 FA Cup final literally had me doubled up in pain. What I initially thought was an adverse reaction to them beating us for that trophy turned out to be appendicitis.
So, it goes without saying that I was disappointed with the manner of our defeat at Old Trafford last weekend. In particular, I was frustrated that once again, in the pressure situation of a big game that Dejan Lovren made the same costly mistakes.
As I said post-match on the Nina Kauser Show, this was not about character assignation or attempting to blame the goals and defeat solely on him. The defeat and the performance was a team issue and that includes Jürgen Klopp. Hard as it is, I have to give credit to Jose Mourinho for his tactics in the first half; they were not revolutionary, but they were effective. They denied us space our attacking players like to operate in and they simply crowded Mo Salah out of the game. We failed to respond and adapt to this, the in-game management that we still need to improve upon, despite the many positives to come from this season.
Mourinho also looked to exploit our defensive weakness; namely the right-hand side of our defence that day. Trent Alexander-Arnold had numerous issues defending the threat of Marcus Rashford, but he is young, inexperienced and still very much learning the art of becoming a defender. I would hope that he will learn lessons from that miserable day and the unfortunate fact is that young players will have difficult performances; it's a part of their development and a test of the many attributes required at the highest level. Trent needs to demonstrate that he can learn and improve from this experience.
For Lovren though, an experienced international centre-back, I'm much less forgiving. This was not the first or even second time we've witnessed these types of calamitous errors. The parallels between the first goal against United and away at Spurs are all too clear. The indecision of whether or not to challenge or hold his line, leading to him being caught in no-man's land as he does neither.
The inability to anticipate and read danger early enough leads to him momentarily freezing when that danger materialises. This period of indecision only further pressurises the need for him to do something and too often, he makes the wrong call. The timing of his delayed decision making compromises his fellow defenders.
This is where I had an issue with Paul Dalglish on the AI Pro tactics podcast. He apportioned blame to Virgil Van Dijk for not covering and I have to disagree with him. If Lovren had sensed the potential for danger and had immediately tracked Lukaku and actually offered a challenge for the ball, then I could accept that Van Dijk and the rest of the defence should have moved and covered the space in behind. However, as with so many things, timing is everything.
Lovren's tardiness in decision-making at key moments exposes those around him. To point the finger at others for his erratic play is unfair.
I tweeted during the game that I felt that this is surely the end of Lovren at Liverpool. I did not mean he wouldn't play again this season, but rather that his long-term fate had been sealed. Any and all excuses are now well and truly exhausted. His mistakes cannot be written off by the quality of his defensive partner, as perhaps they could when playing with Martin Skrtel. Because, whether it be with Skrtel, Toure, Sakho, Matip, Klavan or now with Van Dijk, the common denominator is that Lovren consistently makes costly mistakes.
I firmly believe that the United game was one performance too far for Lovren, even to a manager as forgiving as Klopp; a man who has tried time and again to rehabilitate the Croatian defender and mould him into the player required.
As I said earlier in this piece, I don't want this to seem a character assassination of Lovren because I don't doubt the qualities of Dejan Lovren the human being. My issues are with Dejan Lovren the footballer for Liverpool Football Club. His limitations have long been abundantly clear at the level we are currently at and beyond that, where we aspire to be.
That is not Lovren's fault, he is capable to a level, but without layers of protection and the pressure on, his limitations get exposed. I do not doubt that he gives his all and wants to succeed, I do not doubt that his heart is in it and he wants to improve, but I do doubt his ability to do so.
Perhaps, without the intense pressure and expectation that comes with playing for such a big club, he can flourish elsewhere and I would genuinely wish him well.
If you are wondering why I am writing about this now, and not immediately after that fateful United game, I simply wanted to calm down and remove myself from the emotion that it brought. So, over a week later and having enjoyed our 'bounce back' victory against Watford, I can serenely say that as Liverpool continue to progress and evolve, they must do so without a man who has become synonymous with defensive fragility.
Whilst Klavan has usually been an able hand when called upon and Matip again showed against Watford his calmer approach to the game and superior quality on the ball, Liverpool can do better. They're good to have in the squad and I believe they're better than Lovren. However, I firmly believe that the transfer market is where we will need to find a regular partner for Van Dijk. Quite simply, I would trust Klavan and Matip to come in and do a job, but I cannot say the same for Lovren.
The clean sheet versus Watford was a welcome one but doesn't suddenly alter our vulnerabilities against higher quality opposition. Things are moving in the right direction and it's important that a new centre-back is a part of that this summer.