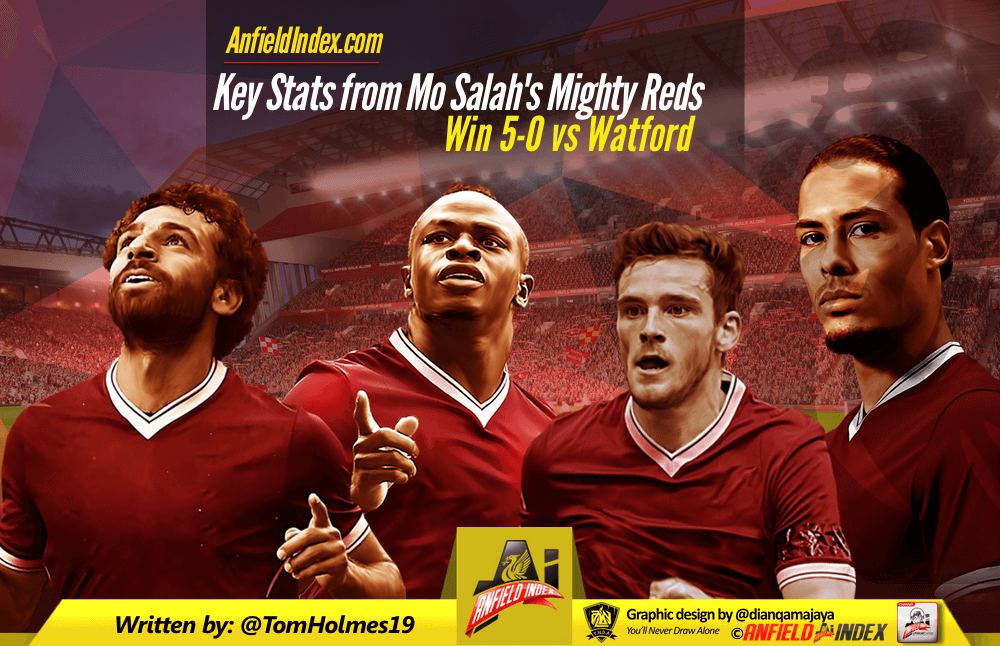 Key Stats from Mo Salah's Mighty Reds Win 5-0 vs Watford

Liverpool steamrollered Watford 5-0, with Mo Salah turning up the heat on a bitterly cold evening at Anfield. But as Liverpool moved further clear of Chelsea, what were the key stats?
The Mo Salah Show
There's only one place to start. What a man. What a player. Mo's first hat-trick for Liverpool, the first Premier League hat-trick anyone has scored under Jürgen Klopp, and the first time someone has scored four goals in a game for us since You Know Who vs Norwich. He's now on 28 league goals for the season, four clear of anyone else in Europe and now has 36 goals and 10 assists in all competitions. That's 46 goals plus assists in just over 3250 minutes, or 71 minutes per goal or assist.
The record number of goals in a 38 game PL season is 31, which Mo looks set to absolutely decimate. He could even break the number of goals for a 42 game PL season, which is 34, just six goals in seven games away. Given that Mo is averaging a goal a game at the moment, that's incredibly doable.
The most impressive thing about Salah is that it's not just the goals. In this game, he scored four goals from four shots, with an xG of 1.10, but he also produced three key passes, the joint most in the game, and produced an xA of 0.39, the third highest. He also completed five dribbles, and of course, notched a brilliant assist for Bobby's goal. What a player, what a complete attacking performance.
Featuring Andy Robertson and Sadio Mané
It's easy to take the two players who assisted Mo's goals and highlight them for praise, but it's also very fair. Sadio turned in one of his best performances in a while, and notched two more assists, meaning that he's now got seven PL assists, and six of those have been assisting Mo Salah. He created three chances, two of which Mo stuck in the back of the net, with an xA of 0.44 and also got a hockey assist for Mo's second, meaning his xGChain was 1.25, behind only Mo, and his xGBuildUp was 0.93, third behind Hendo and Jomez.
As for Robbo, he was excellent defensively, but his main contribution was a terrific cross for Mo's second goal – the game's only big chance at 0.63 xA. That takes his xA for the season to 3.81, or 0.21 per 90. It was also his third PL assist in an LFC shirt, and two of those assists have come from the six big chances he's created this season. This is the third time he's produced an xA above 0.5 this season, the other occasions being Palace and the recent 4-1 win over West Ham. He's in hot form. For comparison, Moreno's highest xA of the season is 0.18. That's lower than Robbo's average.
Defensive Improvements Continue
To borrow a phrase from the NFL: "Offence wins games. Defence wins Championships." This is something I've heavily disputed for a while now, I tend to think your defence only needs to be as good as your attack allows it to be, and for all people's arguments, we almost won the league conceding over 50 goals.
Nevertheless, Liverpool have markedly improved in the defensive side of the game under Klopp, as this set of stats shows:
Salah obviously deservedly takes the headlines tonight, but the clean sheet means Klopp's Liverpool have conceded 37 goals in their last 38 PL games – the first time they've been under a goal a game for a 'season' in his tenure.

— Andrew Beasley (@BassTunedToRed) March 17, 2018
The main thing to take away is that Liverpool have conceded 34 goals this season in the league, which potentially puts us on to concede less than the 42 we conceded last year, and maybe even less than the 40 conceded in 11-12. If so, we could end up with our best defensive season since Rafa left, and all whilst scoring potentially our second highest tally in the PL era, assuming we net six more goals in our last seven games.
As is noted in the thread, we've conceded just one goal in our last twenty-two league games from set pieces, and that's not just down to VVD. Clearly, though, improvements are being made in every area of the pitch. It's not a big improvement yet, but whether or not it needs to remain to be seen.
One final thing I'll note on this is that 20 of those 34 goals have come against the top six, and 14 of those away at the top six. We clearly have a new and different set of issues to sort out, but we're tightening up against the dross, and it's paying off.