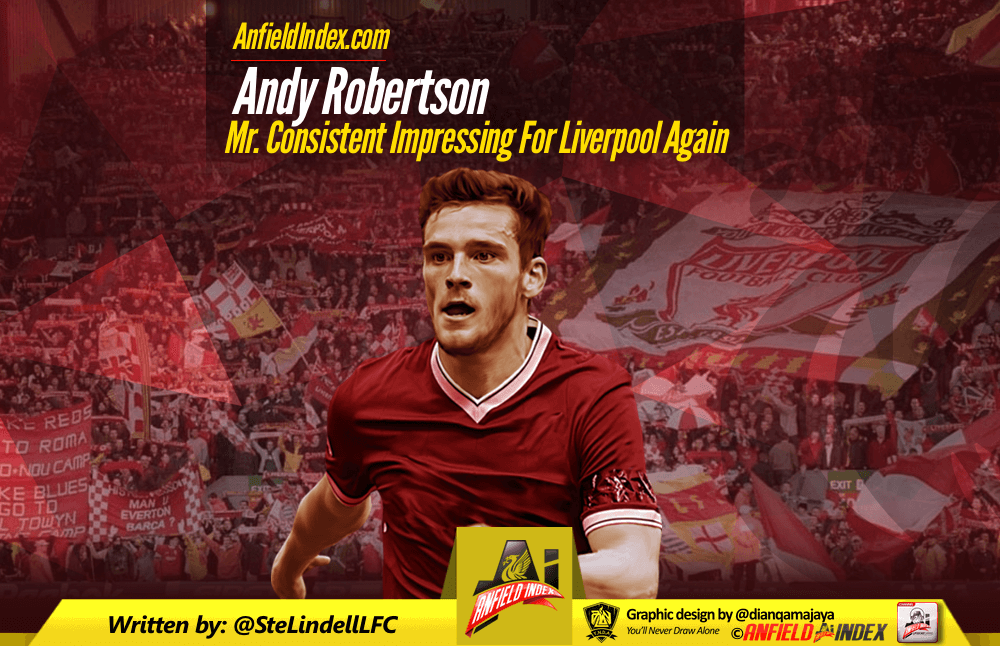 Andy Robertson: Mr. Consistent Impressing For Liverpool Again
During last summer in which Liverpool did some fine business for the long-term, from the unparalleled brilliance of Mohamed Salah to the utility of Alex Oxlade-Chamberlain, there is one man that has been the unsung hero through all of this – Andy Robertson.
When Robertson was signed from Hull City last summer for £8 million with Kevin Stewart going the other way, his arrival came at the expense of very little fanfare. Despite being a rare source of light in a dismal season for the Tigers which culminated in relegation at the end of the season, many supporters were calling out for a marquee name instead – with the Reds being linked with many big names in the ilk of Jonas Hector and Theo Hernandez.
Therefore, the ex-Hull man's arrival was greeted with derision from many rival fans, who mocked Liverpool's expectations as well as Jurgen Klopp's decision to sign a left-back from a side that had been relegated from the top flight the previous campaign. Whilst the club's rivals Chelsea, Man City & Man United were all linked with big names such as Alex Sandro, Danny Rose and Benjamin Mendy, the general consensus was that Liverpool's pulling power was still limited despite having sealed Champions League qualification at the end of the 2016/17 season.

Many were expecting Robertson to slot into the team straightaway as Klopp's first full-back, but the German surprised everybody at the start of the season. He decided to give the role to the much-maligned Alberto Moreno – who had been limited to domestic appearances throughout the 2016/17 season due to his error-strewn performances at the back. This came as a shock to many Liverpool fans, who had long been calling for the Spaniard's back following some poor displays towards the backend of the 2015/16 season.
However, Moreno's performances in the first few months of the campaign was a far cry from the Alberto Moreno that had become somewhat of a joke figure among rival supporters for his mistakes. After James Milner occupied the left-back role for the previous campaign, the 25-year-old offered balance out wide – coupled with his improved end product and maturity going forward.
Despite his noticeable renaissance towards the beginning of the campaign, Reds fans were once again reminded that a mistake was never far away with Moreno. The Spaniard was guilty of a headless defensive display during Liverpool's capitulation in Sevilla back in November, as well as.
In the midst of all this though, Robertson never batted an eyelid. Even though he was restricted to a meagre one start in three months, the Scot knuckled down like the sign of a good pro and contrived to divulge to manager Jurgen Klopp that he was intent on making the left-back void his own for years to come. And after the ex-Sevilla man hobbled off injured early on in the Merseysiders' 7-0 rout of Spartak Moscow in December, this opened the door for Robertson to finally prove that he was far from the Alberto Moreno understudy tag that he had to endure during the first few months of his Anfield career.
Having seen Robertson's performances over the last month or two, it's not difficult to envisage why Jurgen Klopp was so keen to prise him from Humberside. One of the reasons why he perfectly embodies what Klopp wants from him is his pressing and persistence down the left-hand side. This is encapsulated in one terrific video, where he ruthlessly hounds down several Manchester City players in possession:
That Andy Robertson run! 🏃💨💨💨💨💨💨#LFCpic.twitter.com/AMWimTQHTt

— Anything Liverpool (@AnythingLFC_)
Also, his crossing is arguably his most understated and effective ability. This is what Liverpool have lacked from their left-backs in the past few years. The likes of James Milner, Glen Johnson, Alberto Moreno and Paul Konchesky, who have all filled the left-back role in the past for the Reds have been criticised for their inconsistency and lack of end product going forward. This was notably prevalent when Milner was shunted to this position throughout large subsets of the previous season – where his predictability in cutting onto his right foot whilst most of his crosses went straight to the first man was quite frustrating.
Therefore, Klopp approached Robertson because of his crossing abilities. Last term, in a Hull City side that conceded many away from home and struggled for goals, the Scot managed an impressive 119 crosses. This goes to show that if he is given the freedom to roam forward combining his pace and industry, he is capable of causing problems down the left-hand side. And he is again beginning to improve his talents – he has thus far this term attempted 0.6 crosses, already having provided three assists.
Not only does his attacking abilities deserve to be heralded as one of his best strengths, but the defensive side of his game has been reliable. This is again a stark juxtaposition from the error-strewn Moreno many Liverpool fans have become long accustomed to enduring on occasions during the past few seasons. Robertson has made 22 interceptions this season, making 43 clearances and no defensive errors – this compares quite favourably to fellow full-backs Ben Davies and Hector Bellerin. However, he has had to make fewer clearances and subsequently hasn't won as many tackles. To be fair to Robertson though, he has played significantly fewer minutes than the likes of Bertrand, Delph, Davies and Bellerin.
The consistency of Robertson's performances over the last few months since his inclusion into the side have surely kept Moreno out of the team for considerably longer, and deservedly so. In my opinion, it just goes to show that sometimes fewer marquee names in the transfer market could be the best ones yet – and under Jurgen Klopp, you can only have faith in the German to get it right more often than not.
For me, I do think it is time we started seeing the 25-year-old being mentioned in the same ilk as some of the elite left-backs in the league – despite not starting as many games this season, he has certainly created a very positive impression in his debut season after having to cope through adversity at first. Although he is far from a world better, his mature performances of late are not going unnoticed and is beginning to reap the rewards.
Let's hope for more from Liverpool's left-back general.