Look, it's not about the hat-trick. I've seen plenty of them in my four decades following the Reds.
It's not about scoring four times. I was there when Suarez bagged four against Norwich, when Owen did the same at Forest and Fowler at Middlesbrough. Hell, I've even seen Rush score five in a 6-0 win at Luton. No, it's not that.
It's not about his twisting and turning. I saw Torres in his pomp; including one game at White Hart Lane where moved like a waking boa constrictor through an entire Spurs back four before slotting home in a 2-0 win.

It's not about 36 goals in 41 games. I've seen…well, okay. I haven't seen that before. No one has.
No, it's this.
It's the third goal. Our fourth.
And again, it's not the twisty, turny run which, as was stated on Match of the Day, was reminiscent of Maradona v Belgium years ago.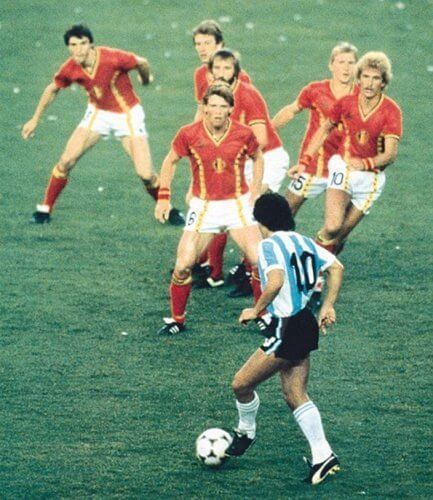 It's the fact that he hit the ball while lying on the floor. Actually, on the grass itself. He can generate little power from that position. He can only stab at it rather than put his laces through it.
That's all he needed. 4-0. One more to go.
At the end of the game, there were comparisons to Suarez etc., and whether he could be our greatest ever. It's an interesting argument.
36 goals by the middle of March in your first season is a phenomenal achievement and though Suarez's scoring in his final season was incredible, this seems somehow different. The men themselves are dissimilar.
While Luis would look distraught at a missed chance, Mo merely raises his eyebrows in surprise before shrugging it off. He knows another opportunity is coming even if he has to make it himself. And he generally does.
The greatest ever though. Well, let's not be silly. He's up against Hunt, Keegan, Dalglish, Rush, Fowler and Owen in that category. It's far too early for that. Ian Rush still holds that title to my mind. 36 goals is great, but 346 …
But, then again, I never saw Ian Rush score a goal while on his way to a face-down meeting with the Anfield turf.
I mean, how the hell did that go in?
Oh, and we can all ignore Shay Given's Match of the Day nonsense about us fighting off bids for him. Two words here – Michael Ricketts.
It would take a club of outstanding arrogance and cash to take a £200m risk on a player after one season. Michael Ricketts scored 24 goals in his first Bolton season and, in 2001-2002 struck a further 15 times by March. This may not be on the Salah scale, but for a club mired in mid-table, that was a hell of a return. After all, Michael Owen once shared the Golden Boot with Dion Dublin and Chris Sutton with just 18.
Ricketts was called up for England and never scored again for the rest of the season. He moved to Middlesbrough and scored just four times. The rest of the career saw him play for nine clubs in eight years. People can have purple patches.
Mo is due a quieter spell which is exactly why we have Roberto and Sadio to help out. Firmino's goal was mesmeric yesterday and Sadio pretty much made three of the goals. That's what Liverpool want, of course.
And it's because of Liverpool's system that he's been so successful. He's not a number nine in the classical sense. He doesn't like playing in the centre all the time though he's more than capable of that role. He likes to drift in from the right and use his left foot. He likes the flexibility and movement of a front three. Can you see a club mimicking Klopp's 4-3-3 just to accommodate him?
Also, who would Barca drop for him? Messi, Suarez or new boy Dembele? Plus I'd like to think our phones are off where they're concerned.
No, Mo is a Liverpool player and we can look forward to seeing that look of bemused joy for a few more years to come and Shay Given can keep his mouth shut.
Seriously. He's lying on the floor when the ball crosses the line. The keeper has no idea where it's gone even though it can only go in one place.
And it's not just that. How hard did he work in that game while Anfield looked like a remake of the Mr Plow episode from The Simpsons?
No, it's far too early to call him our greatest striker, but I'd love to see him make a strong case over the next seven years or so.
Karl has just launched a new football blog entitled 'Some Green Grass and a Ball'. Though not Liverpool related it contains articles about former players, interesting club and games from yesteryear. So far there is a career analysis of Carles Puyol and a look at the corrupt World Cup game between (the then) West Germany side and Austria in June 1982 in Spain.
https://wordpress.com/view/somegreengrassandaball.wordpress.com