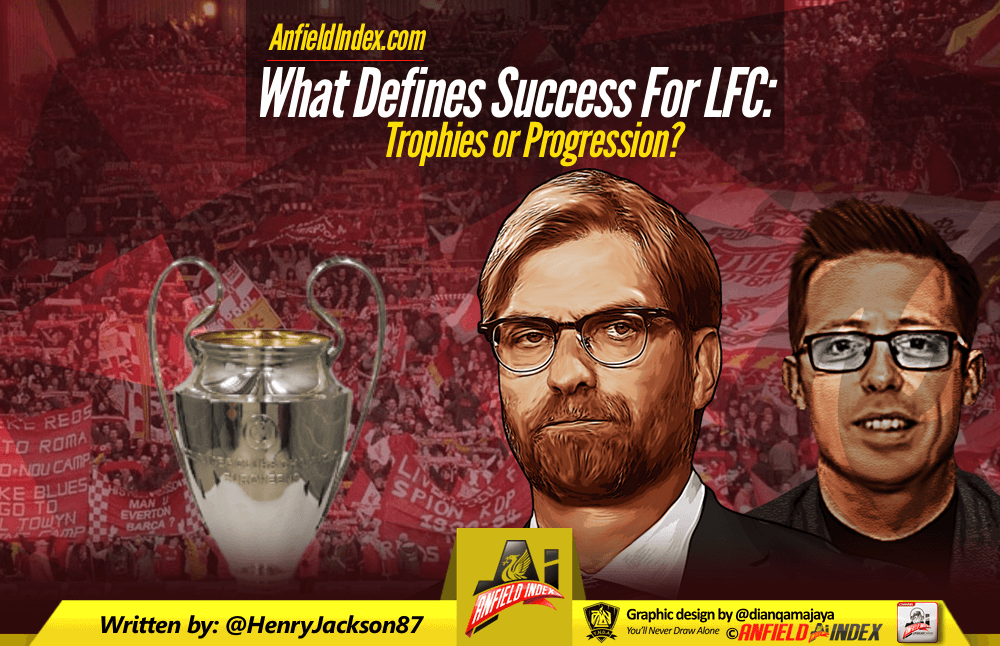 What Defines Success For Liverpool FC: Trophies or Progression?

"Winning trophies is everything in football"

"Only trophies are a gauge of a team's success".
These are opinions many football supporters hold, but despite there being plenty of truth in them, there is far more to it.
Seeing your team pick up silverware is hugely important, without question, and holding any title aloft should be celebrated long into the night. It instils a winning mentality in the team, and can sometimes define the careers of both individuals and managers.
It shouldn't be the only thing that determines success, however.
Liverpool have only won one trophy since 2006 – a desperately poor return for a club of such prestige – but during the last 12 years, there have been Reds sides who have brought us great joy.
They may have ultimately just fallen short of a trophy win, but does that suddenly mean they cannot be considered a success story? Is that just chalked off as a failed period in the club's history?
Rafa Benitez turned Liverpool into arguably Europe's most respected side in the late 2000s, reaching three Champions League semi-finals in four years (and a final), and it was a team far superior to the one that won the competition in 2005.
Whereas that Istanbul triumph was a freak achievement in a poor season domestically, the side Benitez created a few years later had far more quality and felt like it was on course for Premier League glory. It was progressing, rather than winning something out of nothing.
Benitez was doing a better job at that point than in 2005 – let's not forget Liverpool finished below Everton in the league in 2004/05 – but he ended up not being rewarded in the same fashion. It happens.
The 2013/14 season was a thrilling ride from start to finish, and only the cruelest twist of fate robbed the Reds of one of the greatest title wins in English football history.
They missed out agonisingly in the end, but that Liverpool team of Luis Suarez, Daniel Sturridge et al will be remembered more than the Man City side that eventually clinched glory in years to come.
You often got told that "football only remembers the winners", but again, that's simply not true.
What about Holland's Total Football-playing outfit of the 1970s? They won nothing, yet are rightly regarded as one of the greatest teams in history.
Everybody remembers Kevin Keegan's Newcastle side of the mid-1990s, because of the football they played. Again, they missed out on a trophy.
Who really remembers Greece at Euro 2004, Portugal in Euro 2016 and Portsmouth and Wigan's triumphs in the FA Cup? Winning is not the be all and end all and doesn't define success.
Progress is as crucial as trophies.
I understand some of you reading this will disagree, claiming it is a small-time outlook, but a cup here and there doesn't mean a huge amount if you're going nowhere in the grand scheme of things, most notably the league.
Arsenal have won three FA Cup crowns in the last four years, while Liverpool have remained trophy-less in that time – which club is heading in the right direction and who is stalling?
The answer is obvious.
The Gunners have achieved more 'success' during Jurgen Klopp's tenure, but when it comes to progress, Liverpool are on another level.
Similarly, there is a fair chance that Man United or Chelsea could end up with a trophy this season, having been kept apart in the FA Cup semi-finals.
Neither are in a particularly healthy place right now, though, and one of them sealing glory at Wembley in May should not mean they are suddenly doing better than Liverpool, should the Reds fall short in the Champions League.
Using Tottenham as a similar example to Liverpool, were they to be knocked out by United in the semis, their outlook should still feel the more positive of the two clubs.
Mauricio Pochettino is making giant strides with an excellent young team, and their imminent move to a superb new stadium also promises to take them to that next level financially.
They should be desperate to win the FA Cup at this point – we should never get to a point where we're not fussed about winning trophies – but they shouldn't suddenly be considered failures if they don't.
The same applied when Leicester pipped Spurs to the title two years ago. They were progressing under Pochettino, even though they couldn't win anything.
Anyway, back to Liverpool.
Saturday's 5-0 trouncing of Watford was yet another example of them taking an opponent to the sword this season, as they scored on five occasions for the fourth time in 2017/18.
There have also been the 7-0 hammerings of Maribor and Spartak Moscow, as well as six matches in which they have registered four goals.
This is incredible entertainment that Klopp's side are providing us with, but most importantly, it isn't without substance. They are going places.
Liverpool find themselves in the quarter-finals of the Champions League, very well-placed for a top-four finish and playing some of the best football Anfield has ever witnessed. It's a great time to support the club.
Sometimes, you wonder if Klopp is actually receiving the credit he deserves when you consider how much progress has been made since his arrival.
This is still only his second full season in charge, which almost seems hard to believe, and he has cleared up the mess Brendan Rodgers left and turned the Reds into a domestic and European force again.
His signings have been outstanding, most notably Mo Salah, Sadio Mane, Virgil van Dijk and Andrew Robertson, and Pep Guardiola may well be looking at Liverpool as City's most likely title challengers over the next few years.
It hasn't all been plain sailing since Klopp arrived, with errors thrown in here and there, but it is easy to forget just how poor they looked when Rodgers was relieved of his duties.
Some use the German's lack of a trophy as a stick to beat him with, but such are the fine margins in football, that argument doesn't carry too much significance.
Of course, the longer the 50-year-old goes without silverware the more pressure he will find himself under, but for now, he is doing a fantastic job regardless.
At the moment, Liverpool's momentum is only positive, and the fact that they haven't nicked a League Cup here or an FA Cup there makes no difference.
It would have been lovely to win one, but it isn't that important in the grand scheme of things.
Winning is a very big part of football, but progress is equally imperative, and Liverpool are achieving the latter emphatically right now.
Barring City, no side in the country looks better placed for a great future than Klopp's Liverpool.