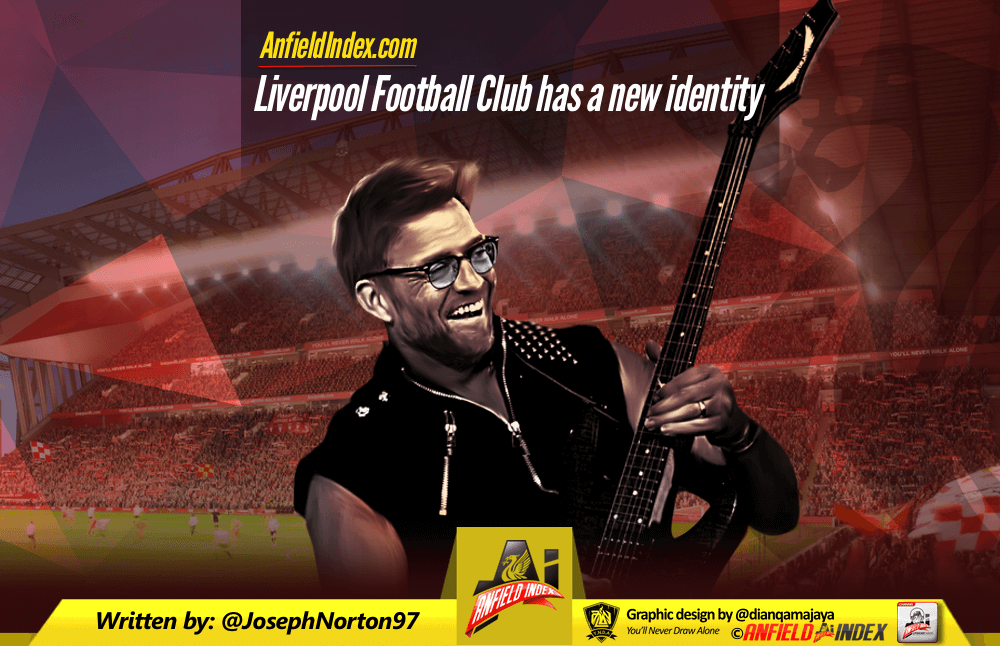 Liverpool Football Club has a new identity
Fast, high energy, counter-attacking football – Liverpool Football Club has a new identity. When Jurgen Klopp was appointed manager back in October 2015, Liverpool Football Club was a team that lacked any sort of identity, yes we were a historic club who once use to grace & conquer Europe on a regular basis but ask any supporter what a Liverpool side looked liked following Rodgers' dismissal and they'd find it hard to tell you. They might point you in the direction of the 13/14 season – fast, scintillating, attacking football played by the likes of Philippe Coutinho, Raheem Sterling, Daniel Sturridge and Luis Suarez but this had been a rarity, not the norm. It didn't last long either. Back in Europe, back out of Europe we may as well not have been in it. Liverpool FC the team who had lifted the European Cup on 5 occasions – we were hardly recognisable. It's not all on Rodgers though, he came the closest we have done to winning the league in the last 28 years. Since Rafa left in 2010, we've had Hodgson, Dalglish & Rodgers but apart from that one really good season in 13/14 we've been a long way off from building anything special or having a team that excites and unites the fanbase. We lacked an identity on the pitch. Times are changing and it's down to one man…Jurgen Klopp. Doubters into believers.
With the money that now exists in modern day football, from an outsider looking in it's probably difficult to recognise how Liverpool can compete for domestic and European honours when the likes of Manchester City, United, Real Madrid & PSG appear to have an unlimited amount of money to spend. Under FSG that'll never be Liverpool, we simply can't compete with the wages and transfer fees of those European elites. But competing with them in the transfer market is only one of the battles, more importantly, we must be able to compete with them on the pitch and boy are we giving it a good go. To an extent those clubs don't need an identity because players will come and go alongside managers – it's the norm. Whereas for a team like Liverpool they have to find more efficient ways of challenging with these clubs. Building an identity through a long-term project is the only way to go. The Reds can't go out and buy the best players in the world so they have to build a team and develop players who collectively are better than a group of individuals which is where Jurgen Klopp is getting it so right. Klopp has never been a manager for signing the best players, he prefers a more hands-on approach of recruiting players who have attributes that fit his system, developing their talents so they become the best players in his system. There have been times under Klopp's tenure when he has been slow to recognise and learn from his mistakes, who can forget post-January last season when our team lacked any pace or dynamism as the Reds faltered from the top of the league to 4th within the space of a couple of months. Yet Klopp just stood there and allowed it to happen. It also seems the German's desire to improve players on the training pitch results in him being too loyal to certain players – the likes of Simon Mignolet & Dejan Lovren shouldn't be anywhere near the first team yet both were in Klopp's favoured 11 at the start of the season. It's hard to be too critical of Klopp but these are all valid points. Yet again against Manchester United, we saw Klopp's failure to learn from his mistakes/previous games cost us. Joe Gomez was brilliant up against Lukaku & Martial's pace and power at Anfield so surely he would start at Old Trafford? Wrong, the young, highly talented but raw Trent Alexander-Arnold started at right-back and was at fault for United's first goal. The Reds have struggled to break down Mourinho's low block in recent times as play gets too congested in the central areas. Fancy sticking Mane & Salah out-wide on the touchline for 10 minutes to see how that alters their defensive shape? Instead, the Reds continued to force the play through the congested central areas with very limited success – another tactical win for Mourinho *sigh*.
Although it's easy to highlight his weaknesses, Klopp is building a long-term project which is developing into something very special. This season we've reached the quarter-finals of the of the Champions League for the first time since 2009 and have one of the most feared attacks in Europe. Bring on Manchester City. Not only that but we're the best pressing team in the Champions League, continually highlighted by the great work done by the guys on AI Under Pressure – just think how many goals we've scored from pressuring the opposition through counter-pressing this season. We're able to force the opposition into mistakes they don't make against any other sides and that's down to Klopp's meticulous work on the training pitch. Contrast that to Mourinho's United, what's their identity? Cross the ball and hope Lukaku gets on the end of it. Out of possession they only know one way – sit back and frustrate the opposition into making mistakes. In possession there's no structure to their play, it looks as though Jose's just thrown 11 incredibly talented footballers on the pitch and hoped they'll come up with moments of magic. Klopp is the opposite, every Reds supporter knows how Liverpool set-up out of possession – more often than not pressing teams high, forcing them into mistakes which often result in us creating really good quality chances. In possession, the full-backs bomb on creating the width, while our wide-forwards come inside and look to stretch the play with Firmino dropping deep to link the play. This has resulted in us playing some of the best and most dynamic football I've ever seen from a Liverpool side. Poetry in motion.
There's no doubt our boss will make mistakes going forward and it isn't unfair to pose questions of him in the desire for him to learn quickly and become more ruthless. But it's about time we took a step back and recognised the incredible job Klopp is doing. Liverpool Football Club has an identity on the pitch, one that most teams in Europe are beginning to envy. The German no longer has to sell this project about what the team can become, it's unfolding in front of our eyes, players are turning down the opportunity to play for our rivals in order to be part of our project. Football's a game which can change very quickly but this project is the Liverpool way – in fact, it's the only way we can compete with the European elites for the foreseeable future. So let's enjoy it, embrace the passion and skill our team is regularly delivering on the pitch. We're going to be in for an incredible end to the season with a two-legged quarter-final against Manchester City on the horizon. Fast, high energy, counter-attacking football – Liverpool Football Club has found its identity under Jurgen Klopp.