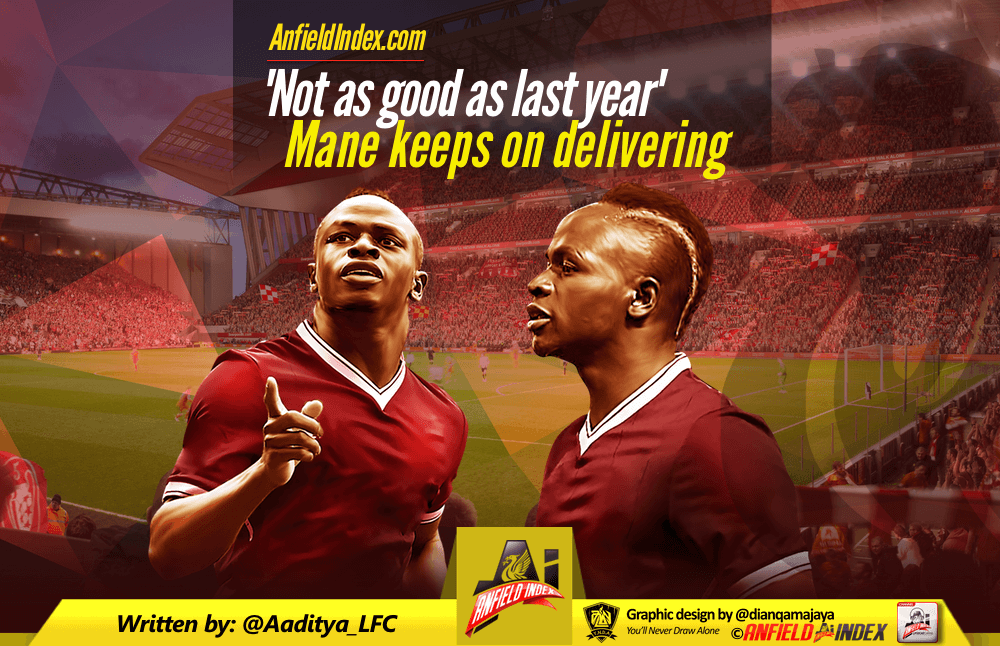 'Not as good as last year' Mane keeps on delivering
"He just doesn't look right."

"It looks like Salah's rise has affected his confidence."

"Where is the Sadio Mane of last season?"
The first two quotes there have been made pretty often through the course of this season, but do they carry any weight?
When you look at performances and numbers to go with it, there is really no way in which to quantify "looking right". So we might be justified in letting that one slide.
Has Salah's rise affected Mane's confidence? Again, there is no way to judge that, apart from by looking at the numbers. The numbers say Mane has taken roughly as many minutes per goal contribution this season, as he did in the last campaign.

He had a goal or an assist every 111 minutes in the last campaign, whereas that number is down to 103 in the current season.
The answer to the third question is that Jurgen Klopp has needed a different Sadio Mane this season.
The impact that Mo Salah has had in his first season could not have been predicted by the wildest of optimists, and that has necessitated some change in the way the others around the Egyptian operate.
The first change for Mane was a change of wing to operate from. Also, with the goalscoring ability that Salah has shown, and the improvement in that department from Roberto Firmino, Liverpool's left flank has, more or less, become the side where the chances are created rather than being the flank where the chances are being finished.
With Philippe Coutinho gone, it has possibly helped Mane more than anyone. With the Fab Four, as they were called, Coutinho largely moved to the left side from his central midfield position, and that possibly hindered Mane's movement as well.
It was already a different position to what he'd played for a whole season, and now, he had to contend with an overload on his flank and the need to ensure his movements did not hinder what Coutinho did on the ball.
Drawing a parallel between this season and last, since Coutinho's departure, Mane has played the role that the little Brazilian played last season, cutting in from the left and given the freedom to attack as he pleased.
The game against Watford showcased Mane in all his glory. Although Salah will deservedly get all the credit for making a mockery of the Watford defence in the way that he did, the role that Mane played should not be underestimated.
He ended the night with two assists, one pre-assist pass to Andy Robertson, several defence-splitting passes, and overall, his involvement was immense.
Cutting in from the left, Mane vacated space for Robertson to run into. So when Mane picked the ball off Jordan Henderson or Gini Wijnaldum, he had Salah making runs behind the defence, he had both Joe Gomez and Robertson on the gallop and somewhere amidst them, he could also find Firmino.
With Coutinho gone, that has been the biggest plus for the Reds, there has been a greater tendency to be a team, rather than just give the ball to Coutinho and allow him to produce the magic that he so often did for Liverpool.
Also due to the change of role, one could argue that Mane looks less direct recently, not dribbling as much as he did, not taking his man on and skinning him as much as he did last season. He attempted 122 dribbles (70 successful) last season. This campaign, the attempted dribbles is significantly lower at 66, but the success rate is higher, with 40 of those attempts being successful.
Also, the theme of this season for Mane has been efficiency. He has been required to do a little less than last season because of additional quality around him, and he has played 6 key passes less this season for one assist more.
It is maybe because of this theme of efficiency where it looks like, sometimes, he isn't having enough of an influence.
Mane is picking and choosing his moments to attack defenders, and most importantly, he looks happy to be playing second fiddle to Salah and Firmino in terms of the goals.
Another possible reason for the myth that Mane isn't playing well enough is his style. It isn't as languid or easy-on-the-eye like, say, Coutinho. But that brings with it, it's own advantages. A prime example of his balance and strength was showcased in the away game against West Ham. He was fouled by Cheikhou Kouyate in the build-up to Liverpool's fourth goal but he swiftly got back on his feet and played a pass to Salah for him to finish it off.
This role is perhaps what Klopp has wanted from Mane, given what Salah and Firmino have produced. The Senegalese was Liverpool's everything last season – the Reds could even have been called Sadio Mane FC at one point – but this time around, he happens to be just one more cog in a Liverpool wheel that has barely shown signs of relenting.
That is possibly the biggest compliment to be paid to Mane, he is still an important figure for the team, but he has handled his switch from talisman to a creator very adeptly.