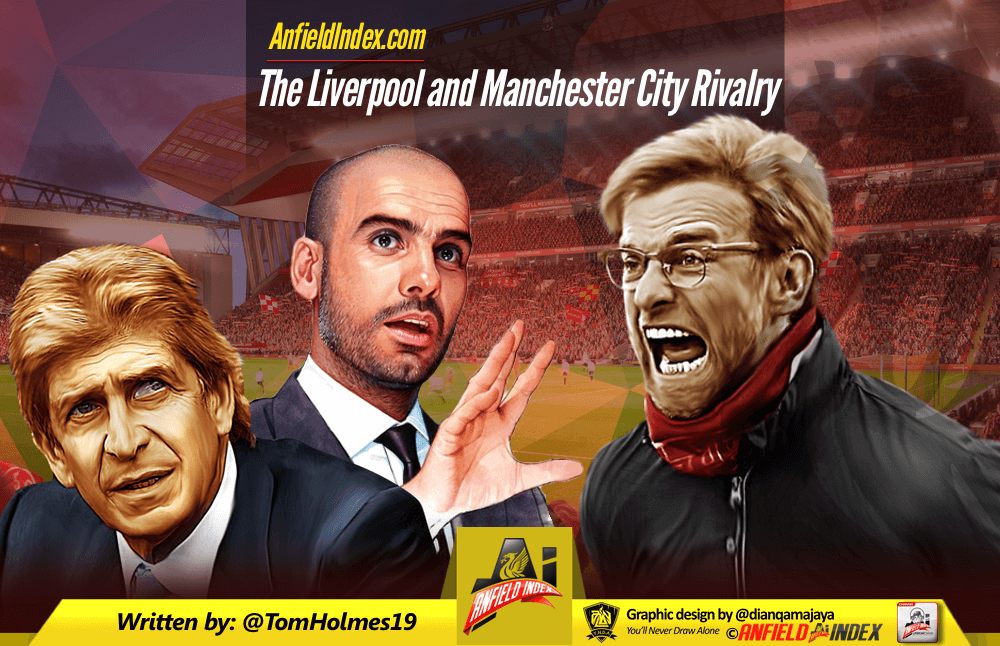 The Liverpool and Manchester City Rivalry
To describe Liverpool and Manchester City as a "rivalry" is perhaps a bit of a stretch. The majority of rivalries have a rich history of competition, and truthfully there's only been a handful of games over a handful of seasons where Liverpool and City have been at it, hammer and tongs, on a relatively even keel, with a lot on the line.
But it certainly has the potential to be a real rivalry, especially with the added spice of Pep Guardiola vs Jürgen Klopp, a battle that certainly could be close to being a proper rivalry. Whilst Pep has had the edge in terms of league competition over Klopp, the individual games between the two managers have been much more evenly matched over the years. Liverpool under Klopp and City under Pep have now met four times in the league, with two wins for the Reds, and one for the Citizens.
However, it is also fair to note that the rivalry in its current incarnation pre-dates Pep and Klopp. It pre-dates Klopp and if we're being honest, it even pre-dates Liverpool's incredible 3-2 win over City in 2014. So let's have a brief look at the recent history of this fixture, as well as some of the insane highlights.

The Beginning – 2012 League Cup Semi-Final: Liverpool win 3-2 on aggregate 
Liverpool's last piece of silverware is probably the beginning of this rivalry taking shape. The first leg at the Etihad was decided by an early penalty from Gerrard, and the Reds took a 1-0 aggregate lead back to Anfield.
Twice at Anfield, City struck back, first through Nigel De Jong and then through Edin Dzeko. But Liverpool were not to be denied against the eventual title-winners, and first Stevie G nailed his second penalty of the tie, before an equaliser on the night 17 minutes from time from Craig Bellamy denied City an away goals win, despite a nervy final fifteen. It was a deserved win over two-legs from the Reds, but the sort of pulsating cup tie that Liverpool have been famous for over the years. And fair enough it was the first time we saw Liverpool come against a good City side when it mattered, but it was also probably the start of a pulsating rivalry.
"LIVERPOOL LEAD AGAIN" – 2013/14 – City 2-1 Liverpool and Liverpool 3-2 City
Liverpool had won four straight games and were looking to head to the top of the Premier League table when they travelled to the Etihad on Boxing Day 2013. However, Vincent Kompany, a clutch player that he often has been for City, had other ideas. His header levelled the game after Phil Coutinho (remember him) scored the opener. And then Mignolet went full Mignolet – as he is wont to do – and Negredo gave City the lead. This really was ugly.
The previous three games – the League Cup second leg and the two league games the following season – had all finished 2-2, but the Reds couldn't find a way past Joe Hart in the second half, and their title hopes were dented. However, they were offered the chance to return the favour late in the season, as City travelled to Anfield with the title in the balance.
Liverpool again got off to a flier that day, with goals from Sterling and Skrtel and utterly dominated the first half. But City came roaring back and seized all of the momentum second half, with David Silva pulling one back before Glen Johnson's own goal levelled the match at – you guessed it – 2-2.
But with City looking the most likely to go on and win it, Vincent Kompany made a complete mess of his clearance, Coutinho slammed in the winning goal, and with it inspired one of the biggest wins in Liverpool's Premier League history. We won't talk about what happened afterwards.
Klopp Announces Himself – Man City 1-4 Liverpool 2015 
A pattern had been developing between these two sides as for the second season in a row, the two teams won their respective home fixtures. Aguero ripped us apart in August 2014 before Coutinho and Henderson had a screamer-off in the reverse leg. Then came the 15-16 season. And then came Jürgen Klopp.
Liverpool had already beaten Chelsea in their last away game, with Coutinho running the show. But this game was something else. Liverpool were 3-0 up just after the half hour, with Bobby Firmino announcing himself to Liverpool fans, as he and Coutinho produced samba magic, both scoring and forcing Mangala into an own goal. This was Klopp as a force of nature, announcing himself to the Premier League and City simply couldn't cope. The Reds would of course also win the reverse leg this season 3-0, but that sadly paled in comparison to what came before it.
City Take Revenge – League Cup Final 2016: City 1-1 Liverpool; City win 3-1 on pens 
Klopp's first chance at silverware as Liverpool manager and Pellegrini's City claimed their revenge for the thumping at the Etihad by spoiling the show. Another big step in making this rivalry just that, a proper rivalry, with a tense, brilliant game in a cup final.
City lead for most of the second half, as Fernandinho put them in front just after the break, but once again the magical little Brazilian stepped up. Coutinho has produced some magical moments in this rivalry, but his equaliser in the cup final was sadly for nought. When it went to penalties, City simply had the edge. Willy Caballero is a seriously good goalkeeper from 12 yards, and he denied Lallana, Coutinho and Lucas in the shootout to give City the trophy.
Pep Vs Klopp – Man City 1-1 Liverpool 2017
A hard fought 1-0 win at Anfield had been truthfully a bit anticlimactic as Gini Wijnaldum's header was almost the only highlight of that boring match. But the reverse fixture at the Etihad more than made up for it. Even though it only ended 1-1, it could have been any score, as the two teams went hammer and tongs at each other, as chance after chance was missed. Milner's penalty gave the Reds the lead before De Bruyne and Aguero combined on about four occasions, one of them finally resulting in a goal for City. At the other end, Bobby Firmino missed a couple of great opportunities to contribute to the snap judgement Liverpool needed a clinical striker, before Adam Lallana dropped the miss of the season, causing Liverpool fans to age about ten years watching it. What a game. It might not have been the most important example of why these two teams are potential rivals, but it was damn near the most entertaining.
Mané Madness – Man City 5-0 Liverpool 2017
Truthfully this is one I'd rather not talk about for long. The game was pretty even, although City were winning. Sadio Mané refused to pull out of a full-blooded and admittedly dangerous tackle with Ederson. He was given his marching orders, and Liverpool imploded, allowing City to run riot. The fact that about three other people that same weekend, including Danilo in the same game, were not sent off for high boots, a phenomenon that has continued pretty much all season long, was not lost on fuming Liverpool fans.
Invincible Ending – Liverpool 4-3 Man City 2018
Man City travelled to Anfield unbeaten, streets clear at the top of the league, and the in-form team in Europe widely tipped to go the full season unbeaten and claim the mantle of the best Premier League team of all time. They were no match for Klopp's boys as intensity, passion and gegenpressing won the day.
Alex Oxlade-Chamberlain made his most telling contribution in a Liverpool shirt to date, but it was the sheer brilliance of Bobby Firmino, Sadio Mané and finally the outrageous Mo Salah that won the day. Liverpool were never going to lose the game from 4-1 up after that devastating spell, although City gave it a damn good go after Emre Can came off. Almost every game between Pep and Klopp in the Premier League now has delivered, and this was the cherry on the cake for Liverpool fans.
Looking Ahead
Before the Champions League draw, I said that playing Man City would be an absolutely brilliant draw for the neutrals. The sort of absolute humdinger that is a pure advert for football. The two best-attacking sides in the league, two of Europe's most entertaining sides, going at it over two legs would be the stuff of Champions League legend. I have no idea who is favourite to win, but what I will say is the Reds will surely be good value for their odds – and you can see the odds as well as lots of great betting sites like Centrebet for example.
And looking even further ahead to this rivalry. Well we know we're going to play Man City again twice next year, presumably with Klopp and Pep at the mantles, and hopefully with a Premier League title in the balance. Liverpool have to be considered serious contenders next year, and that added spark to this rivalry could make it just that – a really compelling rivalry. I for one can't wait.