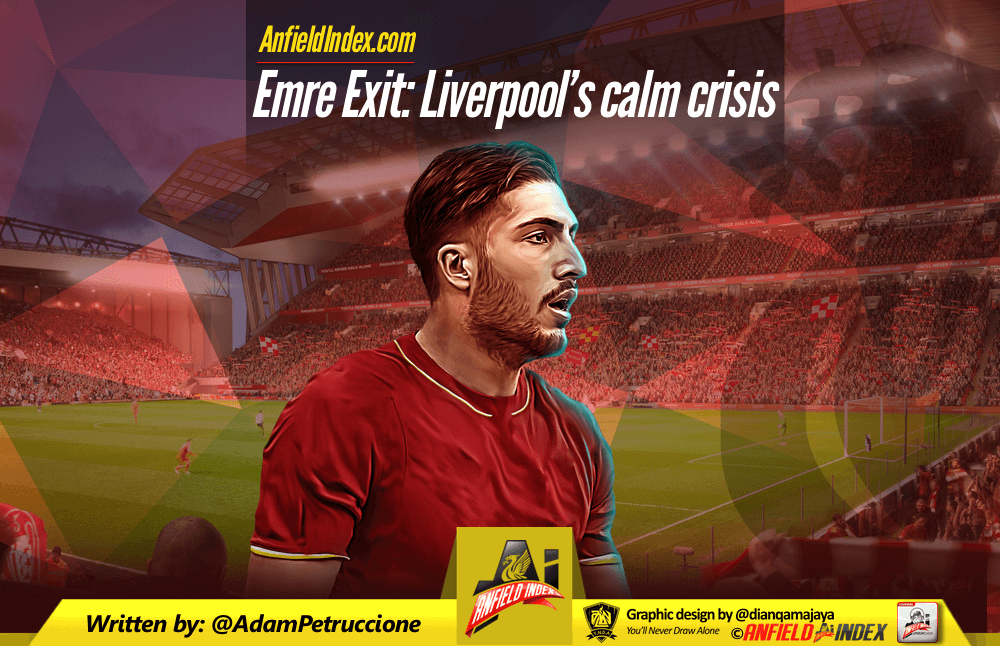 Emre Exit: Liverpool's calm crisis
A World Cup summer and a key player is trying to manipulate the market to get himself to a "very big club?" I know all of you readers are shocked at the mere possibility.
Emre Can's quotes, or at least the most nefariously framed ones, strongly suggest that he'll be on the move after his contract expires at the end of the season. Either that… or he's still house hunting and this is all just a way to pry the most plump of deals from FSG's tight grip.

Emre Can receiving plenty of abuse on Twitter today, but we encourage you to give a read to some more extensive quotes from his interview with @SZ

The German speaks very highly of the club, the manager, the league, and sheds a bit more light on those "big club" comments pic.twitter.com/pb8wVcCEoF

— LFC Transfer Room (@LFCTransferRoom) March 21, 2018
Either way; if Can is staying or going, Liverpool are so well positioned that it really shouldn't impact the club negatively going forward. If he signs then we have our 'six' and can focus on improving other areas of the squad for the next half decade.
If Emre indeed calls a close to his Liverpool career, the transfer market is flush with dynamic young options at his position more so than at any point in recent memory. There are so many defensive midfielders to choose from that not one, but two of them start with the rarely combined consonants 'ND.'
Leicester's Wifred Ndidi (21) has been the most consistently linked. Lyon's Tanguy NDombele (21) has a ton of upside. Mateo Kovacic (23) and Adrien Rabiot (22) have the pedigree. Mo Dahoud (22) has that previously linked smell and Jorginho (26) is sort of Brazilian.
Emre Can is leaving — but we can replace him with Rabiot. pic.twitter.com/3fu6uWIh77

— Paul (@Kolology) March 21, 2018
There are other out of nowhere names that Jurgen Klopp and Michael Edwards are more than capable of producing from their overworked laptops. Two months from now every Liverpool fan on Twitter could very well be claiming to be an expert on the superb skills of André-Frank Zambo Anguissa (22 – Marseille).
The point is that there are a lot of DM's floating around out there, and so many of them are in the FSG happy zone in terms of age and experience that it would be somewhat surprising if Liverpool didn't grab one of them regardless of what happens with Emre Can.
Even in a worst-case scenario where Can leaves and Edwards is somehow asleep at the switch, our own Marko Grujic (21) is currently tearing it up for Cardiff with a goal, 2.2 tackles per game and 1.8 interceptions over 9 matches.
All of the names mentioned would have every chance to be successful at Liverpool and all would cost in the £30-50m range. Why are the "very big clubs" circling around Emre Can and not the others? Because he's free. Let's not take the interest level of all of the top clubs as a validation of the idea that Can is the best young player at his position. He isn't.
Jurgen Klopp can survey the options and choose the player who has the attributes to fit his unique system. Is it Ndidi's outstanding tackling ability (4.2/match)? Is it NDomele's passing? Jorginho's quick transition game? Anguissa's ability to seek out any and all opposition passes, Rabiot's controlling style or Kovacic's all-around skills?
Emre Can has been our best midfielder this season. The pressing in midfield has been key since Maribor. Klopp says his best playmaker is the press. I collect these stats:

Hendo: 25 presses per90
Can: 28 presses per90

Can: Press leads to a shot every 235 mins
Hendo: 305 mins

— AnfieldIndex (@AnfieldIndex) March 22, 2018
Talented as the alternatives are, the Reds will have to nail the replacement signing. While Can hasn't always been the perfect fit, he's been pretty damn good in Klopp's pressing system. Ideally, a deal could be struck before the World Cup to get the player acclimated as soon as possible.
Though the loss of one of our Nivea front-liners would sting, rarely have Liverpool been in such a great position where they're able to pick and choose for the most part from such a talented group in a position of need. The only centre-mid selection Liverpool might not be able to dictate terms on is our own player, Emre Can. If he's set to leave, he's set to leave. This is not a Suarez, Coutinho or even a Mascherano situation. Such is the quality that the Reds have developed over Klopp's tenure, any one departure should not derail the club's overall direction.
And if he does leave on a free, let's remember the positive side of this from the club's standpoint. Emre Can has been a four year mostly starter for the massive price of £9m while playing on a salary equal to the club's equipment manager.
So while LFC Twitter will do what they do and try and manufacture panic out of a few press clippings, there isn't any reason to despair …at least until July.