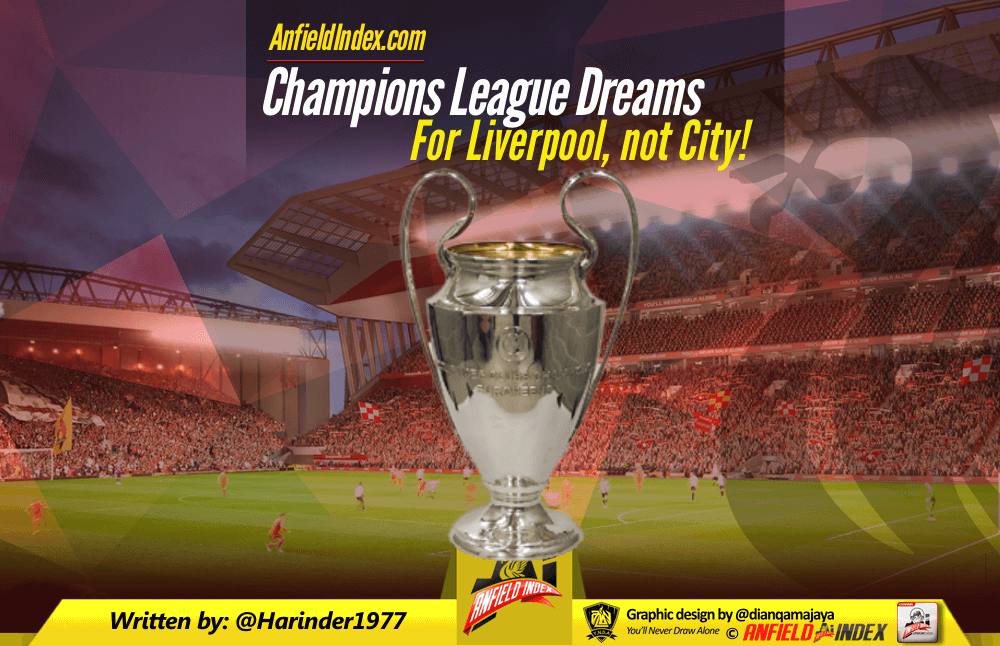 Champions League Dreams - For Liverpool, not City!
A few of my writings over the years have had reference to songs or movies of old. This one is no different. As it's a blockbuster tie, there's only one way to go which is Frankie Goes to Hollywood!!! We've two legs coming up against Manchester City. The fun all starts at Anfield on Wednesday 4th April. So, with that in mind…
"Welcome to the Pleasuredome!"
Are we ready to stand and be counted? Many a time in the annals of history, Liverpool FC has needed to reach towards the Kop and the rest of Anfield for its unfaltering and die-hard support to provide the push to get over what others considered insurmountable challenges. It's a not a new thing or something only there since Olympiakos in the 2004-2005 season. It's been there many a time before and if you didn't know before, it's recognised by the club. Just take a look below. How many other teams do that? How many other teams have understood the value of when facing adversity or staring down into the deep abyss of defeat, it can rely on a voice so powerful that it can shake foundations? Look at what we can do. Look at what we can inspire. Look at what YOU have inspired:


I think Liverpool also have some new ones to add. Let's not forget THAT match against Borussia Dortmund at Anfield in 2016.
"Two Tribes (go to war…)"
Manchester City. Formidable. Strong. Devastating. Beaten at Anfield. Could happen again and we could beat them on their patch over a two-leg tie…AGAIN. Across this globe are great writers who can show us why Kevin De Bruyne is so good and the damage Sergio Aguero can apply. Equally, there are many greats who can do this and a lot more about our front three. Collectively though, we can do something that isn't achieved just by words alone. Belief is more than that and the action to believe is where we are at now. We have to believe we can do anything. Let's park the realism or pessimism. Let's not walk off into the sunset thinking about what could have been.
Let's not make this the President's speech from Independence Day!
The Manchester Evening News carried a story about how we plan to meet our opponents. This was then picked by various outlets and none worthy of naming and shaming. It's as if they've missed what's been happening along the way to L4 0TH for quite some time. Liverpool is a unique city with an equally unique global support epitomised by a local strength that knows how to lead the way. I don't see that changing because someone at a sports desk somewhere is bored and wants to scaremonger. Short of a showering of rose petals I don't know what they were expecting to happen? It isn't the first time and it won't be the last that we exhibit what Liverpool is all about. If they worry about the welcomes they can stay for the long kiss goodbye that begins with a gentle song from the Kop.
Allez Allez Allez…
"Relax?"
They won't do it. I hope, pray and repeat the hoping and praying! I don't look at City as something to fear. We have nothing to lose. They have done nothing to deserve the stature of being allowed to feel that they will win simply by turning up because we just might not. The more this is projected the more it allows them to make it a reality. This is a team that has felt our ability to change the tide of a tie before. 2011-12 and they were 19 points ahead of us (it's 18 currently). We were 1-0 up from the away leg which came shortly after a league defeat where they were all over us and winced as each goal went past Reina. The home leg started with them scoring, us getting a penalty and then in the second half they score and Bellamy comes on and finishes it.
Way before today's teenagers existed we did them 4-2 in the FA cup which was coincidentally my first time at Anfield and, yes, I still dream about Jari Litmanen to this day. Let's not forget also they haven't had it their way in the league at Anfield either. If I need to tell you the last score where have you been? (4-3 after we felt charitable post cruising at 4-1). Don't take this as overconfidence though, more the power of positive thought.
"The Power of Love"
They have no right to be louder than us in our home ground. They have only the right to come and endure 90 minutes odd of what we are about and what we are really made of. Make them hear every single syllable such that it hits them like the hurricane Fabio Capello spoke of in 2001-2002. We may be getting over the Easter egg binges so what better way to burn calories than to sing our hearts out and bounce along to all that we can muster to shake Anfield again. Religious or not, Anfield is an experience that is good as it gets to the heavenly. Big Ears loves us. We love it. Let's get it on!
Oh. Simple formation for this match so no need to post one. 11 players on the pitch. Us all around. Someone who epitomised winning repeatedly said, "We've just got to realise that if we stick together and believe in what we're doing, then we've got a better chance."
If you don't want to believe me then at least believe him.