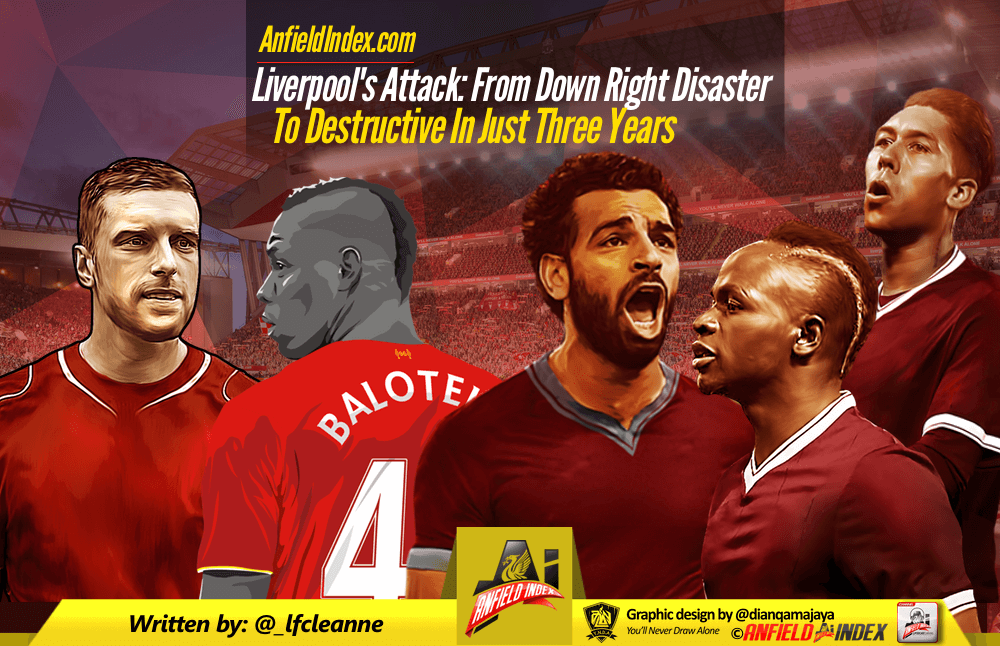 Liverpool's Attack: From Down Right Disaster To Destructive In Just Three Years
Cast your minds back to the gloomy 2014/15 season in which Liverpool parted ways with the talismanic figure of Luis Suarez, replacing him with Rickie Lambert and the ever egotistical Mario Balotelli.
From goals galore in 2013/14 to a troublesome goal drought the following season, Brendan Rodgers' side went from a team that could do no wrong to one devoid of attacking verve.
The £16million move for Balotelli was a gamble that never paid off, with the forward scoring his first goal thirteen games and seven months into his Liverpool career. The Italian only netted a total of 4 goals for the club, struggling to conform to the high intensity, high pressing style adopted at Anfield.

Even Rodgers admitted that a move for the striker wouldn't have surfaced had he been able to pursue his own targets:
"He wasn't someone I felt was suited or fitted the profile of what we were after. They [the owners] thought this is a £50m player that they can bring in for £16m, and I can develop him. When the owners want you to go down that route, you give it a go." – Rodgers
Then there was Rickie Lambert, otherwise known as Mr Steady Eddie. It was very much a move of a romantic nature, allowing a scouser to complete a fairy-tale ending to an established career. November's defeat to Chelsea provided the perfect, or not so perfect, exemplification of his tenure. Admirably chasing down a loose ball with five minutes of the match left to play, Lambert calamitously fell on his face in front of the Kop. It was a heartbreakingly painful depiction that this was a player bought out of sentiment rather than outright talent.
There were some bright moments; goals against Palace and Ludogorets represented the best parts of his short spell on Merseyside, but Lambert was never going to be able to replace the brilliance of Suarez. He too fell victim to a switch in formation that saw Rodgers field a team without a striker – an indictment in itself of the team's goal-scoring woes.
As for Borini, quite how he's managed to play for Chelsea, Liverpool and AC Milan will forever remain a mystery. Six goals in nine games on loan at Swansea offered promise for the then 23-year-old's career, with Liverpool forking out £11million for what was Rodgers' first signing in July 2012. Yet, Balotelli's tally of just one Premier League goal was the same as Lambert and Borini combined, as the front three desperately failed in the absence of Sturridge and Suarez.
The duo scored 52 goals in 2013/14 while Lambert, Balotelli and Borini went 998 minutes of league action without a single goal between them, a thoroughly damning statistic in a season where Liverpool only scored 52 goals as a whole team.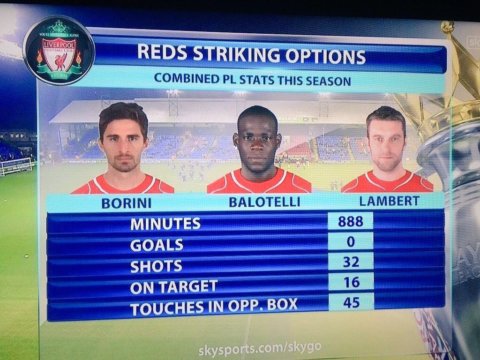 Three years on and it's hard to think of a bigger upgrade than the electric front three of Mané, Salah and Firmino.
During his second stint in the Premier League, Salah has broken just about every record imaginable, surpassing Fernando Torres' record of 33 goals in his debut season in England with four goals against Watford. The Egyptian, named African Player of the Year, has also become only the third player at the club to scored over 25 league goals in a single campaign after Luis Suarez (31 in 2013-14) and Robbie Fowler (28 in 1995-1996 and 25 in 1994-95).
There've been some belters too; the 5-0 dispatching of Porto saw Salah juggle the ball over the 'keeper's head and stab home while Liverpool's most recent game produced his first hat-trick for the club, wrong-footing three defenders before falling over and prodding the ball into the net.
Away from Salah's individual brilliance, Mané and Firmino have gifted Liverpool one of, if not the most potent attacking trio in the world right now. Claims that Mané has been out of touch this year are way off the mark, with the winger contributing a goal or assist every 103 minutes, eight minutes fewer than in 2016/17. He's also achieving a greater success rate in terms of dribbles than last season (60%).
Firmino meanwhile, has enjoyed his best season in terms of goals for Liverpool since arriving from Hoffenheim, showing a stark improvement in the final third with some truly exceptional no-look finishes as Klopp's side continue to soar without Philippe Coutinho.
More than that, the Brazilian is the conductor to Liverpool's gegenpressing craze, setting the first line of defence and pressuring the opposition into mistakes high up the pitch. The perfect combination of defender, creator and finisher, Firmino has completed 1.74 tackles per ninety, far superior to any other forward at the club. 1.70 key passes per ninety also places him above Salah and Mané in terms of creativity, with an acute eye for a pass making him an integral cog in Klopp's system.
In terms of stats, Salah's record of 28 Premier League goals in 30 games results in a total xG of 21.14, producing an xG per ninety minutes of 0.78 and xA per ninety of 0.26. For a look at how the Egyptian compares to other top players across Europe, click here. Meanwhile, Firmino and Mané pose an xG/90 of 0.35 and 0.45 respectively while Firmino has the best xA/90 among the trio with 0.28.
| | | | | | | |
| --- | --- | --- | --- | --- | --- | --- |
| Player | Appearances | Mins | Total xG | Total xA | xG/90 | xA/90 |
| Salah | 30 | 2424 | 21.14 | 7.02 | 0.78 | 0.26 |
| Firmino | 30 | 2330 | 8.94 | 7.29 | 0.35 | 0.28 |
| Mané | 23 | 1780 | 8.84 | 4.20 | 0.45 | 0.21 |
Steven Gerrard has gone has far as saying the current front three are better than Suarez, Sturridge and Sterling's electrifying 13/14 season, with a better blend of football allowing Liverpool to become a far more unified force. Taking a quick look at the stats results in a very close comparison.
| | | | | | |
| --- | --- | --- | --- | --- | --- |
| 2017/18 PL | Games Played | Goals | Goals per game | Assists | Assists per game |
| Mo Salah | 30 | 28 | 0.93 | 9 | 0.3 |
| Bobby Firmino | 30 | 14 | 0.47 | 7 | 0.23 |
| Sadio Mane | 23 | 8 | 0.35 | 7 | 0.30 |
| Total | 83 | 50 | 0.60 | 23 | 0.28 |
Compiling Salah, Mané and Firmino's appearances and goals produce a goal per game average of 0.60, with 0.28 assists per game. In comparison, Suarez, Sterling and Sturridge achieved 0.64 goals per game and 0.25 assists. Yet, there are still seven games to play this season, presenting the trio with a chance to overhaul SSS's totals should they continue to play such they stave off injuries and remain a prominent part of Liverpool's league campaign. Based on current form, you'd be foolish not to back them. 
| | | | | | |
| --- | --- | --- | --- | --- | --- |
| 2013/14 PL | Games Played | Goals | Goals per game | Assists | Assists per game |
| Luis Suarez | 33 | 31 | 0.94 | 12 | 0.36 |
| Raheem Sterling | 33 | 9 | 0.27 | 5 | 0.15 |
| Daniel Sturridge | 29 | 21 | 0.72 | 7 | 0.24 |
| Total | 95 | 61 | 0.64 | 24 | 0.25 |
When Suarez left for Spain, it was hard to imagine Anfield witnessing such a special player again, let alone an attack as potent as SAS were in 2013/14. While they haven't produced the kind of title run that that season entailed, Liverpool's attack has gone from downright disaster to deadly destruction in just three years.
Mane, Salah and Firmino are all attuned to one another. It's brilliant, and beautiful, to watch.