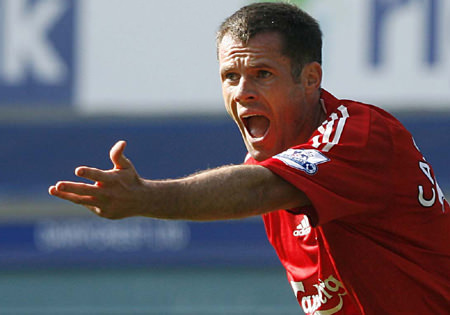 Is Jamie Carragher Still a Certain Starter for Liverpool?
At the age of 33, time is against Jamie Carragher. This season more than ever, his status as a first choice starter is under intense scrutiny. Big questions are starting to be asked openly by Liverpool fans about whether Carragher still warrants a place in Liverpool's First XI. So, why are the murmurings of discontent growing louder by the week?
Passing
One part of his game that is heavily under the microscope is his passing. Indeed, season on season, Carragher's pass success rate for Liverpool is dropping at an alarming rate. In 2008/9 it was 84.1%, in 2009/10 it dropped to 76.5% and last season it fell again to 72.4%. These stats show clearly why the criticism of his passing game has intensified in recent years.

This season is no different. A quick scan over his passing chalkboards clearly highlights an issue:
Carragher's overall pass success rate this season is 80%, about average for the Liverpool team, but his long ball statistics tell a different story. Carragher has been responsible for 41 of Liverpool's 180 long passes this season. Of these, only 17 have found their intended target, a 41% success rate. To put this into context, Daniel Agger has only attempted 15 long passes, with an impressive 66% success rate. The only Liverpool player who has played more long passes than Carragher is Jose Reina, who has a 53% success rate from his 54 long passes.
Passing is therefore a weakness in Carragher's game, and in chronic decline.
Pace & Defensive Frailties
Carragher has always been slow, but with age he has slowed even more. Liverpool's line is getting deeper and deeper to make up for this lack of pace and this invites the opposition forward. For most of this season, our attacking play has disguised this issue. However, against teams like Manchester United and Manchester City we risk being left seriously exposed.
There have been two key warning signs already this season. Against Bolton, Carragher's howler in the penalty area resulted in their consolation goal. At the time it was lost within the glory of our 3-1 win. His mistake against Stoke, however, cost us the game. Carragher was unable to respond to Walters' turn of pace in the penalty area and an arm across the chest was enough to gift Stoke a penalty. Walters went down very easily, but Carragher's defensive lapse gifted him the opportunity to do so.
2 of the 3 league goals conceded by Liverpool this season have been caused by a defensive lapse by Carragher. However, his organisational and leadership qualities are amongst the best in the league. Also in his favour is the fact that Skrtel has his own defensive frailties whilst Coates' is young and inexperienced.
Had we signed Dann, Cahill or Phil Jones in the summer, Carragher's place in the first team would be in greater jeopardy than it already is. As it stands, he is holding on to a starting place by the skin of his teeth.
For more of my articles visit www.joescouse.blogspot.com
Follow me on Twitter @joescouse_lfc