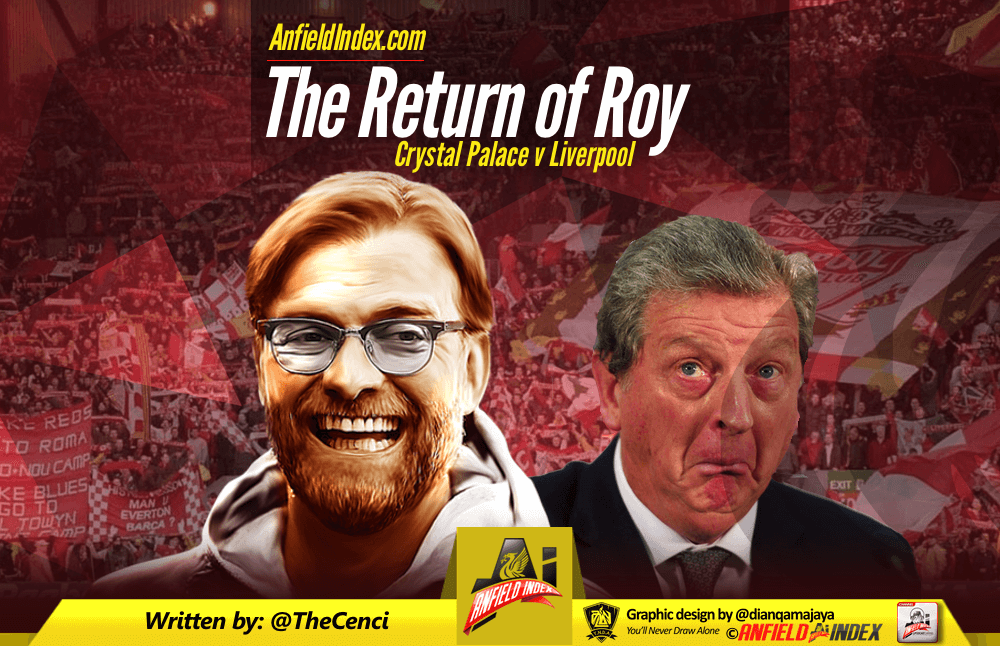 The Return of Roy - Crystal Palace v Liverpool
Come the summer of 2010 I'd had enough of Liverpool Football Club.
Before you reach for your fiery torch and summon a lynch mob to my house I must offer up a defence. We've all had feelings like this from time to time. There is no one alive who thinks that the custodians of L4 are 100% right at all time and they, like anyone, are capable of instigating an over-powering sense of frustration, but in 2010 it was more of a series of calamities which led to my considering leaving them to it and taking up golf or something.
Things had been on the slide for a while, but matters came to a head on the 3rd June when Liverpool and Rafael Benitez parted company 'by mutual consent.' The writing had been on the wall for the Spaniard for months as Liverpool had not capitalised on an impressive second place League finish in 2009. His final season, 2009-2010 saw an early Champions League exit and an embarrassing FA Cup defeat to Reading. The league form wasn't much better as the Reds finished in seventh place on 63 points, behind even Aston Villa. The only crumb of comfort was a Europa League campaign which ran to the semi-final stage before Atletico Madrid ended that with an extra time away goal by Diego Forlan. That Atleti side featured David de Gea, Sergio Aguero, Jose Antonio Reyes and long-time Liverpool target Simao.

We all knew that another European trophy, even a minor one, would not be enough to save Rafa and there was fury on the terraces about which side you were on. Some wanted a change after his side had become stagnant while others loved the man enough to give the time a twice European Cup finalist deserved. You can guess where my allegiance lay.
It wasn't just the results which counted against him. Come his final months he was barely on nodding terms with the owners, Tom Hicks and George Gillett, nor the men they placed in charge in their absence. In fact, the two Texans were not even speaking teams either. Their relationship was described as 'unworkable' though they clung to their asset and watched the madness escalate. Meanwhile, the club was rumoured to be paying £100,000 a day in interest on loans from the Royal Bank of Scotland amongst others.
However, though Rafa had been treated appallingly and the administrative side of the club was a shambles, I'd hoped that a new name might rally the troops and pull the various factions together.
A few days later Roy Hodgson was announced as the new Liverpool manager.
A small voice in my mind told me to give him time and see if he could do something with the Reds, but it was overwhelmed with common sense and reason. Liverpool bought Joe Cole – then 28 years old and mostly injured on a four-year deal at £90,000 a week – a wage Liverpool could ill-afford.
Hodgson had made it to the Europa League final with Fulham only to lose in extra time to Liverpool's conquerors Atleti. This Indian summer led to the feeling outside of Liverpool that Hodgson, at 62, had finally deserved a crack at a top Premier League side having served an apprenticeship in Norway and Sweden. True, he had managed Internazionale and the Swiss national side in the past, but this was Liverpool.
The press considered this a good move – a safe pair of hands – but the terraces at Anfield were less than convinced. Benitez had earned the majority of our support as he had seen through the empty promises of Hicks and Gillett and was in open conflict with them. The previous autumn, he had requested more funds, mostly to secure Javier Mascherano's signature as the Argentine was only on loan at the time. Hicks later said: "It is really time for Rafa to quit talking about new players and to coach the players we have." Rafa answered every question at his next press conference with the words "I am focused on training and coaching my team". A response he repeated fifteen times. Benitez was prepared to fight whereas Hodgson was not a war-time consigliere.
This left the players either looking over their shoulders or at the Anfield door. Hodgson said that he would be seeking assurances from Gerrard and Carragher as early as his first press conferences while Martin Broughton claimed: "Players are not for sale. We don't need the money and we don't have to sell them because of the debt."
Hmm.
Those players – loyal to the club no matter what – were not the issue. Liverpool relied heavily upon Fernando Torres, but his bouncy gait had already begun to lose its usual vigour. A fire sale seemed inevitable as Liverpool plunged deeper into the red.
Hodgson was simply the wrong man at the wrong time. Straight from the football world of blazers and cigars, he was immediately seen as part of the club hierarchy rather than a man who would take our side. When asked about the planned protests about the ownership before the Sunderland and Blackpool games he said:
"Those people aren't making my job any easier"
'Those' people. So much for the unbreakable bond between the fans and the club. Particularly the fans who were doing all they could to secure the future of it by wanting the owners removed.
By the home game against Blackpool, sections of the Kop were calling for Kenny Dalglish's return.
So before Hodgson's first game, at home to Arsenal, I decided that filling the American's pockets and ultimately RBS's was too much. If Liverpool defaulted on their loans then maybe they would be ousted as owners and we could have our club back from two men who didn't have a clue on how to run any football team, let alone Liverpool Football Club.
I chose to miss the opening Arsenal game though it felt strange not being there. It hurt more than I thought it would. I also skipped the first away game – a 3-0 defeat at Man City So did Javier Mascherano, who sulked and was left out of the squad. Hodgson said:
"I don't know where he is but he's not here, that's for sure. His mind wasn't right so it wasn't right to select him. Hopefully, I will be able to select him in the future. There's plenty of interest in him but our position remains the same – until we get an offer that matches our valuation we won't sell. I'm sure it'll be sorted one way or another soon."
But Martin said that we weren't selling players, Roy. We don't need the money, remember?
My own strike ended there. Being weak I was back for the next game at West Brom. I was also at the next game – a cheerless 0-0 with Birmingham City which saw Paul Konchesky's debut. The Reds were lacklustre and uninspiring that day and we were lucky to get a point.
In September, Northampton Town, some 69 places below the Reds, came to Anfield and knocked us out of the League Cup on penalties. The away fans sang 'Cobblers' – their club nickname – throughout. The home fans responded with something similar about our own team.
Liverpool were sinking fast and Hodgson was clearly out of his depth. Everton won the Goodison derby 2-0 and sent the Reds into 19th place. Hodgson claimed that it was as well as we'd played all season and that winning there would be 'utopia'. Liverpool had lost just two League games there in 13 years and haven't lost to them since. Utopia indeed.
This was a perfect example of how Liverpool and Hodgson differed. Losing two games in a week is viewed as a crisis at this level. The expectancy at Anfield is never-ending. There is no such thing as an acceptable loss, but the former England manager is an expert at lowering expectations and painting failure as success. In December he said of Liverpool's current form: "We are right up there in terms of results".
The Reds had won 7 points from a possible 18. They were 11th in the form table.
But back to the present. When Liverpool kick off at Selhurst Park on Easter Saturday, we have to put Roy in a place where he can tell the press that they didn't quite deserve such a heavy defeat and that they played rather well. Hopefully, he will be resting his better players for the more winnable games they have on the horizon – at Bournemouth and Brighton.
That said, he was never happy with how his Liverpool tenure ended and he will feel that he owes us an upset. Jurgen's men will have to contend with a loud Palace support in SE25 so we will need to be on our mettle, but, for some of us, this game is about more than the three points. As one of 'those people' I'd like our lads to take vengeance.