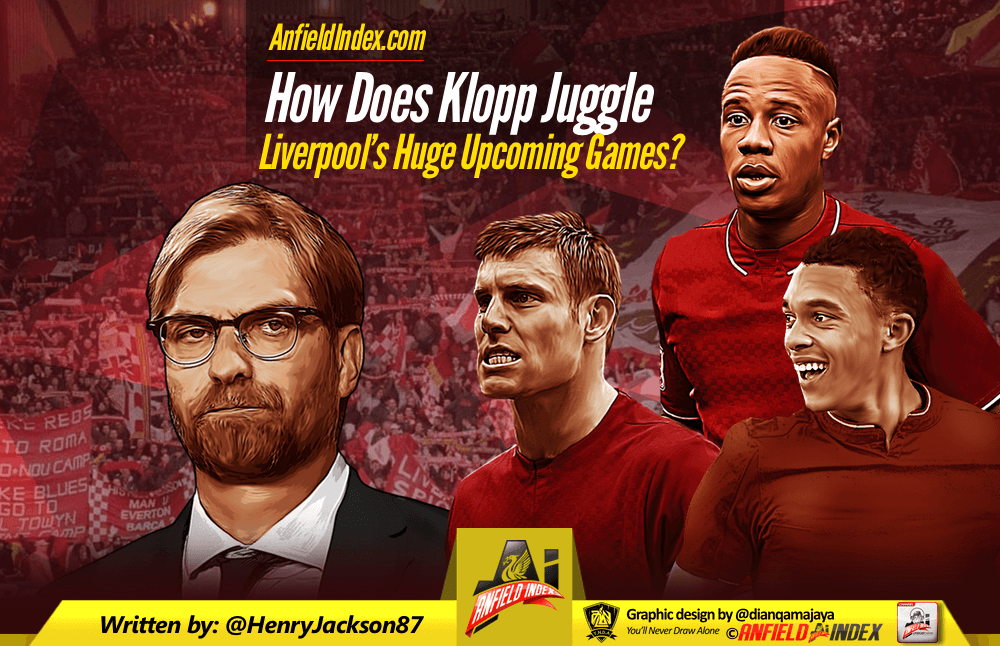 How Does Klopp Juggle Liverpool's Huge Upcoming Games?
The international break has been and gone, and we can all get back to enjoying proper football again.
As March slowly turns to April, Liverpool's season is alive and kicking, with the Premier League and Champions League promising some great occasions in the coming weeks.
Looking at the short-term outlook over the next two weeks, the Reds have four gigantic meetings on the horizon.

First, they head to Crystal Palace for a tricky test on Saturday lunchtime, before hosting Man City in the Champions League quarter-final first leg on Wednesday evening.
Three days later, the 231st Merseyside derby takes place at Goodison Park, before the return fixture with City at the Etihad the following Tuesday.
It is four matches that may well define Liverpool's campaign, and Jurgen Klopp has the task of nailing his selection each time.
Although there may be slight tweaks all over the park in certain matches, most notably the trip to Everton, it is clear to see who will be starting for the large part.
Loris Karius is almost guaranteed to begin every game in goal, while at left-back, Andrew Roberson is undroppable on current form.
The deep-lying midfield role will be occupied by either Jordan Henderson or Emre Can, and the front-three of Mo Salah, Sadio Mane and Roberto Firmino picks itself.
There are, therefore, three main areas of the pitch that look the trickiest to juggle in this upcoming quartet of clashes: right-back, centre-back and attacking midfield.
Right-Back
With Joe Gomez out for a month after picking up an ankle injury for England, Klopp is suddenly left with a worrying lack of options at right-back.
Trent Alexander-Arnold is averaging one game a week this season, so asking a teenager to appear on four occasions in 10 days is not to be encouraged.
His form would suffer because of it, and the risk of burnout would be heightened.
Nathaniel Clyne is progressing all the time, having recovered from a back problem that has kept him out all season, but can he really be relied upon just yet?
The 26-year-old is a long way short of full match sharpness, and the only match it feels conceivable to risk him in is the derby, with Palace arriving far too soon.
James Milner may have to become another option, even if he is far from perfect at right-back, and clearly dislikes playing in the role. It doesn't feel ideal, though.
Some may feel Emre Can could be drafted in at full-back, as he has for Germany at times, but his influence is too important further up the pitch.
Alexander-Arnold should have enough in the tank to start three of the matches, at a push, but using him in all four has to be out of the question.
Dropping him for the City tie would be unfair, despite a poor showing at Man United recently – Pep Guardiola may see him as a possible weakness, but Klopp has to trust him – with the good clearly outweighing the bad this season.
Going with Clyne or Milner against Everton makes the most sense, with the latter a possibility to slot in at Selhurst Park, too.
Centre-Back
It says a lot about Joel Matip's dip in form that questions are even being raised about who should be partnering Virgil van Dijk out of him and Dejan Lovren.
In fairness to the much-maligned Lovren, he has produced some very reasonable performances this year, but a disastrous day at the office is never too far away.
He has, however, looked a more natural foil to Van Dijk – the Jamie Carragher to his Sami Hyypia – and Matip has been a shaky presence, lacking heart and aggression.
Despite his many shortcomings, Lovren should start at Palace, with his aerial prowess up against Christian Benteke the key reason for that. That's when he thrives most – focussing solely on out-and-out defending.
Who starts in the two City games is a much tougher choice.
Given the style of play the Premier League leaders adopt, it would be tempting to bring Matip back in. His use of the ball is superior, and he doesn't panic when pressurised by the opposition.
Matip is the better player when on form, but can he be counted on right now to perform in Liverpool's biggest game for some time? That's the biggest issue.
Playing Lovren in the two league games and Matip against City makes the most sense, and allows Klopp to rotate, should he want to at centre-back.
Neither are good enough moving forward.
Attacking Midfield
As mentioned, it is highly likely to be one of Henderson or Can sitting in front of the defence in all four of the games, assuming the injury curse doesn't strike.
The rest of the midfield does not pick itself, however, with four players tussling for two, if not one, place, should both Henderson and Can start.
Adam Lallana feels like a certainty not to be involved from the start against Palace and City (both legs), considering his lack of match practice.
The Everton clash feels like a good time to give him a run-out, however, with others being kept fresh for round two with City.
Henderson can barely play more than once a week, and because of that, ensuring Can is at his optimum level is of the utmost importance.
Leaving the German out this Saturday could be a shrewd call, especially as he has been struggling with a back injury since returning from the international fold.
Gini Wijnaldum has not been at his best of late, partly because of suffering from illness, which makes him unlikely to play a prominent role in the Champions League.
The Dutchman should start away to Palace and Everton, though.
That means it could become a straight shootout between Milner and Alex Oxlade-Chamberlain against City – two very different but equally effective footballers.
One offers pace, directness and youth, while the other guarantees experience, nous and a big-game mentality.
It would be hard to argue with either starting, but whoever doesn't can slot in in the league games instead.
Defining Period
These four upcoming matches are set to be a mighty test of Klopp, as he aims to keep individuals fresh and happy, but also field strong teams on every occasion.
Liverpool have to be at full-strength against City, but they should be able to get past Palace and Everton with a few changes thrown in.
Every single match is hugely important, with dropped points in the league potentially disastrous in the top-four battle, and a place in the Champions League semi-finals up for grabs.
The thought of progressing to the last-four is an incredible one, but the focus must also remain on the trips to south London and across Stanley Park.
Given how difficult Klopp's mind is to read, your guess is as good as mine!
My Starting XI for each game:
Crystal Palace (A): Karius, Alexander-Arnold, Lovren, Van Dijk, Robertson, Henderson, Wijnaldum, Milner, Salah, Mane, Firmino.
Man City (H): Karius, Alexander-Arnold, Matip, Van Dijk, Robertson, Henderson, Can, Oxlade-Chamberlain, Salah, Mane, Firmino.
Everton (A): Karius, Milner, Lovren, Matip, Moreno, Can, Wijnaldum, Oxlade-Chamberlain, Mane, Firmino, Ings.
Man City (A): Karius, Alexander-Arnold, Matip, Van Dijk, Robertson, Henderson, Can, Milner, Salah, Mane, Firmino.