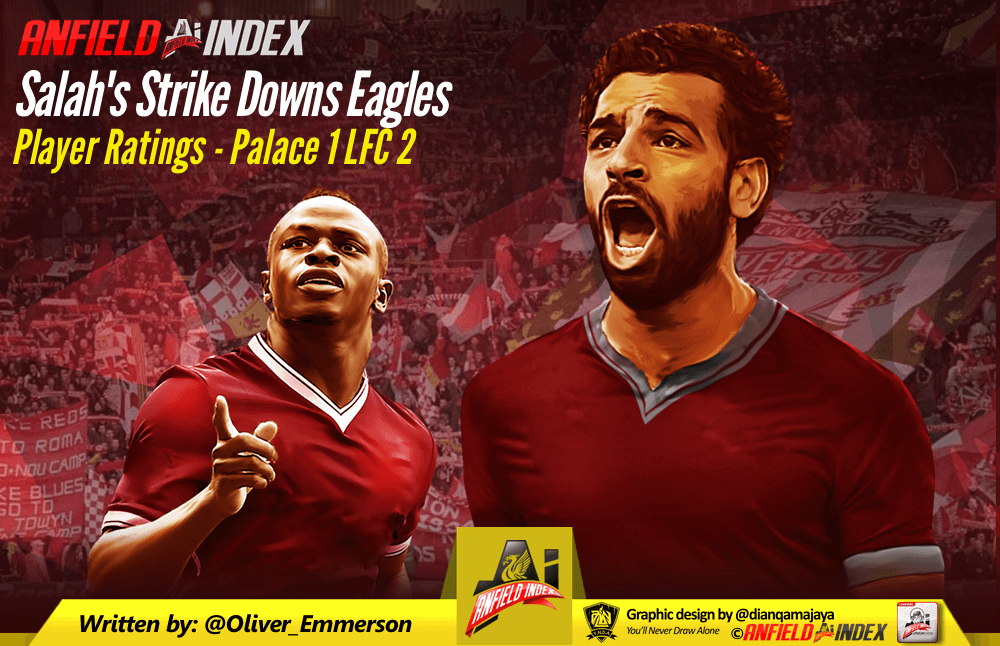 Player Ratings as Salah's Strike Downs Eagles
Palace away, I don't think I'll ever be able to enjoy it. Six goals and two wins in the last couple of trips there, but have either been fun?
Credit to Palace, their main strength is that they don't make it fun for their opponents. Able to soak up the pressure and then race forward with quick, powerful players, they're arguably the best designed of the mid-table teams to beat any of the top six.
Except at the moment, they're not mid-table. They're 16th. If they could slip into the bottom three by the end of Matchday 38, I wouldn't have to worry about Palace away.
The Reds win out on Saturday though, goals from Mane and Salah getting the awkward job done. Here's how Klopp's men rated.
Rough day for Trent
Loris Karius (6): Doesn't cover himself in glory with the penalty, arguably should just wait for Zaha to try and bring the ball down. Once he gets into that position, the referee can't do much else than point to the spot. Made a very good save from Zaha prior though, and a couple of tidy ones came following Palace's opener.
Trent Alexander-Arnold (5): Has to be put down to a day that he'll learn from. Up against one of the best dribblers in the league, TAA struggled early on against Zaha and was partly at fault for the goal, but did grow into the game slightly – evidenced by an impressive attacking performance in the second-half.
Joel Matip (5): Seemed to be run ragged a little by Benteke, puzzling as he normally stacks up well against big strikers given his height. Could arguably have helped TAA a little more when Zaha was busting a gut to get in.
Virgil Van Dijk (6): No idea what he's doing to give the ball away for that 2 vs 1 that Benteke spurns, but other than that he was impressive. Got to score soon, hasn't he? Should have had one in the first half. Helped see out the game late on with some smart passing choices.
Andy Robertson (6): Liverpool's best player defensively in the back four, but surprisingly struggled going forward with a number of over-hit passes towards Salah. That was of course until he managed to weight one correctly, squaring for Salah to knock in the winner.
Two midfield disappointment's
Jordan Henderson (5): Tried to get the ball moving, in fairness, but was woeful at it today. Any attempt at a progressive pass seemed to end up in the stand or at the foot of a Palace player. Doesn't seem to play two in four days very often, wonder if he comes out for Wednesday.
Georginio Wijnaldum (5): Added to the collection of bizarre away performances, was barely seen. Not surprising to see him hooked fairly early.
James Milner (6): Started slowly but grew into the game, lovely feint and then cross to set up Mane for the equaliser and then enjoyed some cute interchanges with Salah later on.
Bizzare from Mane
Sadio Mane (7): Struggling to get my head around this one. In a first half where Liverpool's players didn't look to be doing much, he was doing everything. Shouldn't be booked but is because he can't go down properly, a constant nuisance to the Palace defence. Does well to convert his goal, then is fouled but doesn't hear a whistle yet still picks the ball up and should be sent off. Glad he got subbed, there was only so much madness my heart could take.
Mohamed Salah (7): Quiet, quiet. Shot on target, quiet. Nice pass for the equaliser across the box, quiet. Nearly gets an assist, quiet. GOALLLLLLLLLL. 2-1!
Roberto Firmino (6): Not his best performance going forward but improved in the second-half when he stopped trying to bang everything in from 25 yards. Some great defending late on to stop Palace getting the ball forward quickly.
Substitutions
Alex Oxlade-Chamberlain (6): Decent little cameo, nothing brilliant but used his body smartly. Think he starts on Wednesday.
Adam Lallana (N/A): Brutally unlucky. Another spell on the sidelines gives him time to sort his hair.
Dejan Lovren (N/A): Ballsy from Klopp to go three at the back. One good tackle in stoppage time.