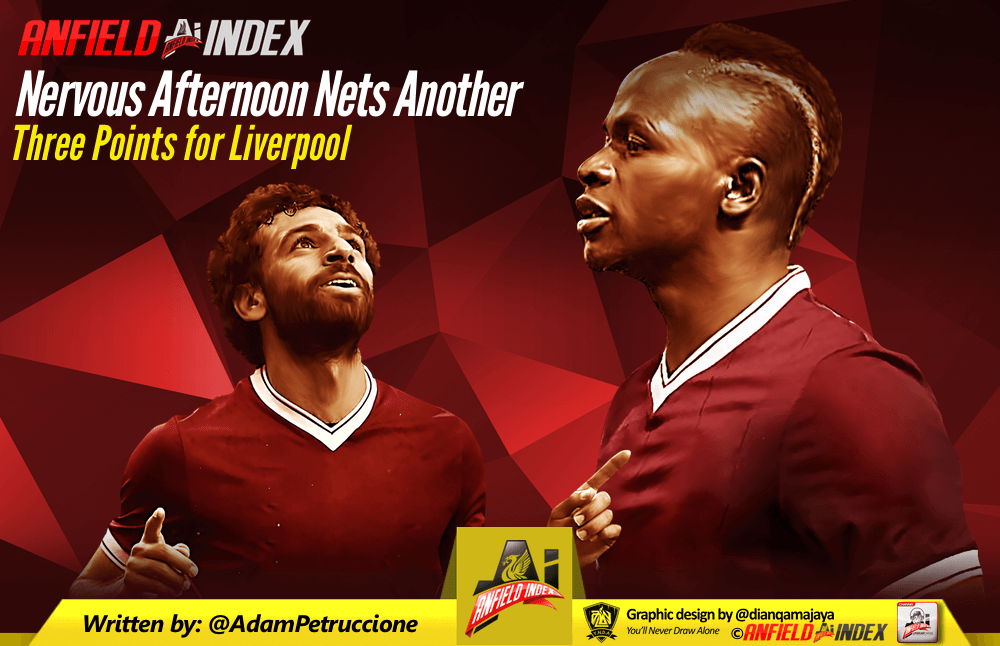 Nervous Afternoon Nets Another Three Points for Liverpool
Lineup:
Karius, TAA, Matip, Van Dijk, Robertson, Gini, Henderson, Milner, Salah, Firmino, Mané
Subs:
Clyne, Lovren, Moreno, Lallana, Chamberlain, Mignolet, Ings
Coming off of what seemed like a month-long international break Liverpool supporters were understandably anxious to see the Reds in something more action-packed than an Instagram story. But, it only took a few minutes for that anticipation to turn into anxiety.

Just eight minutes in there was a massive save from Karius, denying a Zaha attempt from what should have been a handball. You could already see that Palace were going to try to probe the same areas that have been causing us problems recently and before you could finish writing your congratulatory tweet for that save, our GK was in the middle of a classic Liverpool mess.
Karius gets a yellow card for clattering Zaha, Palace convert the pen on 12′. Hodgson's wry smile is not a welcome site.
Liverpool will keep seeing this type of attack until they solve it. Trent Alexander-Arnold is one of the most highly rated prospects in the land, but he is still just that, a prospect. As the season draws to a close it would be nice to see some of the consistent errors eliminated so that he can unquestionably claim the right-back spot as his for the next decade.
The first half was mostly chaos and not the kind that we like where we're causing and controlling the mayhem. Mané was at the heart of it with missed chances, goals ruled out for offsides, a booking for simulation. To be fair to Mané, you're supposed to get every penalty shout when you're wearing white. It's in the Premier League rulebook somewhere.
Closing out the half, Benteke and Van Dijk are involved in a wrestling match that reminds us of just how awful a signing the Belgian was. What were you thinking Brendan?
Benteke clearly still fuming at van Dijk for knocking him further down LFC's most expensive player chart

— Jim Boardman (@JimBoardman) March 31, 2018
Opening up the second half, Henderson gets nutmegged by the aforementioned Benteke and millions of Liverpool supporters simultaneously reach for the remote when Firmino, Milner and Mané combine for an inspired equalizer. Old man Milner puts through a ball that is anything but boring and Mané decides that he'll go ahead and put this one home with a clinical finish. Level at 1-1 with the whole second half to go.
The Reds finally had some life and Mo Salas almost nets a worldie that would have demoralized the Palace faithful. Then Van Dijk has his shirt nearly removed by Kelly (and who can blame him) but Neil Swarbrick is unimpressed. A draw doesn't mean much in the standings so Liverpool really need to push on here.
Adam Lallana came on for Mané and apparently tried to show solidarity with his pal, Daniel Sturridge, by going down almost immediately with an injury. Tough break. You have to wonder at this point if his days are numbered in Liverpool red. A season ago he appeared vital, but with injuries continually interrupting his campaign and bigger, faster, stronger reinforcements on their way in… this could be it for Adam Lallana.
Jurgen surprises by going with a back-three and Klopp's Mané to Lallana to Lovren substitutions will have Saints supporters either laughing or crying.
80 minutes in and it feels like something is missing… oh there it is. A mother trucking goal from Mo Salah. Recipient of a reported 1,000,000 votes for Egyptian President. Breaker of chains. Pharoah, King, whatever you want to call him; he now has 37 goals for Liverpool in his debut season and this was an important one to keep our top-4 plans intact.
Salah has now scored in 21 league games in 2017/18, equalling the PL record for a 38 game season.

Others: Ronaldo 2007/08, van Persie 2012/13 (via @StatsZone).

— Andrew Beasley (@BassTunedToRed) March 31, 2018
Salah and Mané's goals put the front three at 75 friggin' goals for the season. Outside of the top-six, whole teams won't approach that number for the season. Just imagine if we had a real number nine…
https://twitter.com/daveockop/status/980070722591698944
The requisite nervous moments had to be played out, but three more vital points are put on the board for Liverpool with Chelsea facing Spurs tomorrow.
In the end, this was probably the best thing that could have happened to the Reds. Our weaknesses were shown without dropping any points as we head into a final eight Champions League tie with Manchester City. Jurgen Klopp will have his work cut out to iron out the kinks in time to face Pep's machine.
For now, it will be a happy trip back to Merseyside with more massive matches on the horizon.
Up the Reds!