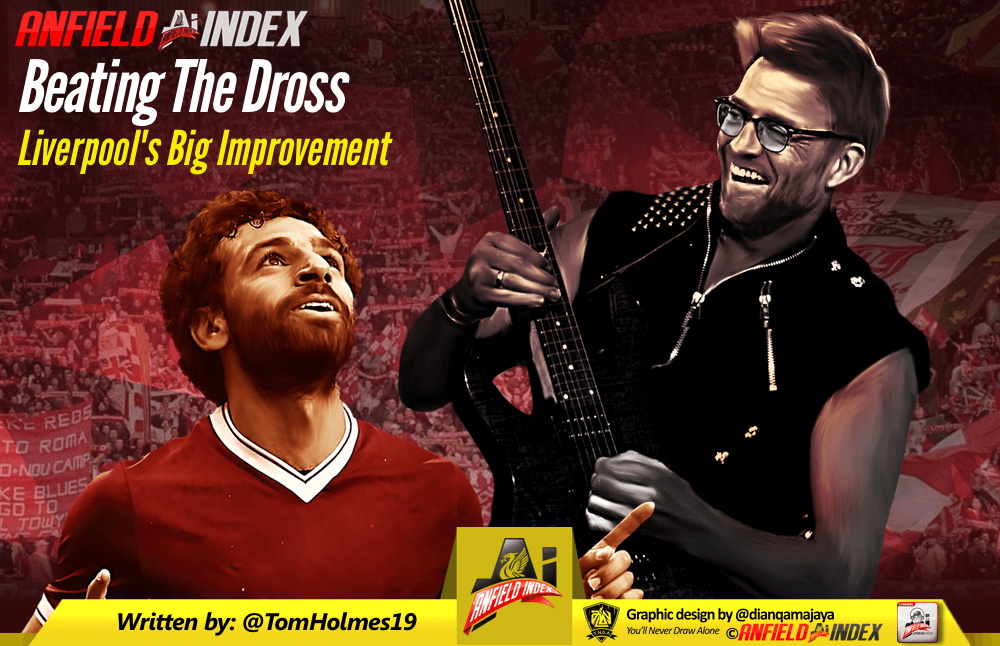 Beating the Dross - Liverpool's Big Improvement

Liverpool are doing markedly better against the teams that are not considered to be particularly good this year. This should not be considered a controversial statement after all this Liverpool side are doing marginally better than last year and have dropped off markedly against the top six, so clearly, those extra points are coming from somewhere.
Moreover, this is a Liverpool team that are in really good form, and it doesn't take much statistical analysis to remind everyone that the only game we've lost outside the top four this year is Swansea away.
Nevertheless, I am going to offer some statistical analysis, because the level of improvement against the so-called lesser sides in the league is absolutely stark. To offer some straightforward examples that many will appreciate off the bat, Liverpool's 2-1 win over Crystal Palace means that we've done the double over Palace for the first time in 20 years, although Palace were only promoted back to the division in 2013, having been gone for the best part of a decade.
The other bogey team that we've silenced this season has been Southampton. Whilst our last double over Saints is a lot more recent – 2014/15, we'd won just one of the previous seven games in all competitions before putting five past them unanswered this season.
Prime facie evidence aside, let's get into the numbers. The first things to note are that I only compared the numbers between this season and last season, because further back then that the idea of what constitutes the dross gets murkier. Can we call Saints and West Ham lesser sides in 2016 when both finished ahead of us, whilst calling Chelsea who finished 10th a big side?
In any case, comparing this season with last season, the teams that make up the teams we should be beating are more clear-cut. Taking the top six, so Spurs, Chelsea, Man United, Man City and Arsenal out of the equation, as well as Merseyside rivals Everton – both because they're our derby team and because based on their form over the last two years calling them dross is very slightly unfair – that gives a direct comparison of 26 games against 13 teams over two seasons.
So let's start with last season's numbers. In the 26 games against teams below the top seven last year, Liverpool won 15, drew 5 and lost 6. That makes 50 points, at 1.92 points per game. The Reds lost to Palace and Swansea at home, as well as Burnley, Hull, Bournemouth and Leicester away, but still won 58% of their games against teams below the top seven, a figure that rises to 63% if you take Southampton to be a tier above that.
Compared to this season then, where Liverpool have played 22 of their 26 games against the lower sides, with home fixtures against Bournemouth, Stoke and Brighton still to come, as well as a trip to the Hawthorns.
Liverpool have already won more games than last season, winning 77% of their 22 games, and as mentioned losing just the once. That record of 17 wins, 4 draws and 1 defeat means we've amassed 55 of our 66 points against the lower sides, a jumbo 2.50 points per game, an improvement of 0.58 points per game, or to put that into context, 15 points over the course of a season.
Fifteen points is the number I want to focus on for a moment because that is an absolutely colossal difference. That is the difference between finishing outside the top four and (in any other season) challenging for if not winning the title. Liverpool's issue this season has been securing results away from home against the top four, with defeats coming at United, City and Spurs. The key for next season has to be combining this title-winning form against the dross, with a solid set of performances against the best sides in the league.
Going back to look at some of the other underlying data, to see what has changed against the dross. Is it that we look more defensively secure against rubbish teams? Whilst many may scoff at this, it's worth noting we conceded four to Bournemouth last year, as well as three goals at home to Swansea.
Well this season, only Man City and Spurs have scored more than once at Anfield, and the underlying defensive numbers absolutely show a massive improvement on last season against the teams outside the top six (and Everton).
Last season, Liverpool conceded 32 goals from their 26 games against lower opposition, conceding twice or more on ten separate occasions, keeping nine clean sheets, with five of those nine coming in the last six games of the season. That's 1.23 goals conceded per game.
This season, Liverpool have conceded 14 goals from 22 games, at just 0.64 goals per game, conceding over a goal less every two games. Moreover, the Reds have only conceded twice or more against the lower opposition on two occasions, and have kept 11 clean sheets. Seven of those clean sheets have come at Anfield, where only West Ham are the only team in the bottom half to find the net. They conceded four that day.
This brings me nicely to the other point that needs to be made. Whilst Liverpool have definitely conceded less against the dross, they've also scored considerably more. Last season, the Reds scored an impressive 58 against the dross in 26 games, 2.23 goals per game. This season, they've already matched that 58 in just 22, at 2.64 goals per game, and giving them four games to score more goals.
To conclude the basic mathematics then, the Reds' goal difference has improved from exactly +1 GD per game against the dross, to exactly +2 GD per game against the dross.
None of this is to suggest that Liverpool were exceptionally poor against the lower teams last season, as I don't think that's wholly true. 1.92 points per game extrapolated over 38 games is a 73 point season, which is distinctly fine, and would get you Champions League football nine times out of ten.
No, what I want to do is point out that Liverpool were improving from an okay base, if nothing special, and that their improvement has taken them into title-winning form against the lower opposition. 2.5 points per game over a season is 95 points. To put that into context, 95 points is (for a month at least), the highest points tally ever secured by a team in a Premier League season.
Of course, it's obviously harder to secure 2.5 points per game against the top six, which is why Man City's season this year has been so special – to contextualise City's season, they're on 2.63 points per game against the top six and 2.74 points per game against the dross, which is just laughably good. But a 65 point season against the dross, which Liverpool look set to get at least close to, gives you an excellent base to build on to launch an assault on the title.
Suffice to say, Liverpool have gone a long way to solving one of their major problems of last season – and the early stages of this season if we're being fair given that three of our four draws against lower opposition came in our opening seven games. In fact, since our defeat to Spurs, Liverpool have won 15 games and 46 points from their 17 games against lower-tier opposition.
Beat the dross, win the league might not be wholly accurate, but you do need to beat the dross to win the league. And Liverpool are finally doing just that.